This awesome, free post might contain affiliate links. I'll receive a small commission when you purchase from my links, at absolutely no cost to you. Your constant support is always appreciated!
Skagway, Alaska is a popular cruise port on many Alaskan cruise routes. It's a charming and historic town, most famous for its abundance of Alaskan Gold Rush history. The well-preserved Gold Rush buildings in Skagway are part of the Klondike Gold Rush National Historical Park.
When visiting Skagway on an Alaska cruise, you'll only have so much time in port. To make sure you're maximizing your time, it's good to plan what you're doing in advance. This will help you ensure you have a wonderful time in this charming town. Keep reading on to learn all the best things to do, places to eat, and more in the Skagway cruise port!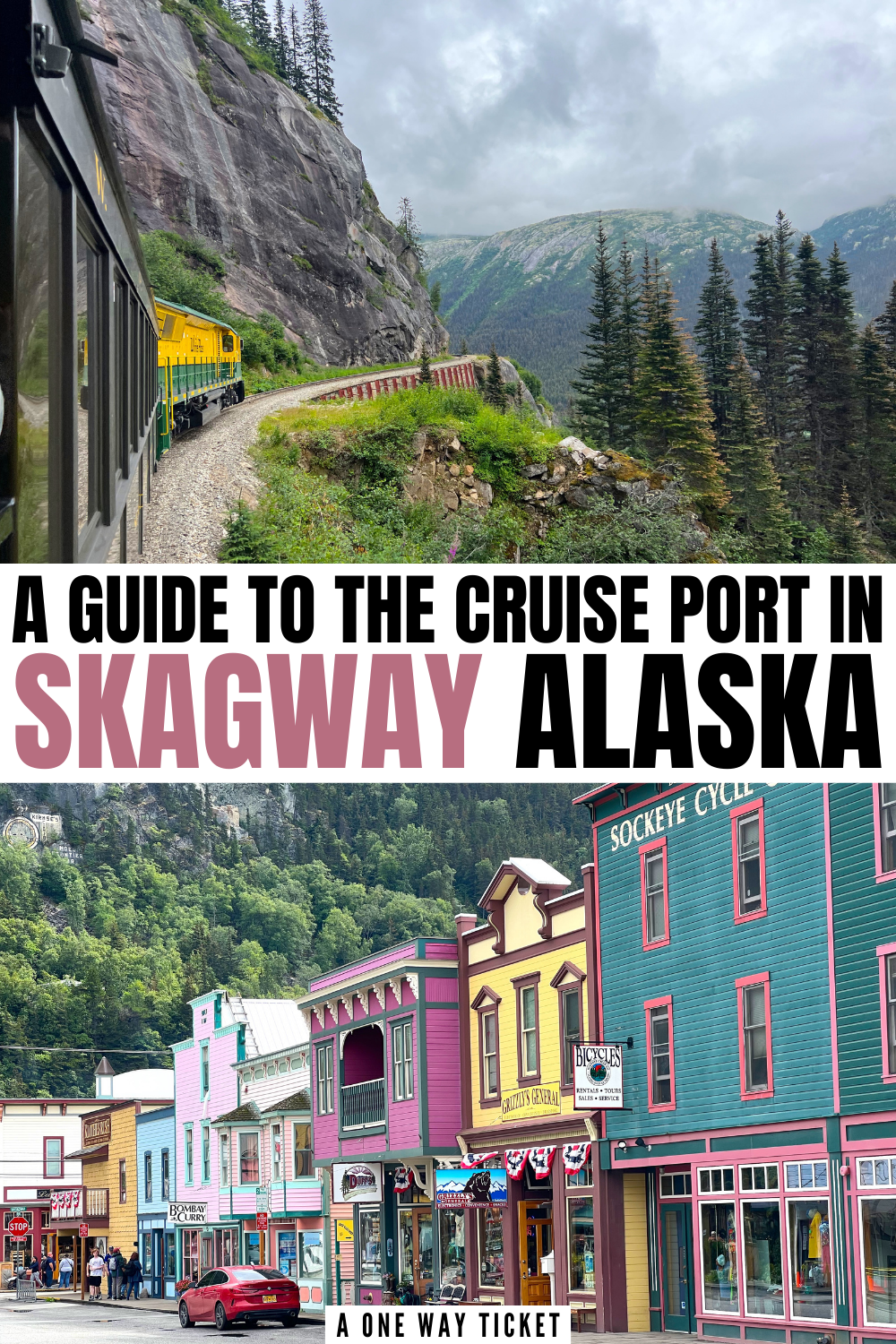 Details About the Cruise Port in Skagway, Alaska
Skagway is a small town in the southeast portion of Alaska. Unlike some of the other towns on an Alaskan cruise itinerary, Skagway is actually reachable by car. That being said, you would have to drive through some of the most remote parts of Canada to reach Skagway by car, which is why a visit on a cruise is the best way to see this unique town.
The city of Skagway is easily one of the smallest you'll visit on an Alaska cruise. It's home to around 1,000 people year-round. During the summer months, this number gets up to around 3,000 people, which is still incredibly small.
Skagway is a living museum of the late 19th century Gold Rush era in Alaska. The town is full of museums and other heritage sites that will take you right back into this time period. The breathtaking scenery, rich history, and friendly atmosphere make it a great stop on any Alaska Inside Passage cruise itinerary.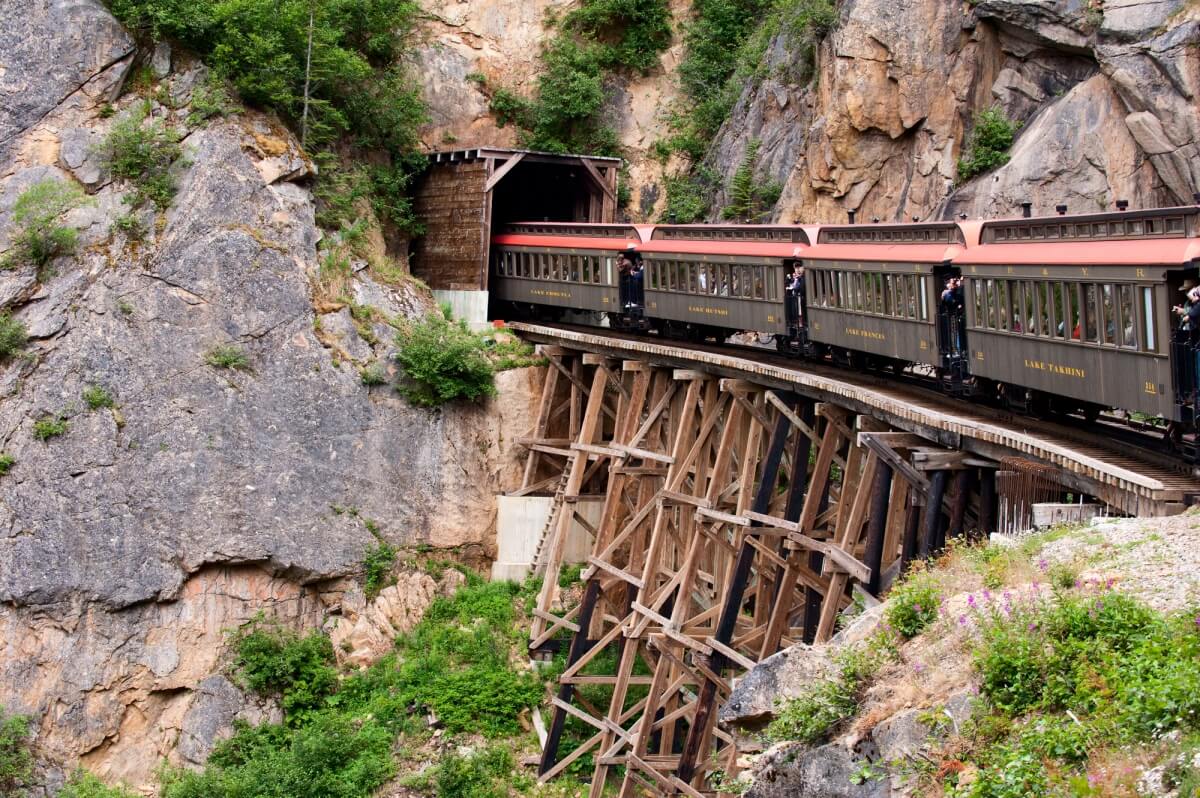 Weather in Skagway, Alaska
The weather in all of southeastern Alaska can be a bit all over the place. Sometimes it'll be raining all day long and you'll need to bundle up. Sometimes you'll end up being hot in a T-shirt and jeans. The key to preparing for the weather in the Skagway cruise port is to be prepared for anything.
Summer temperatures in Skagway reach their highest at about the mid-60s. Earlier and later in the summer, the highs are typically around the 58°F mark. Lows dip down to the low 40s, peaking in the low 50s during the "hottest" part of summer.
The most important way to prepare for all weather in Skagway is to plan on bringing layers. This will allow you to add more if it's cold and take some off if it's warm. Rain is fairly common too, so make sure to bring something waterproof!
Getting Around the Skagway
One of the best parts of Alaskan cruise ports is you typically pull right into town. This makes it really easy to walk around and not have to rely on things like taxis or rental cars to get around. The cruise port in Skagway is no exception to that rule.
You can see in the image below that the port of Skagway and the cruise terminal are incredibly close to the town. Depending on the location of your ship, you might already technically be in the town right when you walk off the dock. If you remember from above, Skagway is also a very small town, so even walking to the furthest parts of the town will take you 10-15 minutes.
If you're looking to go somewhere on the outskirts of the city, you can catch a taxi or use the transportation service that comes with one of your excursions to reach that location.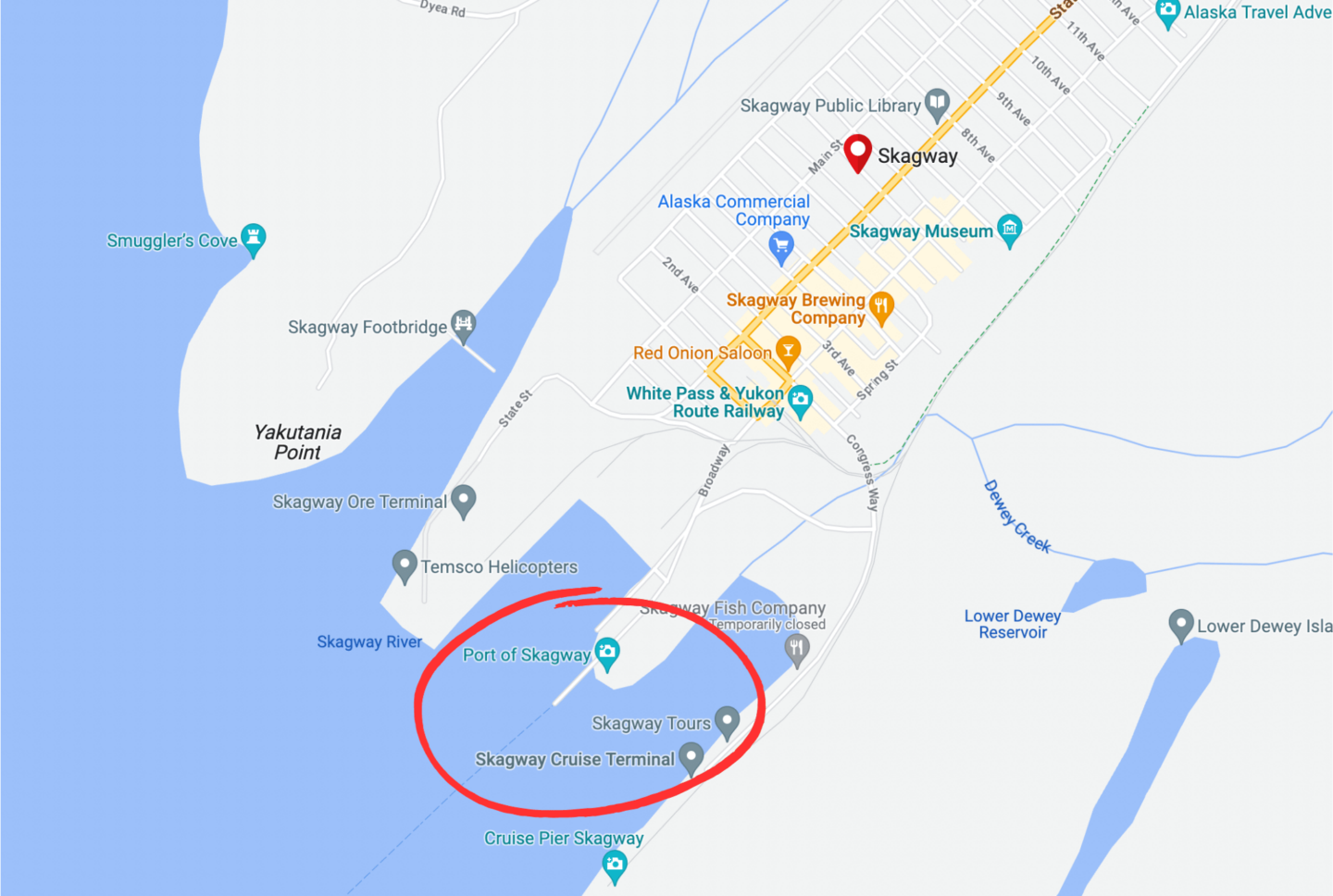 Best Excursions to Do at the Skagway Cruise Port
This guide would not be complete without recommendations for the best excursions you can do here. When taking a cruise, you can opt to either book excursions through the cruise line or through third-party companies.
Depending on how long your ship will be in Skagway, you may only be able to do one of these bigger excursions, so choose wisely! I find combining one of the bigger excursions with some more in-town things is the best way to do it. Keep reading to see the best excursions in the cruise port of Skagway.
1. Take a journey on the legendary White Pass Scenic Railway.
A train ride on the White Pass Scenic Railways is a must-do when visiting Skagway. This magical train journey takes you through the wilderness surrounding Skagway. Not only is this train ride absolutely stunning, but it's full of history as well.
The White Pass Scenic Railway was built in 1898 during the Klondike Gold Rush as a means of transporting gold prospectors to the gold fields. It's now been restored and tourists can take a ride on this historic train while a narrator tells all about the history of the train, the Alaskan Gold Rush, and the beautiful scenery surrounding its route.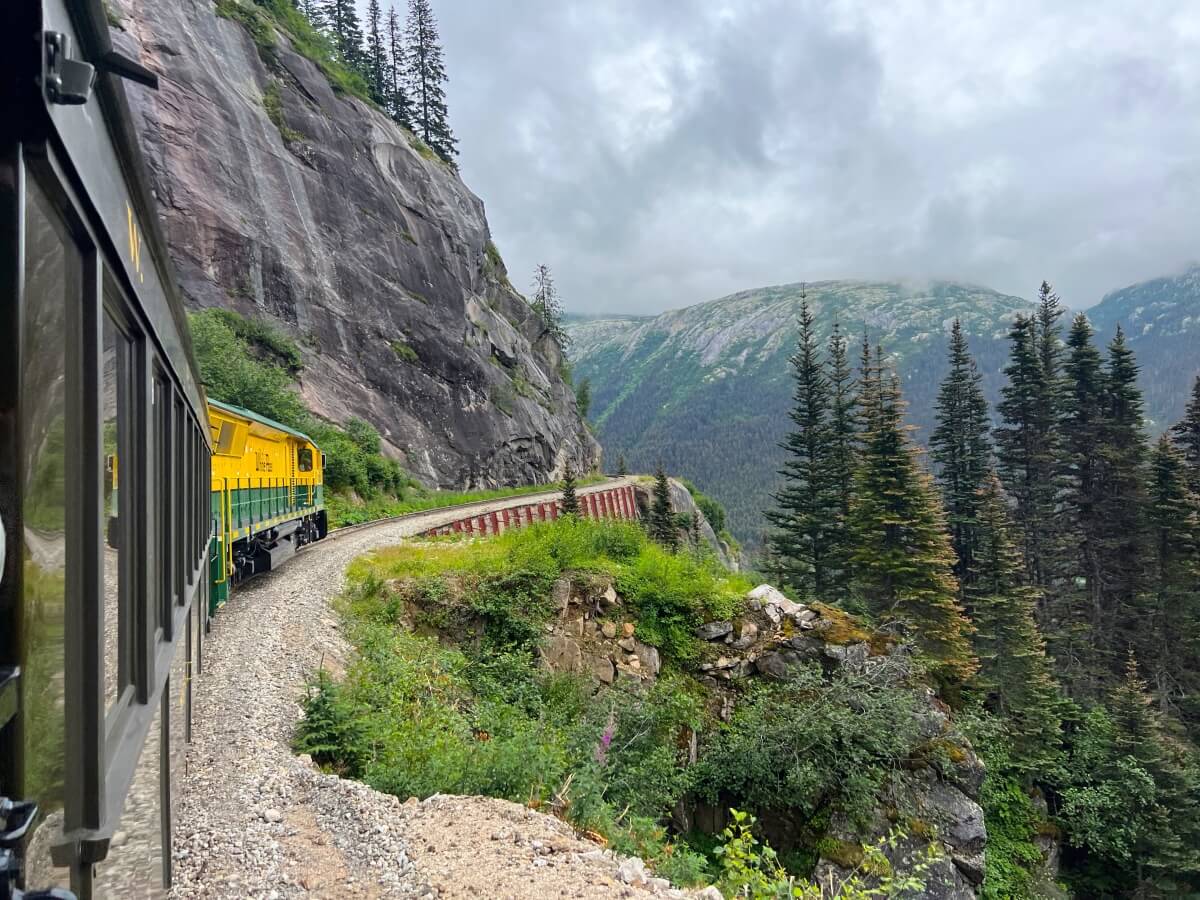 2. Drive the scenic Klondike Highway to the West White Pass summit.
If you're looking for a leisurely shore excursion, the scenic drive up the Klondike Highway is a must-do. This scenic drive takes you on a journey parallel to the famous White Pass Scenic Railway. You'll see many sights along the way, including Dead Horse Trail, Pitchfork Falls, and Moore Bridge.
At the end of your drive, you'll reach the incredible West White Pass summit, which is 3,290 feet in elevation. You'll be met with incredible views of the mountains and landscape of the St. Elias range. This excursion takes you into Canada, so you'll also have a chance to take a photo of the Welcome to Alaska sign at the border.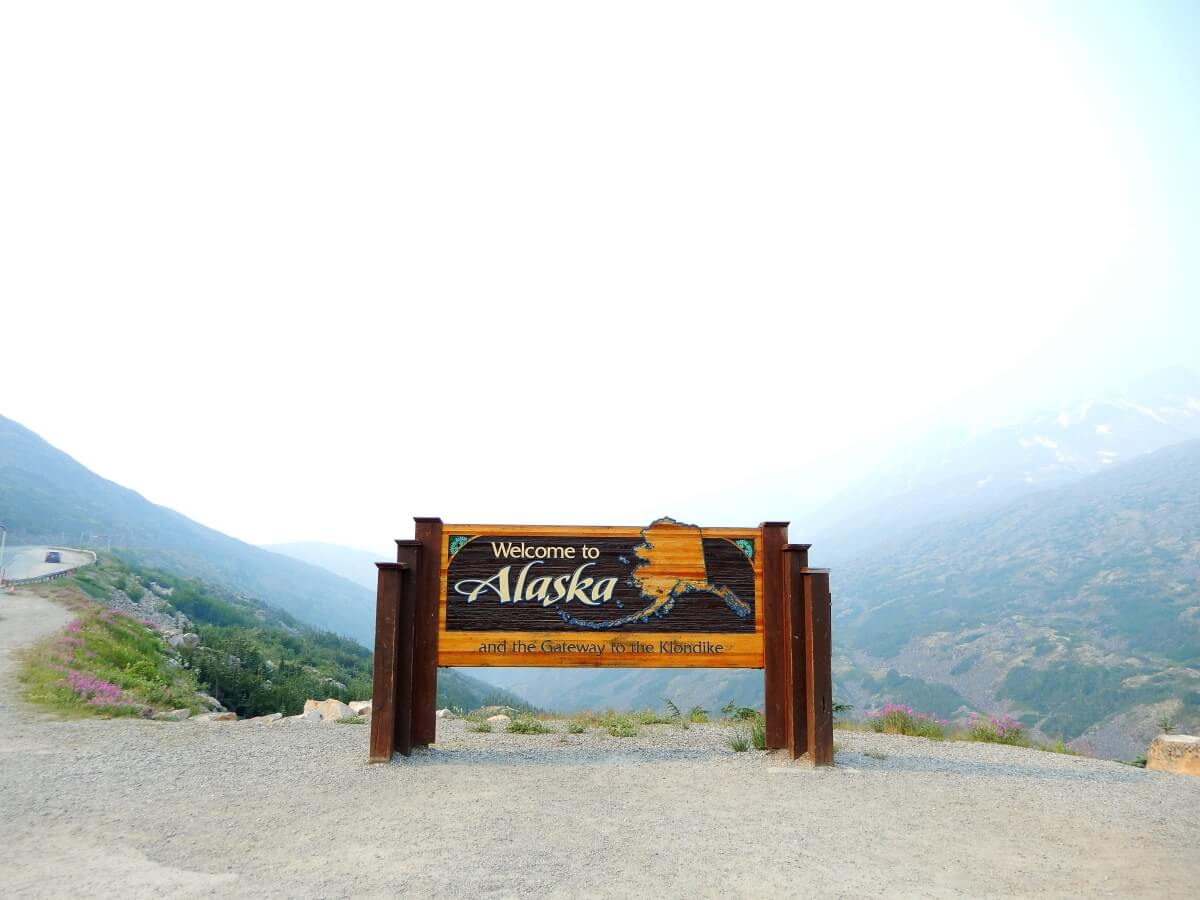 3. Visit a Musher's Camp and meet the sled dogs.
One of the most exciting shore excursions you can do in Skagway is a sled dog experience. Who can say no to the adorable sled dogs and puppies?! After you finish gushing over the cute dogs, you'll spend some time learning about how sled dogs and mushers work together.
These dogs are powerful and you'll get the chance to talk with the mushers and find out about how they train the dogs for races, including the famous Iditarod Race across Alaska. You'll also get the opportunity to act like a musher yourself! Everybody will go on a short sled dog ride with a group of dogs to see them in action.
4. Hike along the famous Chilkoot Trail.
The Chilkoot Trail is a 33-mile trail that spreads from Dyea, Alaska to Bennett, British Columbia in Canada. This trail is part of the Klondike Gold Rush National Historical Park. In the late 1800s, it was one of the main routes to the gold fields.
Not only is this a great excursion if you're looking to get some exercise in, but you'll also take an inflatable float ride on the Taiya River. Along the way, you'll see the lush forest and fjords pass you by before heading back to Skagway.
Things to Do Near the Skagway Cruise Port / Downtown Skagway
When visiting Skagway on your cruise, you definitely want to take part in one of the excursions mentioned above. That being said, sometimes these excursions are only a few hours long, leaving you with extra time in the city.
A great way to kill some of that time is to find something to do around the Skagway cruise port. These things are going to be more accessible to the Downtown Skagway area. You won't need to rely on much, if any, transportation outside of the city, making it low risk to getting back to the ship on time to leave.
1. Walk the streets of Downtown Skagway and get some shopping done.
Downtown Skagway is extremely close to the cruise port. Because of this, walking around Downtown Skagway is a great way to spend some time. After your 5-minute walk from the port to town, you'll make it to Downtown Skagway.
Once you get here, there are shops, restaurants, and bars you can walk around and explore. Buy some souvenirs for family and friends. Stop and grab a coffee at Glacial Coffeehouse. Have a drink inside the famous Red Onion Saloon. There are plenty of things to do around Downtown Skagway!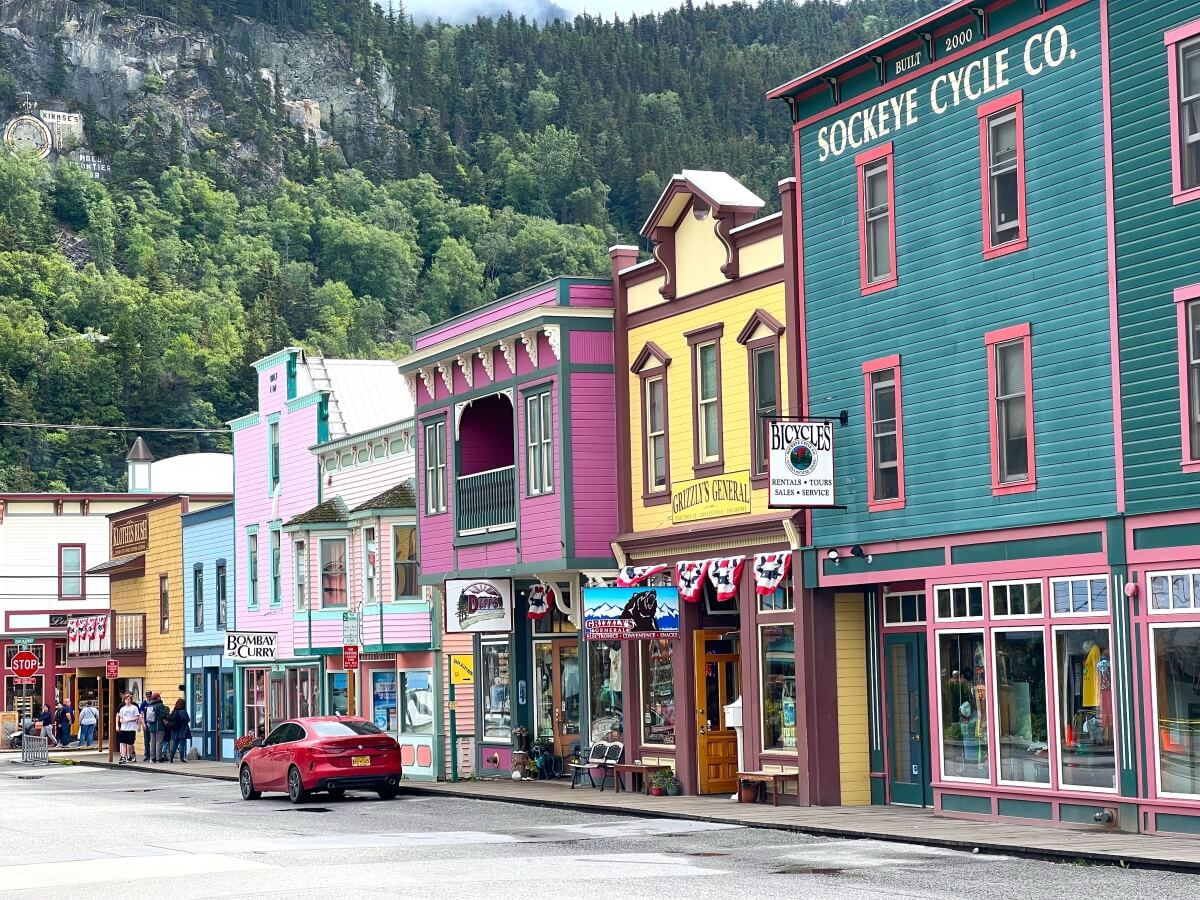 2. Learn about the history of Skagway in the Skagway Museum.
Another thing you can do right in Downtown Skagway is visit the Skagway Museum. This museum is small, but it's a great place to learn more about the history of Skagway. You can check out their collection of artifacts, photographs, and historical records.
The building the museum is located in itself, McCabe College, is a historical place in itself. It was originally built as a school in 1899 before being sold to the federal government in 1901. McCabe College then served as a U.S. Court House and jail until 1956.
Hours: 12-4 PM (Monday-Friday) / 1-4 PM (Saturday-Sunday)
3. Check out the view from the Skagway Footbridge.
One of the best things you can do near the cruise port is to walk over to the Skagway Footbridge. The footbridge is only about a 10-15 minute walk away from the cruise port. Since it won't take you much time to visit this spot, it's a great thing to do before or after an excursion.
The view you get from the Skagway Footbridge is incredible and well worth the visit. Gorgeous scenic vistas of Skagway await you here. Make sure to be careful walking on the bridge as some of the planks are a bit wobbly. If you have extra time, this spot is the beginning of some other trails well worth your time.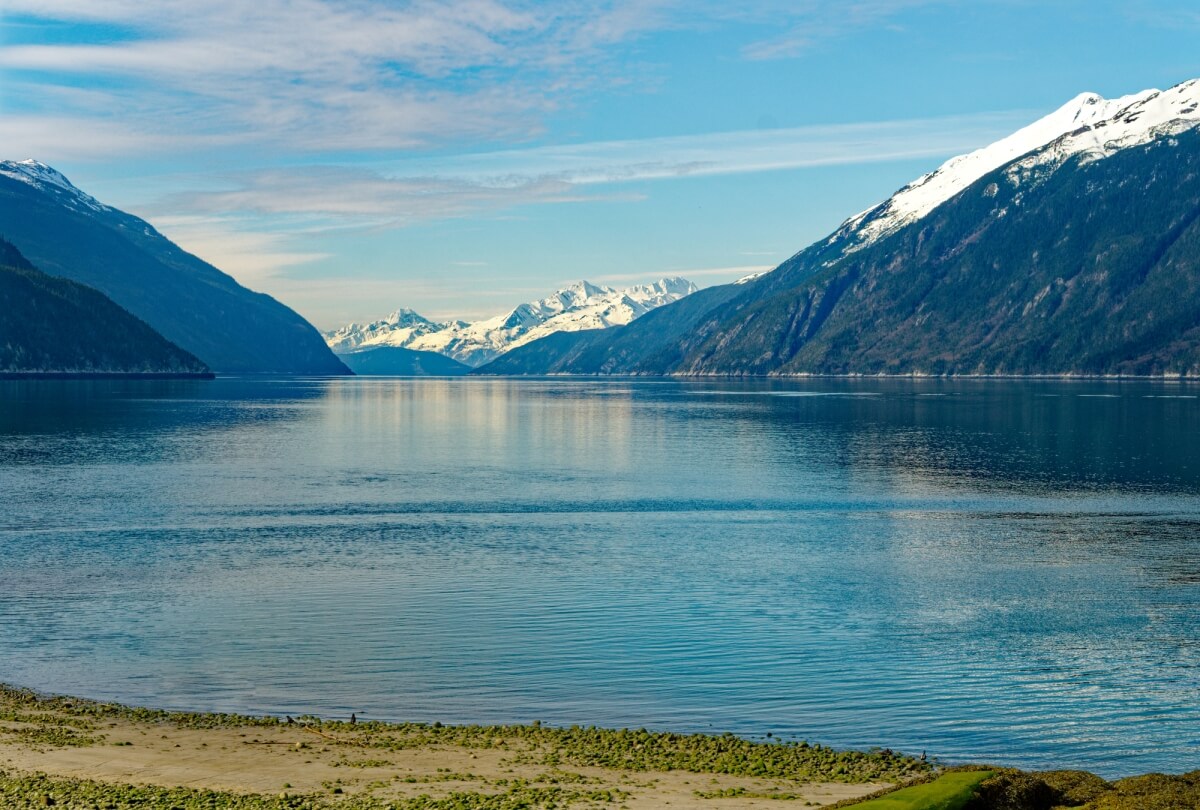 4. Enjoy one of the day hikes around Skagway.
There are a few shorter day hikes you can do in and around Skagway. This is a great way to get out there and get some exercise. Three of the short hikes are Yakutania Point, Gold Rush Cemetery and Lower Reid Falls, and Lower Dewey Lake.
Yakutania Point begins at the Skagway Footbridge, so that's a great way to do this hike while also checking out another spot. Lower Reid Falls and Lower Dewey Lake can be done individually, but can also be done in combination for a bit of a longer hike.
Check out the information for these shorter day hikes with the National Park Service, or the longer combination hike with AllTrails.
---
Learn More About Alaska Cruises
Need more information to help you book or plan an Alaska cruise? Below is a list of super helpful free guides to make planning your cruise a breeze!
Pin me to Pinterest!!!! ⤵︎
Maddie is the traveler behind A One Way Ticket. She has been traveling internationally for over 10 years and has visited 75+ countries on 6 continents. In addition to traveling herself, she's been helping others plan their own travel for 6+ years. Maddie eats, sleeps, and breathes travel and loves to help others discover that same wanderlust!