This awesome, free post might contain affiliate links. I'll receive a small commission when you purchase from my links, at absolutely no cost to you. Your constant support is always appreciated!
People are drawn to Stowe, Vermont in the fall because of the crisp autumn air and irresistible enchantment. The appeal of the red and gold leaves isn't the only thing that draws all types of travelers in to visit. From state parks to pumpkin patches, there are plenty of things to do in Stowe in the fall. So whether you're visiting with your family or traveling solo, this is the perfect destination for you.
Stowe is the kind of place that gets you into the cozy mood of fall. Surrounded by lush forests, hills, and gorgeous green mountains, it's the ideal destination for nature lovers. They also have plenty of year-round community events and cultural attractions. Keep reading to find out the top things to do in Stowe in the fall!
When to Visit Stowe, Vermont
The best time to visit Stowe, Vermont really depends on your interests. Fall season is the most popular time to visit Stowe because of the stunning foliage that comes out in early October through late September. Most people go to Stowe for outdoor activities like hiking, biking, scenic drives, and visiting the lakes and rivers.
Stowe's warmer months from May to September have average daily temperatures above 67°F. The colder season begins from December to March with temperatures falling below 36°F. The months of September to December bring more moderate temperatures with a daily average between 65°F and 75°F.
Getting Around in Stowe
Getting around Stowe largely depends on the season that you're visiting. It's a pretty small town, so walking is always an option if you're just planning to stay within the area. If you want to explore the surrounding area, you should make sure you bring your own car or rent a car.
There's also a network of biking trails, if you want to exercise while you're in town, this is always a great option. Because it's so small, there isn't a public transportation service, but Stowe does have local taxis and ridesharing services, like Uber.
1. Embrace the beauty of nature's paintbrush by going leaf-peeping.
Leaf-peeping is one of the best things you can do in Stowe during the fall. The vibrant colors paint the landscape and create an unforgettable scene that will leave you in awe.
You can pick up some warm apple cider and drive around. Or, if you're a nature lover, you can hike along the scenic trails.
Don't miss your opportunity to embrace the fall and go on a leaf-peeping adventure. If you ask some of the locals, they'll be happy to share some of their favorite fall foliage spots.
You can also click here to find some of the well-known spots in the area. This is a beautiful time of year, so you definitely want to take advantage while you're there.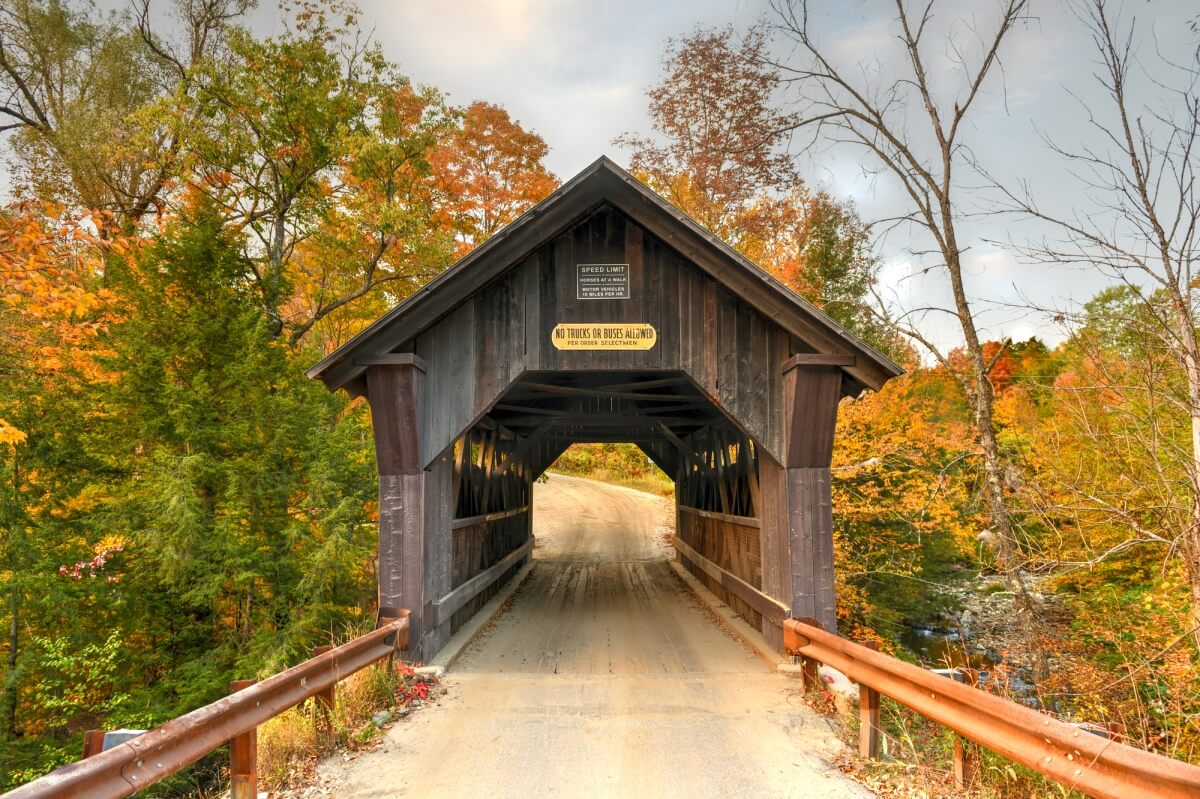 2. Step back in time by wandering through Stowe's iconic covered bridges.
Visiting Stowe's iconic covered bridges is something you have to do when visiting Stowe. These rustic bridges will make you feel like you've gone back in time and have entered an enchanting era.
Taking a leisurely walk under these bridges is a perfect activity for any traveler, and especially for couples who want to steal a romantic moment.
Some of the more well-known covered bridges in Stowe are the Gold Brook Covered Bridge, the Red Covered Bridge, and the Brookdale Bridge.
Rumors have circulated that the oldest covered bridge, Gold Brook Covered Bridge, is haunted. Locals have nicknamed this bridge "Emily's Bridge," because visitors have reported seeing the ghost of a woman named Emily who passed away at the site of this bridge in the 1800s.
If you're a nature lover, visiting Smugglers' Notch State Park is one the best things to do in Stowe during the fall. There are plenty of hiking trails, waterfalls, and lush greenery. When you go, you might be lucky enough to see some local wildlife too.
Smugglers' Notch has a scenic highway that passes through it. You definitely don't want to miss your opportunity to drive through and see the spectacular views of the bold rock outcroppings and picturesque forests.
The daily entrance fee for Smugglers' Notch is $5 for adults and $2 for children. You can also visit their website to find more information about year passes and camping fees.
4. Make memories one pumpkin at a time at a local pumpkin patch.
Visiting a pumpkin patch in Stowe is like stepping into a fall fairy tale. There are rows and rows of orange pumpkins waiting for you to pick the perfect one. One of the best ways to experience a Stowe pumpkin patch is by grabbing some warm apple cider and an apple cider donut and exploring it for yourself.
Stowe Farm is a popular pumpkin patch in the area. There's live music, family activities, and a lot of fresh food and drinks to choose from. You can learn more about what Stowe Farm has to offer by visiting its website.
You can also visit the Great Vermont Corn Maze, located in Danville, which is only about 27 miles away from Stowe. This famous corn maze has plenty of family activities, farm animals, and several different mazes to explore.
5. Savor the flavor of Vermont's finest apples at Cold Hollow Cider Mill.
Cold Hollow Cider Mill is one of the best places to visit in Stowe. You definitely don't want to miss your opportunity to smell the sweet aroma of freshly pressed apple cider. Pick up some warm apple cider donuts and explore the charming country store.
This is the perfect place to visit if you're solo, with a family, tour group, or your partner. You can watch the cider-making process and even sit on the deck and order some breakfast or lunch for yourself.
You can also pick up some souvenirs for friends or family in the sweet little country store. There are plenty of items to choose from that appeal to all kinds of people.
Opening Hours: every day from 8-6
Address: 3600 Waterbury-Stowe Rd, Waterbury Center, VT 05677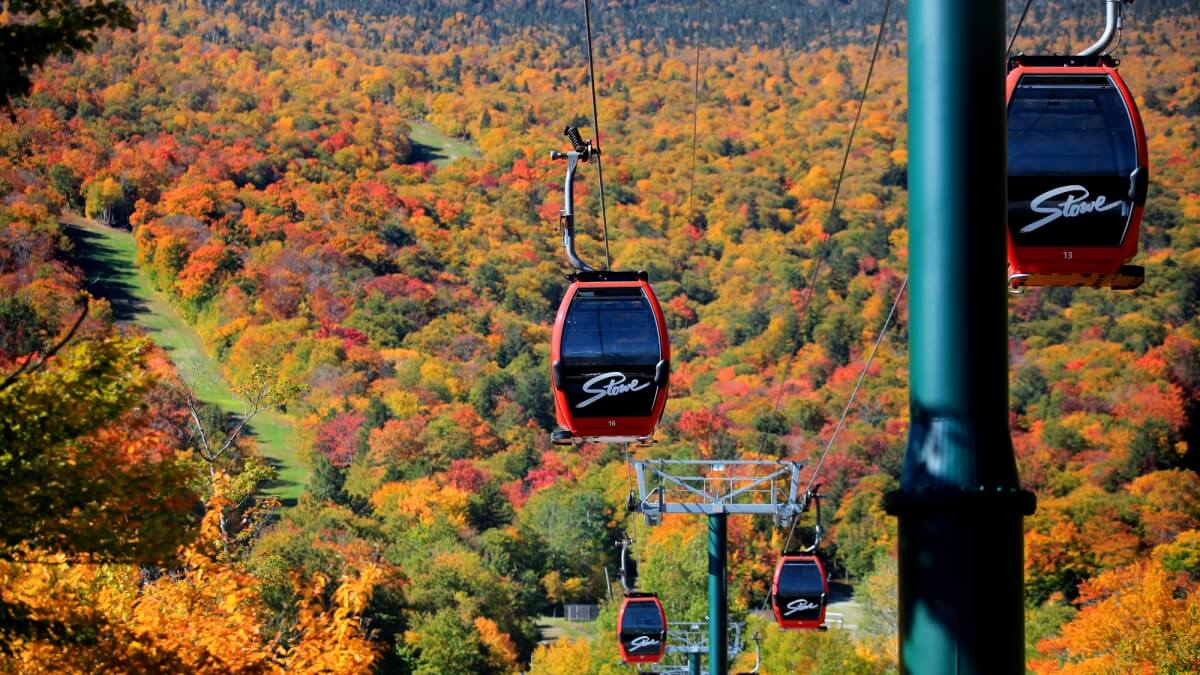 6. Soar to new heights on the Stowe Gondola Skyride.
If you're not afraid of heights, then a gondola ride is one of the best activities for you to do in Stowe in the fall. This is an amazing way to experience Vermont's breathtaking beauty.
You can soar above the treetops and witness the fall foliage from a unique perspective. The Gondola is located at the Stowe Mountain Resort. While you're there at the resort, you can also enjoy a meal at the Cliff House Restaurant to make it the perfect day.
Address: 7416 Mountain Rd, Stowe, VT 05672
7. Visit the iconic church in Stowe.
Stowe has a gorgeous iconic church nestled right in the heart of town. Its New England architecture captures the attention of all visitors. You definitely want to stop by and admire its timeless beauty and take in the feeling of unity and tradition it will bring you.
Main Street is a great place to be if you're wanting to get a good view of Stowe Community Church. You can easily walk past it and admire its beauty.
Stowe Green Village is a park that's right across from the church. A lot of people stop here to take pictures with the church in the background.
There are also several restaurants and cafes nearby where you can get a great view. Idletyme Brewing Company is known for its view of the church. You can click here to find out more information about making reservations during the fall, so you can secure your chance to get a good view.
8. Hike to Sunset Rock, where every view is a reward.
If you love the outdoors, then hiking to Sunset Rock is one of the most fun things you can do in Stowe in the fall. The short hike is beginner-friendly and the journey is filled with the beauty of Vermont's forests and breathtaking views.
When you finally reach Sunset Rock, let yourself stand still for a while while you take in the amazing panoramic view. You can also catch a glimpse of Stowe's iconic church and its distinctive steeple. Of course, seeing the church within the surrounding landscape adds to the already stunning view.
Check out the route for this trail on AllTrails.
9. Embrace nature's masterpiece at Moss Glen Falls.
When you're in Stowe, you absolutely cannot miss the opportunity to hike to Moss Glen Falls. It's just a short 5-minute drive from Stowe's historic Village. The falls are multi-tiered, surrounded by ferns and moss-covered rocks. Take a few minutes to quietly enjoy the sounds of the brook and the tranquility.
If you want to just see the falls, then the total hike should be about 20 minutes, there and back. But if you want to do the full long trail, it may take about 2-3 hours depending on your experience.
Wanting to visit somewhere spooky this Halloween? Check out the best things to do in Salem, MA during the month of October.
10. Stroll down Stowe's Main Street.
Walking down Stowe's Main Street is the perfect thing to do if you're looking to take a relaxing leisurely stroll. The historic buildings and colorful storefronts contribute to the town's welcoming atmosphere.
As you're walking, you'll experience boutique shops, art galleries, cozy cafes, and more. Stowe's Main Street is also the place of year-round community events like farmers' markets and local festivities.
Whether you're looking for delicious food, small-town hospitality, or some souvenirs for your friends and family, Stowe's Main Street will be the best place for you to explore.
11. Take a tour of the Ben & Jerry's factory.
If you're an ice cream enthusiast, then touring the Ben & Jerry's factory will be a delightful experience for you. The guided tour will take you behind the scenes where you'll get to see how these delicious frozen treats are made. You'll also learn about the company's history and mission.
Of course, you'll have the opportunity to sample freshly made ice cream too. Don't forget to stop by the gift shop and stock up on your favorite Ben & Jerry's flavors and merchandise for your friends and family.
12. Visit the Trapp Family Lodge from The Sound of Music.
The Trapp Family Lodge is a truly enchanting retreat. If you've ever seen The Sound of Music, you'll be thrilled to know that the Trapp Family Lodge belongs to the family that the movie is inspired by.
The resort presents a warm and friendly atmosphere. In the area, there are plenty of hiking trails and breathtaking vistas you can visit. The on-site dining options offer a unique European cuisine that you'll never forget.
The Trapp Family Lodge offers guided tours, hiking, massages, disk golf, yoga, horse-drawn carriage rides, and more. If you have a day to kill, this is a great place to visit when you're visiting Stowe during the fall season.
Considering a road trip around the Northeast? Check out this list of the best road trips in the United States for more inspiration!
13. Savor the flavor of fresh maple syrup, one sweet drop at a time.
You can't go to Stowe without trying some freshly made maple syrup. The best time to taste fresh maple syrup is during the sugaring season, which is late February through early April. During this time, the sap is harvested and used for the syrup.
Stowe Maple Products is a family-owned business that offers a wide range of maple products. You can actually go and sample different syrups, candies, popcorn, brittle, and other treats. You can also get some fresh maple syrup from Cold Hollow Cider Mill and the Trapp Family Lodge when you visit.
Stowe has plenty of sugaring festivals and local farmers' markets where you can buy fresh maple products from locals. A lot of these activities are seasonal, so try and find out what's going on from some of the locals when you are visiting!
14. Go on a day trip to Woodstock, Vermont.
If you want to get out of Stowe for a little bit, consider taking a short drive to Woodstock. The drive there is a gorgeous scenic route through Vermont's rolling hills. When you get there, you'll be greeted with a charming little New England village.
Woodstock's main street is lined with boutiques, cafes, and historical buildings. Feel free to explore them at your leisure. You can also visit Woodstock Green, which is a public park right in the center of time. This is where they'll host community events, gatherings, and events throughout the year.
15. Explore the art of brewing.
There are several breweries around Stowe where you can enjoy craft beers and a relaxing atmosphere. If you're a beer enthusiast, this is a great thing to do in Stowe when you visit this fall. Depending on where you go, you'll be able to sample a wide range of beer options.
The Alchemist Brewery is known for its world-famous Heady Topper double IPA. They don't have a traditional taproom, but you can go and purchase their beer on-site.
Another popular brewery is the Idletyme Brewing Company, which has an extremely diverse selection of craft beers. You can go, order one, and enjoy it while you relax on their outdoor patio.
If you do end up visiting the Trapp Family Lodge, you can visit the brewery they have on site. They specialize in Austrian-style lagers and you can sip on a couple while taking in the breathtaking mountain views.
Pin me to Pinterest!!!! ⤵︎
Maddie is the traveler behind A One Way Ticket. She has been traveling internationally for over 10 years and has visited 75+ countries on 6 continents. In addition to traveling herself, she's been helping others plan their own travel for 6+ years. Maddie eats, sleeps, and breathes travel and loves to help others discover that same wanderlust!