This awesome, free post might contain affiliate links. I'll receive a small commission when you purchase from my links, at absolutely no cost to you. Your constant support is always appreciated!
If you want to be transported to the historic times of Italy, look no further than the capital city of Rome! Rome, Italy is a bustling city full of rich culture and amazing sights. Swap out your usual views of modern buildings for stunning ancient architecture, and spend your days strolling around the city with a handmade slice of pizza in one hand and homemade gelato in another. To experience the beauty of Rome, you'll of course need a place to stay. Here is a list of the best Airbnbs in Rome.
How to Get to Rome
Rome is located on the western side of central Italy. The main airport in the area is Leonardo da Vinci International Airport (airport code: FCO). This is a large airport and one of the busiest in all of Europe, so be sure to give yourself a decent amount of time to get through customs, security, etc.
To get from FCO to the city center of Rome will take roughly 30 minutes. The Leonardo Express Airport train runs every 15 minutes from FCO to the center of Rome and is an efficient option. If you are trying to lessen costs on your trip, you might want to opt for the local train or bus options.
How to Get Around Rome
During your time in Rome, the best way to get around the city is by foot! Most famous attractions are located in no traffic areas, so you'll have to be on foot to explore them. There are some sights, such as the Vatican City, that are outside the city center, so for those cases, you can catch a local metro or taxi. Depending on where you are staying in the city, it might be beneficial to get a transportation card that is used on local buses, metros, etc.
The Best Airbnbs in Rome
Because the culture is so rich in Rome, one of the best things you can do when visiting is staying in an Airbnb! This gives you a chance to live more like a local would and experience all the city has to offer. Not to mention, hotels can get pricey in this area since it is such a big tourist destination. To help you on your Airbnb search, here is a list of the top Airbnbs in Rome!
Minimal, Stylish Suite in a Medieval Building
This Airbnb is a stylish space in the heart of Trastevere. It is simple but eclectic with photo walls, terracotta tiles, and patterned accents. It has the perfect amount of character and is a great option for your stay.
This space is a one bedroom one bathroom apartment, so it is a great spot for a couple. The bedroom has a queen bed, and the bathroom has a relaxing jacuzzi tub. It is the perfect place to relax after a day of exploring. The apartment also has a full kitchen, wifi, TV, and more!
Located in the heart of Trastevere, this apartment is in a great location. Trastevere is a bohemian area in Rome that is a little more tucked away than other busy areas. It is central enough to see all the main sights, but also gives you a quiet place to rest – best of both worlds!
Click to check pricing on Airbnb.
Royal Square of Spain
If you really want to experience more of the history in Rome, this one's for you! This Airbnb is a newly renovated apartment in a building dating back to the 1700s. You will be located near Via Dei Condotti, a street known for its shopping, and Via Frattina, a street known for buildings from the 17th and 18th centuries. There is also a panoramic viewpoint nearby which is perfect for seeing a great view of the city!
This Airbnb is also a one-bedroom one bath, so it is a great cozy space. Amenities include heat/AC, TV, Wi-Fi, and a dedicated workspace. There is also a balcony so you can relax with a view of the city.
The decor in this apartment is beautiful! It is clean and newly renovated with a fun painted wall and tile accents. This is a great option if you want a central location, a cultural experience, and a stylish place!
Click to check pricing on Airbnb.
Studio Apartment with View near the Colosseum
This next Airbnb is a studio apartment with a Mediterranean flair. It is bright and simple with one bedroom and two bathrooms. Don't let the sound of a studio fool you, the bedroom has a king bed and a soft bed, so there is plenty of sleeping space!
One of the best things about this apartment is its beautiful balcony overlooking Rome. It is the perfect place to unwind and watch a beautiful sunset while gazing off into the city's horizons. Amenities include wifi, a TV, and a kitchenette. It is important to note that it doesn't have a full kitchen, but it does have a mini-fridge to store any essentials or leftovers. Who's doing a lot of cooking on vacation anyway, right?
The studio is located in the Monti neighborhood, a trendy area boasting many nearby restaurants and wine bars. You'll also be very close to some historic sites such as the Colosseum and Palatine Hill!
Click to check pricing on Airbnb.
Trinità dei Monti
Next up is a beautiful one-bedroom apartment in an excellent location. This Airbnb has darker, serene vibes and is perfect for a getaway to Rome. It has large glass doors, exposed brick, and greenery that really gives this place some character.
When you walk into this apartment, there is an open space that contains a kitchen and living area. It is a full kitchen and has a little dining area at the end of the counter that fits two. The living area has a couch and TV – perfect for unwinding. This opens up into the bedroom that has a large bedroom facing the beautiful glass shower in the bathroom. Overall the space is on the smaller side, but it is nicely decorated and the perfect stay for a couple.
This apartment is also close to major landmarks such as the Spanish Steps, Trinità dei Monti, and the Trevi Fountain. There is a metro stop close by as well, so getting around is very simple! It is definitely one of the overall best Airbnbs in Rome.
Click to check pricing on Airbnb.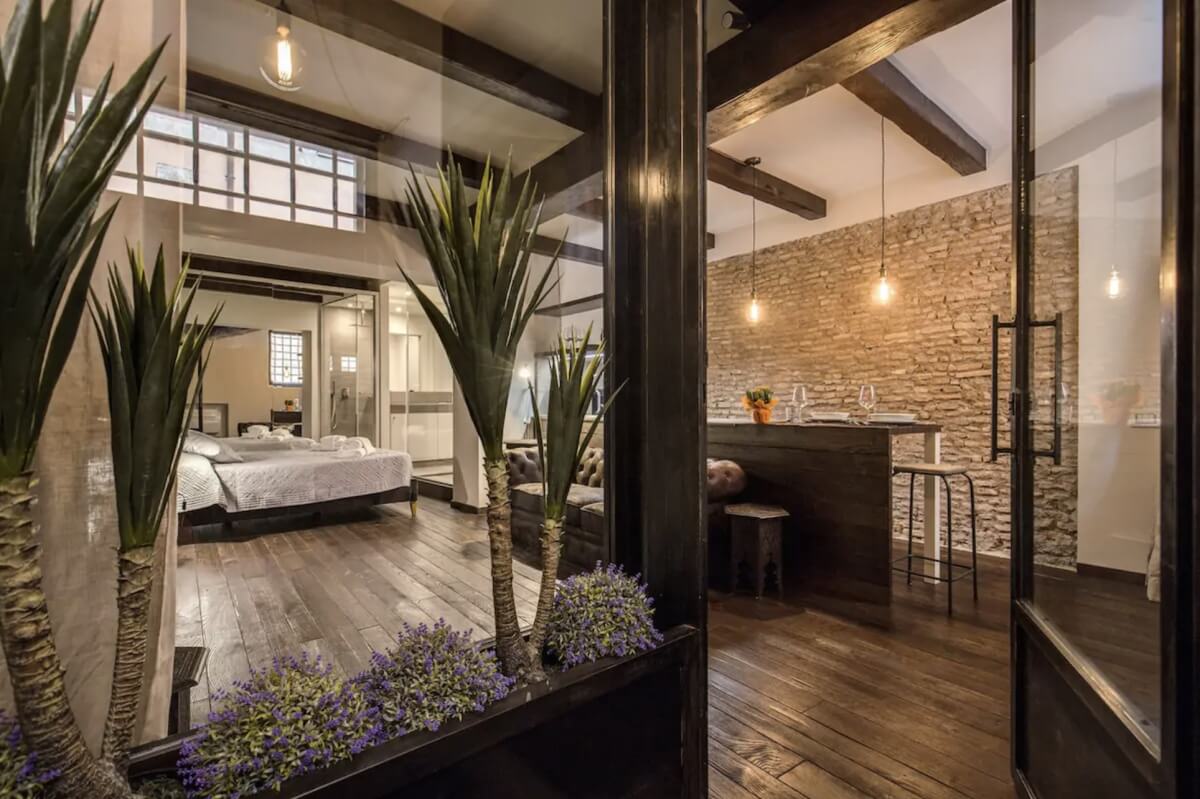 Vaticano Fantastic Apartment
Light and airy with some colorful accents, this next Airbnb is sure to impress. It has just about any amenities you'd need including a full kitchen, TV, wifi, self darkening shades, heating, and even self-check-in!
It holds one bedroom with a queen bed and a sofa bed for some added sleeping space. The bedroom has a floral accent wall behind the bed which is beautiful and adds some character. Like a lot of Airbnbs in Rome, this apartment is on the smaller side but is the perfect homey spot to come back to after your long days.
The apartment is located in the Prati district, an artsy area boarding Tiber River's west bank. It is full of wine bars, cocktail lounges, and amazing architecture. Make sure to stay up a little later on some nights because this area of Rome comes alive at night. It is a great area to fully immerse yourself in a Roman experience.
Click to check pricing on Airbnb.
Piazza di Spagna Fantastic Apartment
If you're looking for a place to stay that has a bit more room, this next Airbnb will be perfect for you! Enter through the beautiful turquoise door and to the sunny, chic two-bedroom apartment. Its walls are filled with eclectic artwork and unique frames, and the kitchen has a fun foliage wallpaper that gives the place some extra spice.
This apartment is located on the fourth floor, but it does have elevator access which is great if you have some heavy luggage. The space itself is two stories connected by a black spiral staircase. Each bedroom has a king bed and there is also a sofa bed in the living area. Fitting five guests comfortably, this space is a lot bigger than most of the Airbnbs in Rome. It also has great amenities like cable TV, a full kitchen, heat/AC, a washer, and more!
As if this apartment couldn't get any better, it is located on one of the most luxurious streets in Rome. Piazza di Spagna is one of Rome's most renowned squares. The surrounding streets are known for high-end shopping, museums, restaurants, and architecture. This area is also pretty central, so you will be close to just about anything you want to see during your visit.
Click to check pricing on Airbnb.
Charming Apartment with Terrace by Spanish Steps
This next Airbnb is another charming one bedroom option located near the Spanish Steps! It is bright and welcoming, so it's sure to make you feel more at home during your travels. The decor is simplistic with a few touches of fun bohemian flare. There is also a great outdoor terrace to sip your morning coffee or have romantic dinner for two.
The bedroom has a queen bed, so it is plenty of space for one or two travelers. The bedroom also has a TV so you can unwind in bed after a long day. This apartment also comes ready with all necessary comforts such as AC/heat, room darkening shades, an indoor fireplace, and more!
As mentioned above, this Airbnb is located near Piazza Di Spagna and the Spanish Steps. It is nestled away for some peace and quiet, but you will still be fairly close to all Rome attractions. Via del Corso and Via Condotti are also close by which are perfect for those of you who want to get some good shopping in while in Rome!
Click to check pricing on Airbnb.
Expansive Apartment near the Spanish Steps
This apartment screams feminie elegance. If you're taking a girls' trip, this might be one of the best Airbnbs in Rome for you! It is decorated in neutral tones and gives off French country vibes with button tufted headboards and antique accents.
The first bedroom holds a king bed and the second has two single beds, so this Airbnb holds about four people comfortably. There are also two bathrooms in this apartment. Both are painted a beautiful baby blue and have all the essentials. The place also comes with room darkening shades, a washer, wifi, and full kitchen!
Just like the previous Airbnbs located near the Spanish Steps, you will be staying near a great historic center of Rome. There are plenty of restaurants, pubs, and shops nearby and the two popular shopping streets, Via Condotti and Via del Corso.
Click to check pricing on Airbnb.
Modern Flat behind the Historic Pantheon
When you think of Rome, the word 'modern' doesn't typically come to mind, but this Airbnb has given Rome a modern flare. It is newly renovated with updated appliances, air conditioning, and new furniture. The decor is mostly black and white with subtle touches of color and greenery.
The apartment has one bedroom which provides ultimate comfort with a queen bed, room darkening shades, AC, and a TV. There is also a full bathroom in the apartment which contains all the necessities and a glass walk-in shower. This is one of the best Airbnbs in Rome if you are looking for something more modern but still at a decent price point.
The location of this apartment is amazing! It is only steps away from the Pantheon and a short walking distance from the Colosseum, Piazza Navona, and the Trevi Fountain. You will also be very close to many restaurants, bars, and shops. This Airbnb allows you to experience a little bit of everything!
Click to check pricing on Airbnb.
Appartamento Xystum
The final Airbnb on this list is a bright and spacious one bedroom apartment. The colors of this apartment are light and neutral which opens up the space in a great way. The bedroom in this Airbnb has a king bed and ensuite bathroom with a walk-in rain shower and heated towel rack. This apartment also has some extra perks such as an indoor fireplace and outdoor terrace. This terrace has a bright orange shade covering and is a vibrant place to take in some fresh air.
This Airbnb is located in the heart of the Rione Trastevere, a central area with a vast array of restaurants. Although the apartment itself remains pretty quiet, there is a lot of great nightlife in the surrounding area. Another perk is that you will be within walking distance from the majority of major sights in Rome. Over 150 guests rave about Appartamento Xystum – it is definitely a place worth staying!
Click to check pricing on Airbnb.
Pin me to Pinterest!!!! ⤵︎