This awesome, free post might contain affiliate links. I'll receive a small commission when you purchase from my links, at absolutely no cost to you. Your constant support is always appreciated!
Sedona, Arizona is one of the most beautiful places to visit in the United States. This beautiful city is famous for the deep red rocks that surround the area. Sedona is an incredibly romantic city and perfect for outdoor lovers. I mean, look at it! How could you not fall in love with this place?! Keep reading to see my recommendations for the best airbnbs in Sedona, Arizona.
Sedona is an incredible place to rent an Airbnb. It keeps the stay super low key and intimate, which Sedona is perfect for. Plus, there are gorgeous views of the red rocks everywhere you go! I've handpicked 10 absolutely stunning Airbnbs in Sedona that will make your stay so unbelievable that you'll never want to leave!
How to Get to Sedona
Sedona is in Central Arizona just south of Flagstaff. If you're from the Southwest, Sedona is the perfect stop on an epic road trip. If you're from outside of the USA or not in the area, you'll want to fly to get to Sedona.
The closest airport to Sedona is the Flagstaff Pulliam Airport (airport code: FLG). This airport is about 40 minutes north of Sedona, so it's really close by. If you're looking for a nonstop flight or can't seem to find great options to Flagstaff, you can also fly into Phoenix Sky Harbor International Airport (airport code: PHX). Phoenix is a much larger airport, but it's about 2 hours away from Sedona.
How to Get Around Sedona
You'll definitely want to rent a car if you're visiting Sedona. There are so many beautiful spots to see that you won't want to miss out because you don't have a way to get around. My favorite car rental company is Hertz, but if you're just looking for the best price, I recommend RentalCars.
Having a rental car will make your time in Sedona so much better. And don't worry, the best Airbnbs in Sedona should all have ample parking so the rental car won't become an inconvenience.
The Best Airbnbs in Sedona, Arizona
Staying in one of the beautiful Airbnbs in Sedona is without a doubt one of the best ways to see the area. You can come back after a long day of exploring and decompress with some epic views. Airbnbs offer cozy, comfortable accommodations, whether it's you and your significant other, your friend group, or your family.
There are so many options for Airbnbs in Sedona, but I've handpicked some of the best options. And don't forget, you can get $65 off your Airbnb in Sedona by using this link here!
Sedona's Sunrise House
The Sunrise House is located in Sedona's beautiful Chapel District. It's within walking distance of the famous Frank Lloyd Wright inspired chapel. This Airbnb can sleep up to 10 people, with 1 king bed, 2 queen beds, 2 twin beds, and 2 air beds.
Sunrise House's living area is open and spacious, making it one of the best Airbnbs in Sedona for a group of friends traveling together. The living area is beautifully furnished with tons of seating. The kitchen is recently updated with new appliances and a quartz countertop.
In the backyard, there's a beautiful hot tub to make sure you finish your night off on a high note!
Click to check pricing on Airbnb.
TinyCamp Sedona
TinyCamp is a luxury tiny house village located just north of the heart of Sedona. If you've ever wanted to live out a tiny home fantasy, this is the perfect place to do so. These rustic luxury tiny houses are the ideal place to stay when visiting Sedona.
Not only is TinyCamp beautiful, but it's part of the Airbnb Plus program. Properties have to meet certain quality criteria to be a part of this program, so you know that TinyCamp is top notch.
You'll get a whole line up of amenities staying here too, from fast wifi and bathroom essentials to self check-in and heating and air conditioning. Plus, there's free parking!
Click to check pricing on Airbnb.
Cozy Casita Near Wine Country
Cozy Casita is another property that's part of the Airbnb Plus program. This Airbnb is in a town just south of Sedona called Cornville. It's perfect for wine lovers as it's only a 5-minute drive away from four of the area's local wineries!
This is the perfect Sedona Airbnb for couples as it's small and cozy. It has a really charming design with pops of color throughout the home. The home is equipped with great amenities, including a washer and dryer, iron, fast wifi, and all the other living essentials.
The property is located on a farm so you can visit the resident chickens and horses. It's also very close to the historic town of Cottonwood.
Click to check pricing on Airbnb.
Main House & Apartment with Stunning Views
The next property on the list of best Airbnbs in Sedona is this beautiful, newly remodeled house just one mile outside of town. Not only is there a main house, but there's also a detached apartment that you'll have access to as well. This feature makes it the perfect option if you're traveling with friends or a multi-generational family.
This property is full of floor-to-ceiling windows which let in lots of natural light and show off the beautiful views regardless of where you are in the house. It's located on a road with only three houses, so it's nice and secluded.
The main house features two bedrooms and one bathroom, while the separate apartment features one bedroom and one bathroom. Tons of amenities are included, such as a washer and dryer, iron, cable TV, free parking, and bathroom essentials.
Click to check pricing on Airbnb.
Zen Tiny Home
This newly built tiny home is located in West Sedona. The owners built it themselves so they put a ton of love into it! It features awesome amenities like a queen-sized Tempurpedic mattress, an electric fireplace, and a whirlpool tub.
Every morning when you wake up, you'll be greeted by beautiful Sedona views. The bed is in a loft so the living area is super spacious and not crowded by a bed. Keep in mind, there's a ladder up to the loft, so make sure you're able to climb a short ladder!
The tiny home is super close to all the Sedona sights, but still on a nice, quiet street, which makes it one of the best Airbnbs in Sedona!
Click to check pricing on Airbnb.
Sedona's Best Studio
This beautiful studio is situated on the edge of Coconino National Forest. It's a large, private studio with incredible views of Sedona's famous red rocks. The property sits on 2.5 acres and features a gorgeous infinity pool – the perfect place to cool down after a long day of hiking.
Sedona's Best Studio is stacked with amenities, including a full kitchen with a fridge, microwave, and stove, a large sitting area with a smart TV, a dining area, and a stacked washer and dryer.
The outside area of this property is what makes it one of Sedona's best Airbnbs. Not only does it have a beautiful infinity pool, but it also features an outdoor patio with a dining table, gas grill, and hot tub.
Click to check pricing on Airbnb.
Luxurious Wellness Suite
If you're coming to Sedona to relax and feel at one with nature, this luxurious wellness suite is the spot for you! Not only is this one of the best Airbnbs in Sedona, but the hosts have tons of wellness-focused amenities to help you fully relax during your visit.
With amenities like an aromatherapy steam room, a hydrotherapy hot tub, a saltwater pool, and optional reiki and myofascial release therapy with the hosts, this place is basically a wellness retreat. One of the hosts is even a sommelier, so they offer wine tastings as an add-on as well.
This Airbnb also has the full gamut of amenities to enjoy like wifi, a laptop-friendly workspace, and a fireplace. However, this place does not come equipped with a kitchen, so expect to eat out or get simple groceries!
Click to check pricing on Airbnb.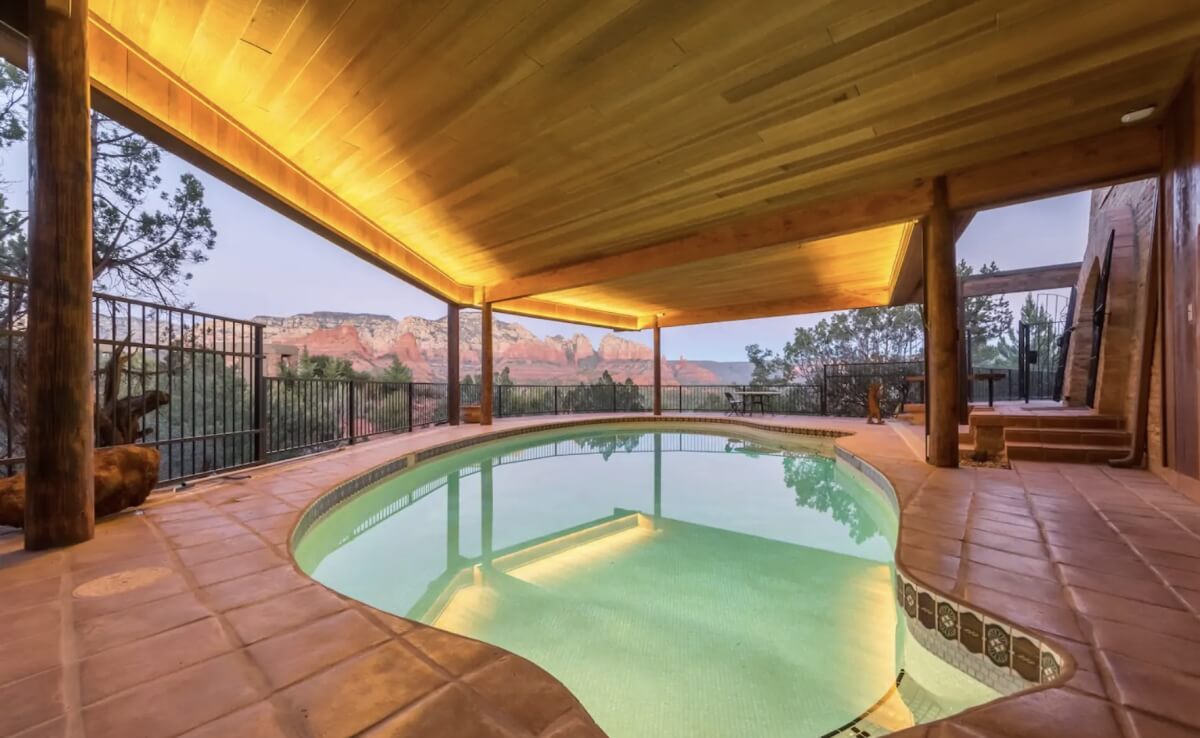 Abbey Hollow in Kachina Village
This Airbnb actually isn't in Sedona, but in nearby Flagstaff. The reason why this Airbnb still makes the list for best Airbnbs in Sedona is that Flagstaff can actually be a great place to stay to visit Sedona. It's only about 40 minutes away and will actually put you closer to the Grand Canyon as well. You could easily stay at this Airbnb if your plan was to visit both Sedona and the Grand Canyon.
Another property part of Airbnb Plus, Abbey Hollow has beautiful, Bohemian interiors with incredible views of the Coconino National Forest. It has amenities like a high-efficiency natural gas furnace, an electric fireplace, a full kitchen, and a washer and dryer.
There are three bedrooms with a king bed, a queen bed, and a single bed, so it's a great option for a family or for a group of friends.
Click to check pricing on Airbnb.
Sedona's Best Casita
This gorgeous property makes the list of best Airbnbs in Sedona for so many reasons. You'll be able to soak in the epic views through the floor-to-ceiling windows. The 12-foot ceilings make this place feel enormous. The Great Room is appointed with a Murphy bed, a fireplace, and a smart TV.
To top it off, this Airbnb has a beautiful wrap around deck with a BBQ and a hot tub. You'll also have access to the main house's infinity pool that overlooks the mountains.
Last but not least, this place features amenities such as wifi, a washer and a dryer, free parking, and a full kitchen.
Click to check pricing on Airbnb.
Serene Zen Haven
This may be the last on the list of the best Airbnbs in Sedona, but it's definitely not the least! The Serene Zen Haven has stunning, expansive views of Sedona's famous red rocks. It's located in a quiet Sedona neighborhood within a mile of uptown and tons of shopping and restaurants.
The kitchen is fully stocked so you'll be able to make some delicious meals while staying here. The patio outside has a barbecue grill, lounge chairs, and and outdoor dining table.
To top it off, one bedroom in this Airbnb is lofted ensuring you'll wake up with some beautiful views of Sedona!! This is a great place to stay with two couples or a small family, as there are two bedrooms.
Click to check pricing on Airbnb.
Pin me to Pinterest!!!! ⤵