This awesome, free post might contain affiliate links. I'll receive a small commission when you purchase from my links, at absolutely no cost to you. Your constant support is always appreciated!
Juneau is not only Alaska's capital, but it's also a very popular cruise port for Alaska cruises. The city of Juneau is so much more charming and chill than every other US state capital you could imagine. The colorful buildings and quaint streets are sure to make you wish you had more than a few hours to explore!
One of my best tips for an Alaska cruise is to go into each port with a game plan – what you want to do, what you want to see, how much free time you'll have, etc. You only have a portion of a day to explore, so you have to make the most of it. Keep reading for the ultimate guide to the Juneau cruise port in Alaska!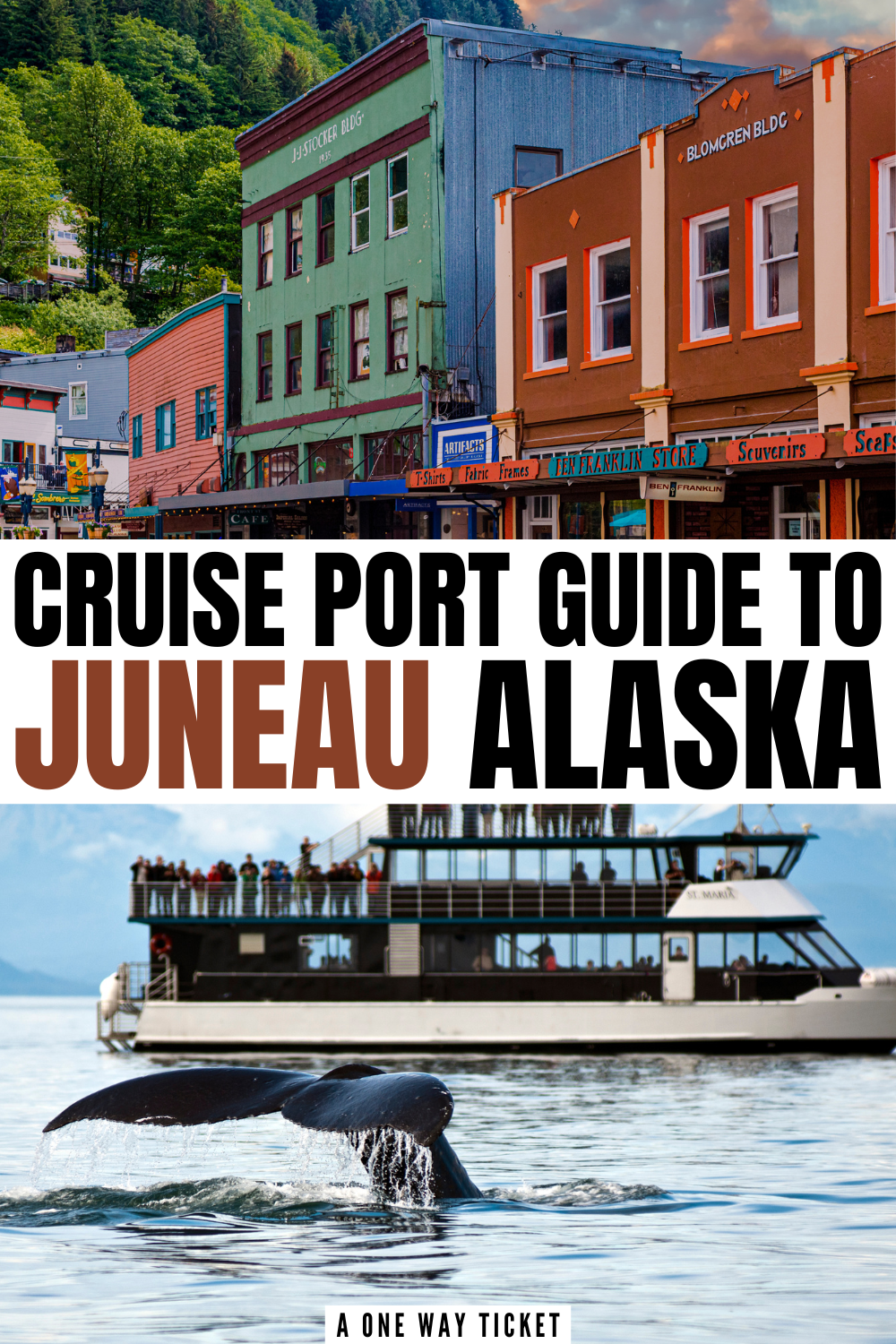 Details About the Cruise Port in Juneau, Alaska
Juneau is the capital city of the United States' 49th state of Alaska. The landscape in Alaska is very unique, making Juneau not accessible by car. This means if you want to visit, you either have to come by air or by sea.
Despite its small population of about 32,000 people, Juneau is the second largest US capital city by area at over 2,700 square miles. That means there are less than 12 people residents per square mile in Juneau, so everybody has tons of space to spread out!
The city of Juneau is very quintessentially Alaskan. You'll have a great time on your cruise stop here engaging with locals, learning more about native Alaskan culture, and more.
Starting in 2024, only 5 ships will be allowed to be docked in Juneau every day, which is a good thing! These small Alaskan towns often double or triple their population on days the cruise ships are in town and become very busy. Fewer ships mean a better experience for everybody who does visit.
Weather in Juneau, Alaska
The weather in southeastern Alaska in the summer can be hit or miss. You might end up with a gorgeous sunny day, but you might end up with nonstop rain all day. When visiting the Juneau cruise port, you essentially have to be prepared for anything.
Make sure to pack layers and bring a rain jacket or an umbrella with you. The high temperature in Juneau in early May and September is usually around 65-70 degrees. The high in July can get up to the low 80s though, which can be quite warm. Low temperatures throughout the season can get to as low as the upper 40s, so come prepared!
Even though Juneau temperatures are warmer than the rest of the year, the summer is also their rainiest season. June is the height of the raining season, with almost 40% of days receiving some amount of rain.
Getting Around the Juneau Cruise Port
One of the great things about pulling into Juneau on a cruise ship is that you'll be right in the heart of Juneau when you arrive. Walking around the town of Juneau will be super easy, especially if you're docked at the pier and not off in the Gastineau Channel, requiring a tender to take you on shore.
You can easily walk from the port to the opposite side of Juneau in less than an hour. The Downtown area of Juneau is only a 30-minute walk from the furthest ship in the port. Downtown is less than a 5-minute walk from the closest berth at the port.
If you prefer not to walk, you can always grab a taxi right outside the ship to take you into town. Likewise, there are some miscellaneous closer to the cruise port, so you may not need the drive at all.
To do any of the activities outside of Downtown Juneau, you'll either want to have a shore excursion booked with the cruise line (recommended), book a shore excursion with a third-party company, or hire a taxi to take you there once you get off the ship.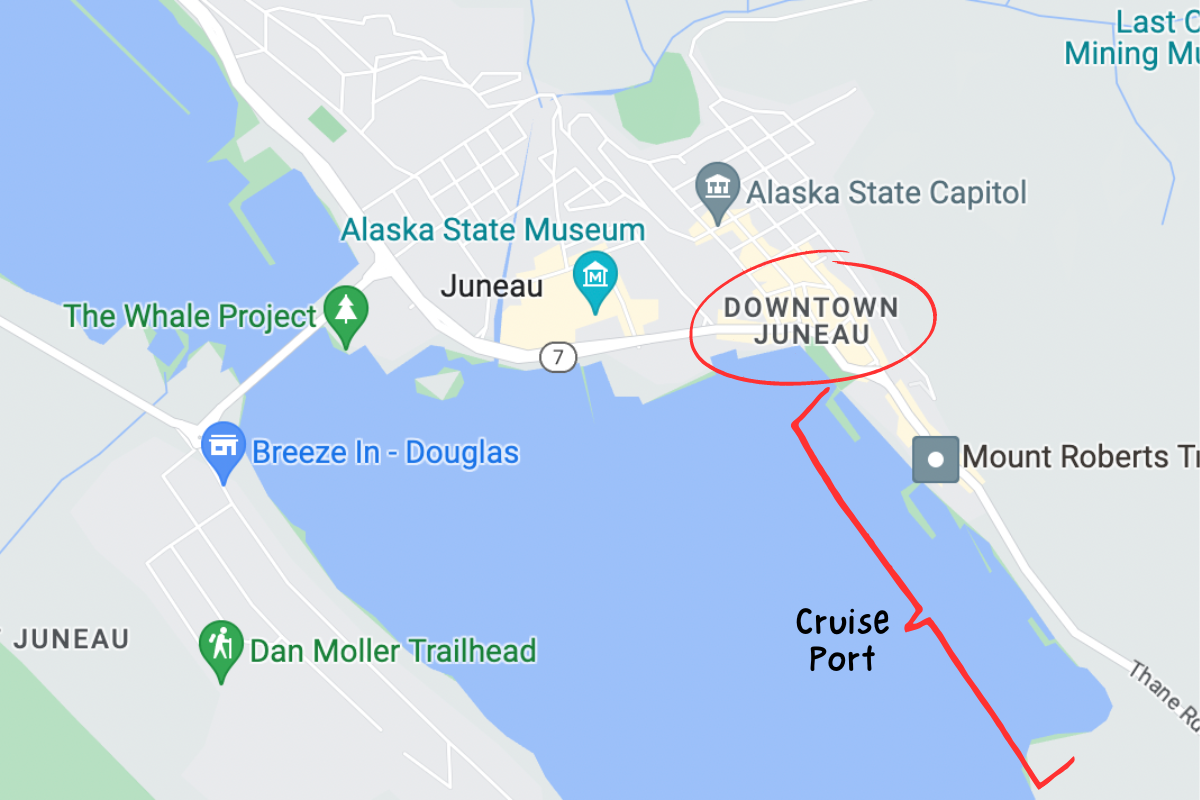 Best Excursions to Do at the Juneau Cruise Port
This Juneau cruise port guide wouldn't be legitimate if we didn't first talk about the best excursions to book during your cruise's stop in Juneau. You can opt to book excursions either through your cruise line or with a third-party company right in Juneau.
Due to the time constraints on how long your cruise ship will spend in Juneau, you may have to limit yourself to only one, or maybe two, excursions. Below is a list of some of the best excursions you can do while docked in the Juneau cruise port.
1. Visit the stunning Mendenhall Glacier.
The Mendenhall Glacier is the #1 recommended thing to see in this Juneau cruise port guide, and for good reason. I don't know if there's anywhere else in the world where you can reach a glacier within a 20-minute drive.
The glacier is 13 miles long, 0.5 miles wide, and 1800 feet deep at its deepest point. The coolest way to see the glacier up close is to book a tour on a paddle boat that will take you up close and personal with the glacier.
Another option to see Mendenhall Glacier is to book a tour that takes you to the visitor center. In the visitor center, you can learn about the history of Mendenhall Glacier, how much it's being affected by climate change, and more.
During this type of tour, you'll also have the opportunity to take a very easy walking trail to numerous viewpoints of the glacier and as far as Nugget Falls, which sits right next to the glacier.
2. Learn all about the sled dogs in Juneau.
Visiting a sled dog camp during your Alaska cruise is a highlight for people of all ages! Not only are the sled dogs adorable and so fun to meet and pet, but during an excursion like this, you'll learn how important the job of the sled dog is.
You'll learn about these dogs and their mushers, some of whom have raced in the famous Iditarod sled dog race, and even get a chance to go on a short course on a sled with the dogs led by an expert musher. Plus, you'll get a chance to meet the adorable puppies at the camp!
3. Go whale watching in the waters near Juneau Cruise Port.
One of the best things to do on an Alaskan cruise is to go on a whale-watching tour. Seeing these majestic giants up close and personal in the wild is something that you can't understand until you experience it for yourself.
While whale watching deserves its spot on this Juneau cruise port guide, one thing to remember is that you only get to choose one or two big excursions to do during your time in Juneau. Whale watching is typically offered in more than one port on a cruise to Alaska, so if you need to save this experience for a different port in favor of something more unique to Juneau, do it!
4. Attend a salmon bake.
Attending a salmon bake on a cruise to Alaska is practically a right of passage. Salmon famously swim upriver in the Alaskan waters that surround the area you'll be cruising through. What better opportunity to have a delicious salmon meal than right from the source?!
You can often find tours that combine a salmon bake with something else, like whale watching, to hit two birds with one stone. If you really want to get into the nitty gritty with the salmon, you can even fish for your own salmon to have shipped back home to enjoy at a later date.
5. Become one with the wilderness in the Tongass National Forest.
Juneau is surrounded by the Tongass National Forest, which is the largest national forest in the United States. Being surrounded by such luscious wilderness means there are endless opportunities to get out into nature.
You can opt to do things like zip-lining, hiking through the forest, or visiting the famous Glacier Gardens. Whatever you decide to do, you're sure to be impressed and left in awe by the 17-million-acre Tongass National Forest.
Things to Do Near the Juneau Cruise Port / Downtown Juneau
If you have some extra time after your excursion in the Juneau area, take some time to wander around the town of Juneau. Despite being the capital of Alaska, it's a really charming and quaint town. You could easily walk around the whole town in an hour or two.
Depending on how much time you have to mosey around the Juneau cruise port, there are plenty of things to do in town. Keep reading for a list of the best things to do in and around Downtown Juneau.
1. Go souvenir shopping for friends and family back home.
Downtown Juneau is a great place to go souvenir shopping for your friends and your family. There are endless stores along the streets in Juneau. You can also find some souvenir stores right across from the Juneau cruise port before you even enter downtown, like the Alaska Shirt Company.
Once you get into the downtown area, there are even more places to shop for souvenirs and other knick-knacks. Alaska Shirt Company has multiple locations, so if you don't find what you're looking for in the first store, there are more to see. Make sure to check out Alaskan Fudge Company if you like fudge – it's absolutely delicious!
2. Chow down on Alaskan King Crab at Tracy's King Crab Shack.
Tracy's King Crab Shack is a super famous place in Juneau to get a type of food that's much sought after – Alaskan King Crab. The TV show Deadliest Catch made Alaskan King Crab more of a staple worldwide because it's one of the things these men and women brave the seas to catch for us to eat.
There are two locations for Tracy's King Crab Shack in Juneau, but the main one is actually right next to the cruise ship terminal. If you'd like to visit, but aren't interested in eating any king crab, they also have a shop.
3. Take the Goldbelt Tram 1,800 feet up Mount Roberts.
Right next to the Juneau cruise port, you'll find the Mt. Roberts Tramway. This tram takes you on a 6-minute ride up to over 3,800 feet in altitude on Mt. Roberts. At the top, you'll find a stunning panoramic view of Juneau.
You'll also find a restaurant, theater, and shop at the top of the tram. You can watch an 18-minute award-winning movie about the local Tlingit people. Afterward, you can grab a bite at the restaurant or do some light shopping. If you have extra time, there are some trails that begin at the top of the tram.
The tickets for the tram allow all-day access. The cost for children ages 3-12 is $35 and for adults is $50. You're able to come and go on the tram all day with just one ticket per person.
4. Learn more about the history of Alaska and Juneau at one of the town's museums.
Juneau has a few museums around the downtown area that are a great way to spend some extra time you have before your cruise ship departs. Rainy weather is common in this part of Alaska too, so a museum is a great way to stay busy while staying dry if it's raining.
The Alaska State Museum is open every day from 9 AM-4:30 PM with the exception of Monday (open from 1-4:30 PM) and holidays. Admission here is $14 for adults, $13 for seniors, and free for children and active duty military and family.
The Juneau-Douglas City Museum is open during summer from 9 AM-6 PM Monday through Friday and 10 AM-4:30 PM on the weekend. Hours differ in the winter, but if you're visiting on a cruise, these hours shouldn't affect you. General admission tickets cost $6, senior tickets cost $5, and kids 12 and younger enter free.
5. Grab a drink at Juneau's Western-Style Red Dog Saloon.
The Red Dog Saloon is a Western-style pub that will make you feel like you've stepped back in time to Alaska's gold rush days. To enter the pub, you'll walk through traditional saloon swinging doors to a lively restaurant and bar.
In case Red Dog Saloon is too busy, there are several different bars and pubs around Juneau. Some other options to check out are the Alaska Brewing Public House, The Narrows Bar, and The Lucky Lady Pub.
Interested in planning or booking a cruise to Alaska? Check out these helpful guides at the links below!
Pin me to Pinterest!!!! ⤵︎