This awesome, free post might contain affiliate links. I'll receive a small commission when you purchase from my links, at absolutely no cost to you. Your constant support is always appreciated!
Taking a train journey on the Alaska Railroad is a great way to see the great state of Alaska from another perspective. Whether you're booking an Alaska cruise or just visiting on your own, adding a ride on the Alaska Railroad is a bucket list experience. Over the next few paragraphs, you'll learn everything you need to know before booking your train, what you need to know right before your trip, and what to expect during your trip.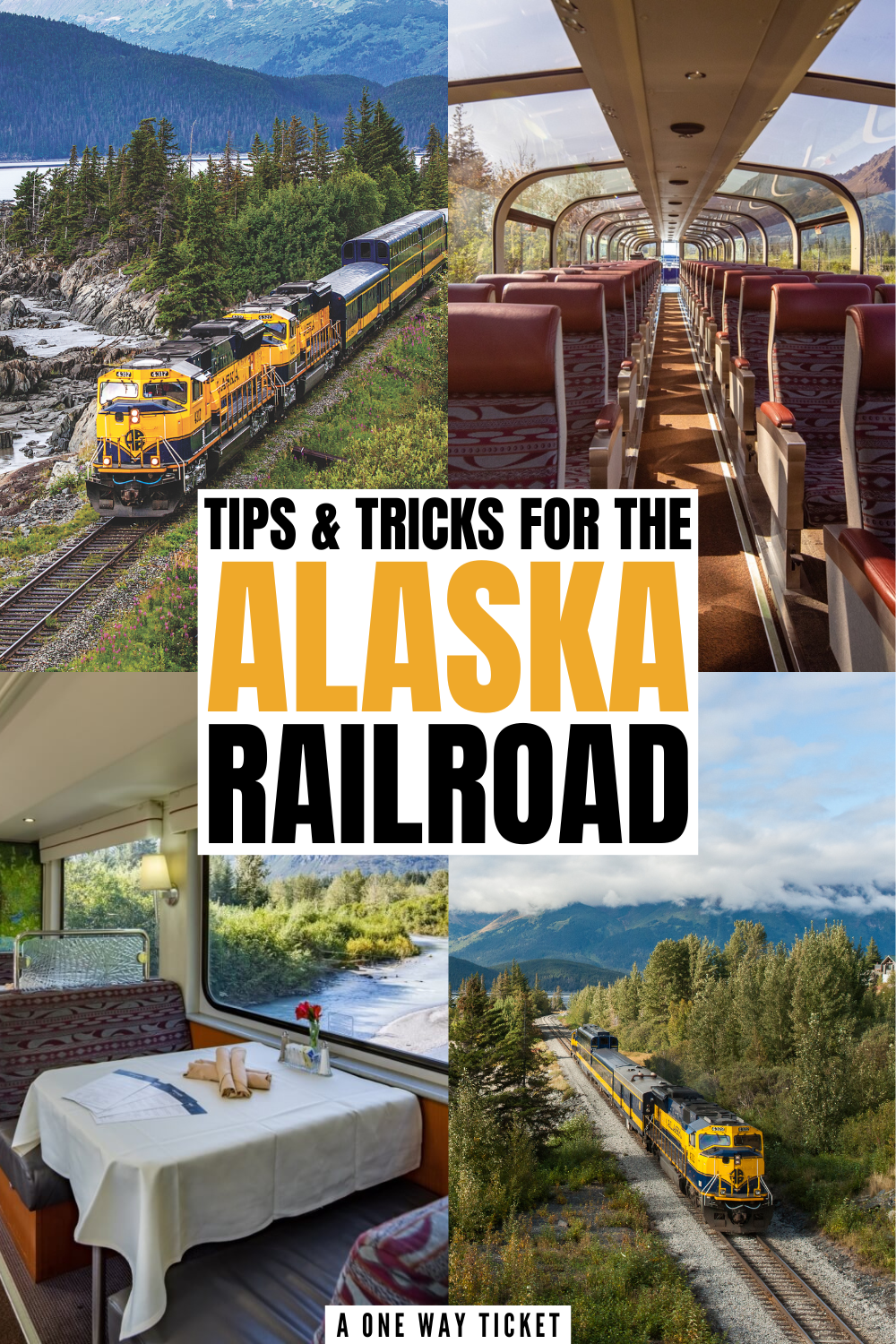 How Early Do I Need to Book Alaska Railroad Tickets?
Alaska Railroad tickets tend to fill up very far in advance, so it's important to book your tickets as soon as possible. The first thing you do after booking your flights and hotels should be to book your train tickets.
This is especially true during Alaska's high season, which runs from mid-May to mid-September. There will often only be one train a day doing certain routes, so once that one fills up, you're out of luck.
The trains tend to fill up even faster on the weekends and days that cruise ships begin or end. If you're booking on the weekend, make sure to check the availability for the Alaska Railroad route you want to take before you book your whole trip. It would be a shame to find out your train is sold out after you've planned a whole itinerary around it!
Click here to book Alaska Railroad train tickets.
Alaska Railroad Classes: GoldStar Service vs. Adventure Class
Alaska Railroad offers two different classes on their trains – GoldStar Service and Adventure Class. GoldStar Service is the nicer section of the train that has fewer seats and has a domed car, allowing epic views of the Alaskan landscapes. Adventure Class is everybody else.
GoldStar service is currently only available on the Denali Star Train and the Coastal Classic Train. Because GoldStar is nicer and has fewer seats, it does sell out faster, so make sure to book as far in advance as possible if you're interested in this.
Below are some of the benefits of booking the GoldStar Service.
Glass-dome ceilings
Upper-level outdoor viewing platforms
Inclusive dining at the lower-level full-service dining car
Private bar and two complimentary adult beverages
Comfortable forward-facing seats
Alaskan tour guide providing narration
Fully accessible
The pricing for GoldStar Service can be quite significantly different compared to the Adventure Class. If you're doing more than one train ride, I'd recommend only doing GoldStar service for one of the trains. It's a nice thing to experience, but it's often double the price and I'm not sure it's worth it for more than just one experience.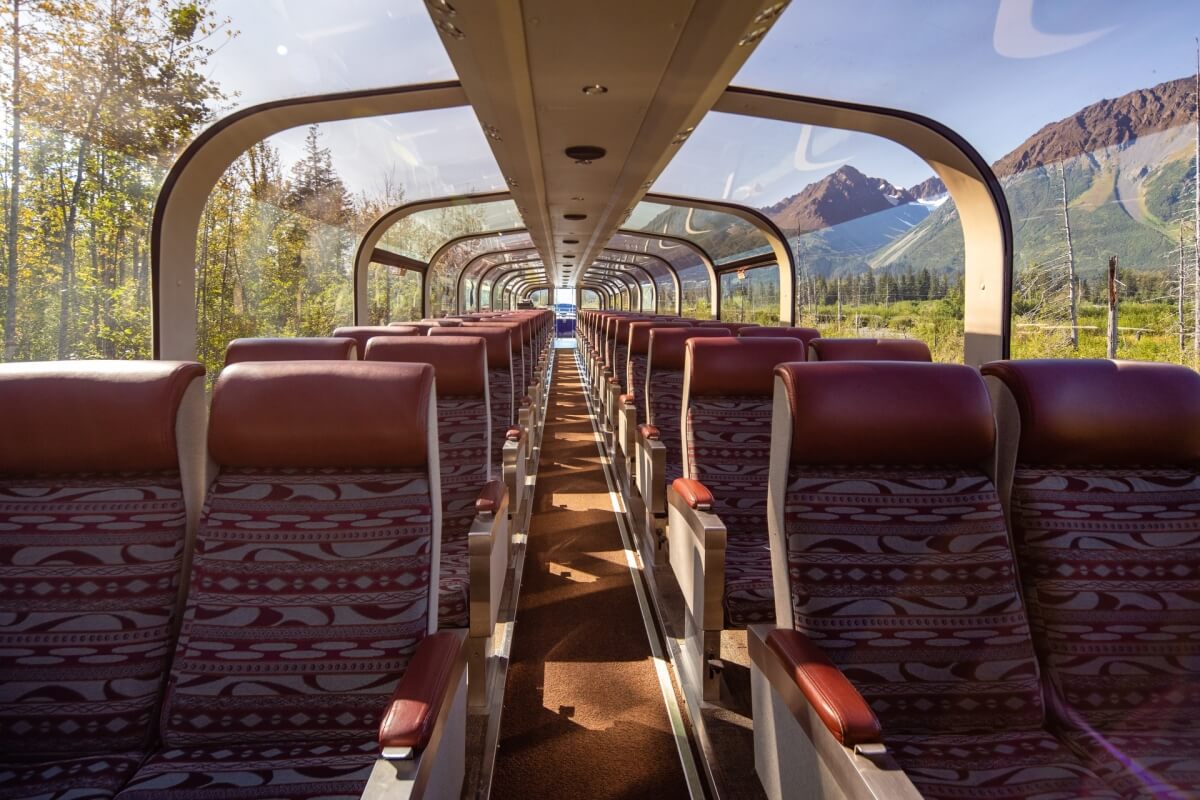 What Routes are Available on the Alaska Railroad?
The Alaska Railroad features two main routes and then a couple of secondary routes. The two main routes are the Denali Star and the Coastal Classic.
Coastal Classic begins in Seward and ends in Anchorage. Denali Star begins in Anchorage and ends in Fairbanks. I won't talk about the secondary routes, but you can find more information about them here.
Most Alaskan cruises end in either Whittier or Seward. You could theoretically use the Coastal Classic route to get from your cruise ship to Anchorage, but my opinion is that the timing is a bit weird and it's better to just get a road transfer.
The best Alaska Railroad tip I have for you is to take the train from Anchorage to Denali National Park for an extension on an Alaska cruise. Then after you're done in Denali, it makes more sense to continue to journey northward to Fairbanks and fly home from there, rather than backtracking to Anchorage.
Timing Your Train Around Your Alaska Cruise
A lot of cruise lines will package Alaska Railroad train journeys together with a cruise. If this is what you're booking, you don't really need to worry about the timing because your cruise will work out those logistics for you. That's actually one of the huge benefits of booking a package with a cruise line if you're also doing a cruise.
However, if you're not booking a cruise (or you're booking this portion on your own) it's very important to pay attention to what day you schedule your train. If you're planning on taking the train the same day you get on your cruise or the same day you get off your cruise, you might want to rethink this.
The process to get on or off your cruise ship can take way longer than anticipated and you may run out of time and end up either missing your cruise or your train – neither of which is a good thing.
I highly recommend booking a hotel night on either end of your cruise to match up with your train journey. If you really want to do it the same day, you need to contact your cruise line and see if the timing will match up. And if you're smart, you'll add 2-3 hours of wiggle room onto the time they tell you.
Booking an Alaska cruise? Click here to learn the best Alaska cruise booking tips.
What Food Options Are Available on Board?
The food available on board the train depends on what class of service you book. If you've booked the luxurious GoldStar Service, sit-down dining is offered during your train ride (shown in the photo below). On top of the sit-down meal, GoldStar passengers get two free alcoholic beverages and soda and water included.
If you're booked in the Adventure Class, there's a cafe on board where you can purchase snacks, light meals, and both alcoholic and non-alcoholic beverages. They have options like pizzas, hot dogs, cheeseburgers, etc.
The other option is to bring your own snacks or pack a meal. The cafe car has 7 or 8 tables you can sit in to eat if you don't want to eat at your seat. You can even stay seated in the cafe car the entire train ride if you'd like to.
What Entertainment is Available on the Alaska Railroad Trains?
The Alaska Railroad trains don't offer any kind of entertainment on board other than the occasional narration of what's going on around you. A lot of these train rides are quite long, so make sure to bring some kind of entertainment with you.
Keep in mind that a lot of the Alaska Railroad routes go through more remote areas with little or no cell service. There's no wifi on board the trains, so if you're relying on your phone or computer for entertainment, make sure to download something you can use offline before you get on board.
If you don't have anything to entertain you, the scenery around you will be your entertainment for the duration of your journey. The Alaskan landscapes are stunning, so this isn't a bad option either!
Can You See Wildlife on the Alaska Railroad Routes?
Yes, you can! One of the highlights of visiting Alaska is getting to see and experience the incredible wildlife this state has to offer. Some animals you might see in Alaska are caribou, moose, bears, eagles, and dall sheep.
While it's possible to see wildlife on the train, you have to keep a keen eye out. The trains are quite loud and the animals often get spooked by the noise. If you see an animal, you'll likely see it running away through one of the more open areas along the route as the wooded areas make it much harder to find any wildlife.
What Seat Amenities Are Available in Each Class?
The seats between GoldStar Service and Adventure Class on the Alaska Railroad weren't as different as you might expect. The seats themselves in GoldStar were the tiniest bit bigger and a bit roomier. That being said, it's not a huge difference.
The main benefit of the actual seat in GoldStar versus Adventure Class was the addition of a tray table with a cup holder, a pocket on the seat in front of you, and a footrest. Having the footrest makes the seat significantly more comfortable. And, having a tray table allows you to do more in your seat without having to go to one of the shared cars for a tabletop.
Some cars did have a table shared by four seats (two forward facing, two rear facing) at the front of the car. Getting these seats is luck of the draw though.
Neither class of service on the Alaska Railroad offered plugs at every seat. That being said, there were some seats near plugs. While I recommend bringing an external battery to charge your phone on the train, you can make a request for the seats near plugs.
One thing Adventure Class had that GoldStar didn't was storage above the seats. Almost every seat in Adventure Class had storage above the seats. Both classes have traditional train luggage areas at the front or back of each car, so you can always store something there. This area otherwise is mostly empty since everybody's luggage is checked prior to getting on board the train.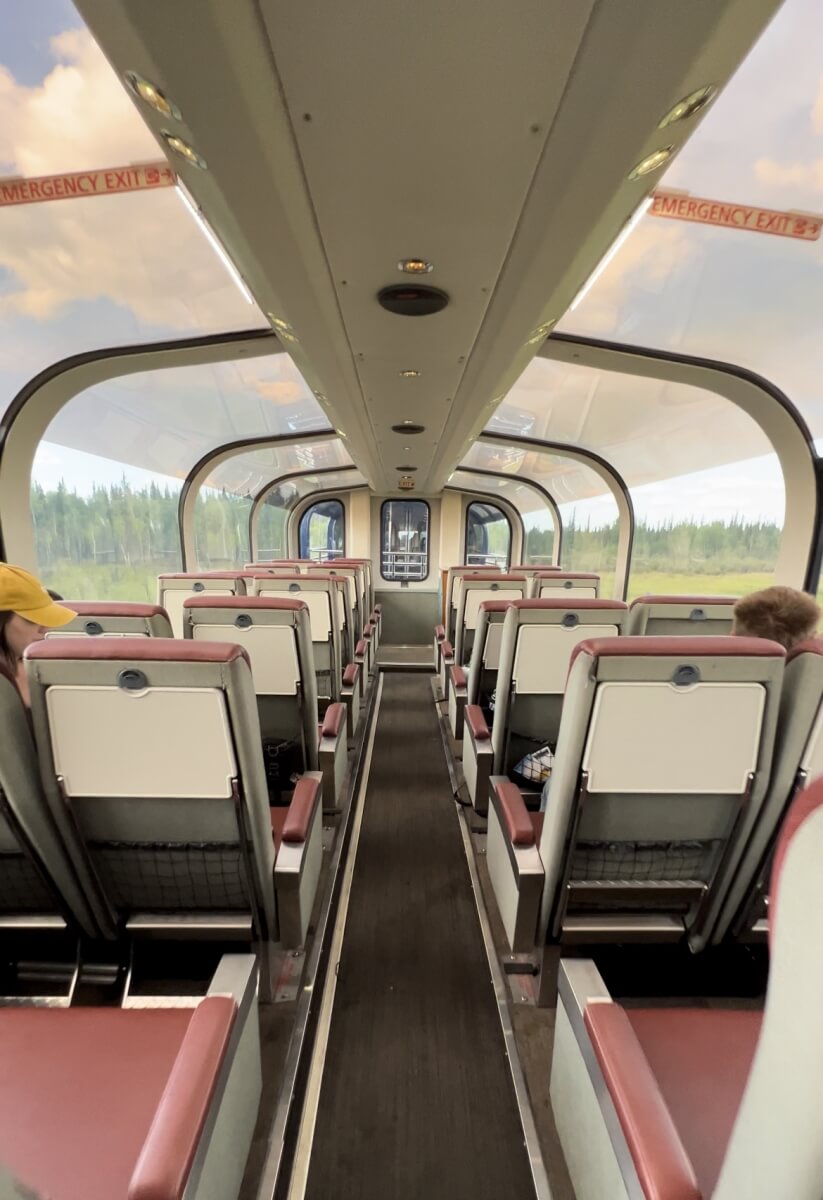 What Time Should I Arrive Before My Alaska Railroad Train Departure?
Alaska Railroad recommends you arrive to the train station 1 hour prior to your departure time, not only to check your bags, but to pick up your train ticket at the check-in desk.
You'll likely have to wait in line to do one or both of these things, so getting there at least an hour in advance gives you plenty of time to do those things without feeling rushed. While arriving an hour before is recommended, the train doesn't have an actual check-in cut-off time like airlines do, so don't worry if you're running a few minutes behind!
Arriving an hour before the train is most important in bigger cities or where the routes begin and end (like Anchorage and Fairbanks), as those are most likely to be more crowded.
When checking in with GoldStar, you get a pin to differentiate yourself from those in Adventure Class. The train cars are also separate, but you need to wear the pin to indicate to the staff that you're in GoldStar.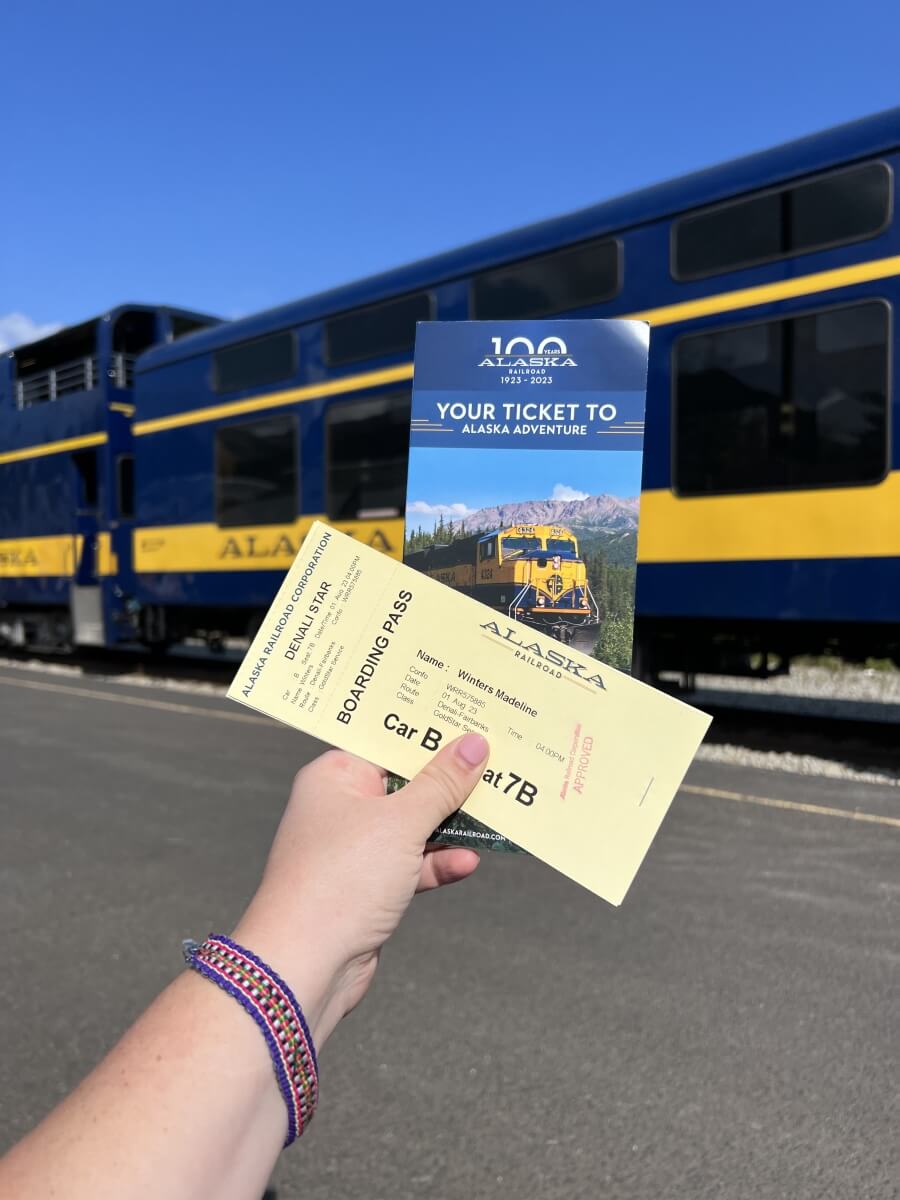 How Does Alaska Railroad Baggage Check-in Work?
One of the best parts about traveling with Alaska Railroad is that you check in your bags like you would for a plane. You won't have to drag your suitcases with you up the train steps and store them in the train car!
You're allowed to bring two pieces of luggage up to 50 pounds per person. However, in practice, I didn't see them weighing anybody's luggage. The bags are put into bins and then loaded on the train once it arrives at the station.
One important thing to know is that the bins sit outdoors while waiting for the incoming train and don't have lids on them. If you aren't traveling with a hard-shell suitcase, it might be a good idea to cover your bag with something to prevent it from getting soaked if the forecast shows rain!
Other Tips for the Alaska Railroad Trains
Bring an extra layer of clothing on board with you! Not to say the trains are frigid, but certain areas of the train (especially the cafe car!) were colder than others. I was wishing I had a heavier layer I could've put on to warm me up.
The Alaska Railroad trains can be a little bumpy from time to time. On top of that, the train rides can be long, so if you get easily motion sick, I'd recommend bringing something on board with you to make you feel better. If you're already traveling on a cruise to Alaska, you might already be bringing something like this with you.
Pin me to Pinterest!!!! ⤵︎