This awesome, free post might contain affiliate links. I'll receive a small commission when you purchase from my links, at absolutely no cost to you. Your constant support is always appreciated!
Hawaii is one of the most sought-after tropical destinations. Whether it be for a honeymoon, a girls trip, or a family trip, Hawaii is the perfect destination for everybody. Each Hawaiian island has a little something different to offer. Hawaii's biggest island, appropriately nicknamed the Big Island, is perfect for anybody who wants a luxurious, adventure-filled vacation. When it comes to where to stay on the Big Island, nowhere is better than the Four Seasons Resort Hualalai. Keep reading to see why Four Seasons Hualalai is the best resort on Hawaii's Big Island!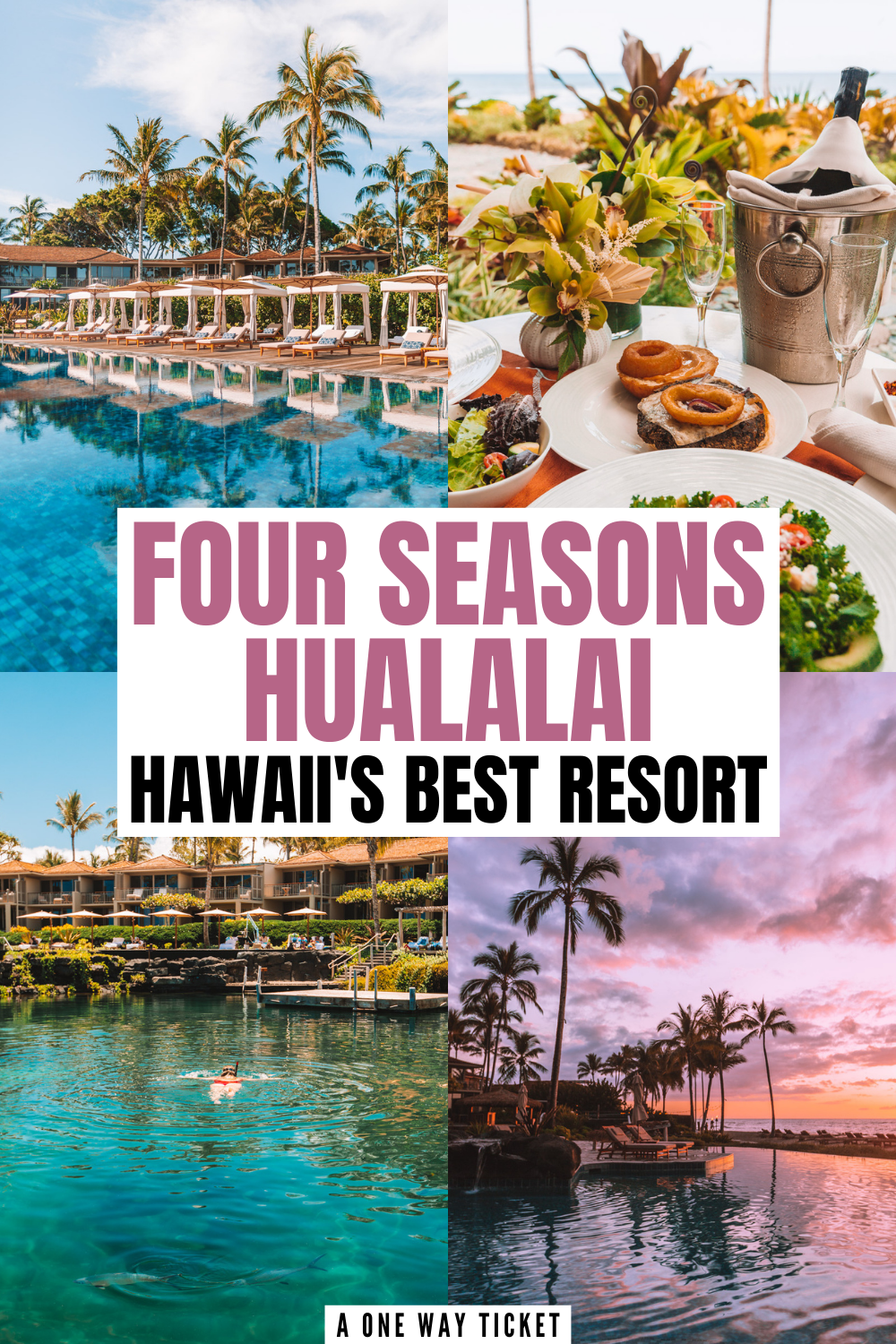 How to Get to Four Seasons Hualalai
Four Seasons Hualalai is located on Hawaii's Big Island on the Kona Coast. Hualalai is the name of an active volcano on the Big Island, hence the name for this area. The Big Island is Hawaii's youngest and easternmost island.
There are a few ways to get to the Big Island, but the best and easiest way is by flying into the Kona International Airport (airport code: KOA). This airport is only about a 15 minute drive away from Four Seasons Hualalai, so it's extremely convenient. From North America, you can get to the Kona Airport nonstop from cities like Los Angeles, Seattle, San Diego, Chicago, and many others.
I highly recommend arranging an airport pick-up with the Four Seasons concierge through the Four Seasons app before your stay to make the process seamless. There is another airport on the island in Hilo, but it's on the opposite side of the island from the Four Seasons, so it's best to be avoided.
Click here to search for flights to Hawaii's Big Island.
Rooms & Suites at Four Seasons Resort Hualalai
The Four Seasons Resort Hualalai features 192 guest rooms and 51 suites. The guest rooms at the resort range anywhere from Ocean-Golf View rooms to Oceanfront rooms, with walk-out views of the Pacific Ocean.
In addition to the standard rooms available, the resort also features a range of suites, specialty suites, and villas. Below is a list of the different types of rooms and suites available. Specialty suites and villas can be viewed here.
Ocean-Golf View Room
Poolside Room
Partial Ocean-View Room
Ocean-View Room
Prime Ocean-View Room
Ocean-View Deluxe Room
Oceanfront Room
Superior Suite – Ocean Golf View
Superior Suite – Poolside View
Superior Suite – Ocean View
Superior Suite – Prime Ocean View
Superior Suite – Oceanfront
Deluxe Suite – Ocean View
Deluxe Suite – Prime Ocean View
FIND PRICES FOR FOUR SEASONS HUALALAI:
Hotels.com | Booking.com | Orbitz | TripAdvisor
Rooms at Four Seasons Hualalai
There are 7 different room types at Four Seasons Hualalai. All types of standard rooms are the exact same size at 635 square feet (59 m2), so the only real difference is the location and view.
The resort has four different "crescent" areas, referred to as King's Pond, Sea Shell, Beach Tree, and Palm Grove. Different room types are located in different locations. If there's a specific area you're interested in, pay attention this when deciding what room type to book.
The map below will give you a good overview of what I mean when I talk about the different resort crescents. You can see that some of the buildings in each crescent have better locations and house the rooms with better views.
Click here to see prices for the Rooms at Four Seasons Hualalai.
Suites at the Four Seasons Resort Hualalai
The suites at Four Seasons Hualalai are like the rooms, but twice the size. There are two different types of suite offerings – Superior Suites and Deluxe Suites. You'll find Superior Suites offered in almost every single view option available as the rooms. However, the Deluxe Suites are only offered in Ocean View and Prime Ocean View.
Both the Superior and Deluxe Suites are one-bedroom suites, so there's plenty of room available. The Superior Suites measure at 1,050 square feet (98 m2) and the Deluxe Suites measure at a whopping 1,441 square feet (134 m2).
The capacity of all suites is 3 guests, including up to 2 children. If you're looking for more unique suite types, definitely check out the resort's Specialty Suites. If you're looking for rooms with more capacity, check out the Villas at Four Seasons Hualalai.
Click here to see prices for the Suites at Four Seasons Hualalai.
Staying in an Oceanfront Room at Four Seasons Hualalai
During my stay at Four Seasons Hualalai, I stayed in one of their incredible Oceanfront Rooms. The Oceanfront Room I stayed in was specifically in building 9 on the 1st floor in the King's Pond crescent. To say it was the absolute perfect location is an understatement. Not only is the view to die for, but it was in the perfect location. The location right next to the recently renovated King's Pond was incredible – we even had a view of King's Pond from our room on the ground floor!
Our room was directly across from the beach as well, considering that it was an Oceanfront Room. On top of that, it was right next to the Ulu Ocean Grill and only a short walk from the Beach Tree Restaurant, Lobby, and the resort's Ocean Pool.
Once you book your room at Four Seasons Hualalai, make sure to send a message to the concierge via the Four Seasons app to request a building location. They usually can't guarantee the request, but they'll do everything possible to accommodate your requests. It is the Four Seasons, after all!
Click here to see prices for Oceanfront Rooms at Four Seasons Hualalai.
Inside the Oceanfront Room
While the Oceanfront Rooms are the top room category, they're absolutely worth the splurge. You can't beat the location right in front of the beach with sweeping views of the Pacific Ocean. Even though the Oceanfront Rooms are right on top of the beach, you're still in a super walkable location to everything you'd ever need. Plus, if you need to get somewhere fast, you can always call a golf cart to come pick you up and take you there.
Immediately across from you is a huge walk-in closet with ample storage space for your suitcases and plenty of space to hang your clothes up. If you go to the left once you walk in, you're met by the bathroom that might be one of the most beautiful resort bathrooms I've ever seen. It's equipped with double sinks, a separate room for the toilet, a deep soaking tub, a huge rain shower, and the best part – a stunning outdoor shower designed with lava rock. Note that only the ground floor Oceanfront Rooms have the outdoor shower, so if this is important, make sure to request a room on the ground floor!
We opted for a room with double beds, but you can choose to have a King bed instead. Across from the bed is a huge TV with a ton of table-top space underneath. There's also a desk and another small seating area so you have extra room to sit. The room has its own mini bar stocked to your liking.
Last but not least, the terrace in the Oceanfront Room we stayed in has incredible views of the ocean, along with a table and chairs for dining and another L-shaped sofa to lounge on. It's the perfect spot to relax and listen to the sound of the ocean!
Click here for more information on Oceanfront Rooms at Four Seasons Hualalai.
Restaurants & Bars at Four Seasons Resort Hualalai
There are a few different incredible options for food and drink at the Four Seasons Hualalai. Every single restaurant you eat at has incredible food – even at the more casual restaurants! The resort offers some more traditional restaurant dining options, as well as some less traditional options. There's a little bit of something for everybody!
With so many options to choose from, make sure to try each out during your stay as they're all worth the visit. Click below to see all the food and drink offerings at Four Seasons Hualalai.
Beach Tree (lunch / dinner): California cuisine with a Mediterranean twist
Ulu Ocean Grill (breakfast / dinner): award-winning local Hawaiian cuisine
Hualalai Grille (dinner): American steakhouse
Hualalai Trading Company (breakfast / lunch): all day shopping and casual eats location
Residents' Beach House (lunch / dinner): casual lanai dining and seafood
Ulu Sushi Lounge (dinner): sushi at family-style tables
Beach Tree Bar & Lounge: casual oceanfront beach bar
In addition to all the incredible restaurants, bars, and lounges listed above, the resort offers poolside dining and in-room dining. You can order in-room dining via the Four Seasons app or via the tablet located in each room.
If you're looking for a more intimate dining experience, chat with the Four Seasons concierge about the options. They offer things like a romantic dinner for 2 under the stars, different Chef-in-Residence experiences, private cooking classes, and more!
Pools & Beaches at Four Seasons Hualalai
Four Seasons Hualalai is located on a half-mile stretch of beach on the Kona Coast of Hawaii's Big Island. The resort has a bunch of little cove areas with beach. The waves can be a bit rough, so you're going to want to swim in their "Ocean Pool." This is a section of the beach that's protected from the waves so you can do things like swim and snorkel in the ocean without worry.
Believe it or not, there are 7 different pools to choose from at the resort – yes, you read that right! You could stay at Four Seasons Hualalai for an entire week, visiting a new pool every single day, and not run out of options. The pool options include a lap pool, two adult pools, and a children's wading pool.
On top of the pool options available, there's the incredible King's Pond. King's Pond is a 1.8 million gallon lava rock aquarium, which is the home to 4,000 tropical fish and an eagle ray named Kainalu. Make sure to carve out some snorkeling time in King's Pond – you won't regret it!
Click here to see prices for Four Seasons Hualalai.
Activities at Four Seasons Hualalai
While visiting the Big Island, you should definitely spend some time exploring around. There's a ton to do on the island. However, there's also so much to do at the Four Seasons resort. There are truly activities for every age and type of person, so you'll have plenty to entertain yourself during your stay!
If all the pools, beaches, and snorkeling isn't enough for you, Four Seasons Hualalai offers specific experiences to enhance your trip. Below is a list of some of the different activities you can do during your stay.
Sustainable fishing
Helicopter tours
Stargazing at Mauna Kea
Island hiking excursions, including waterfall hikes
Birdwatching tours
Ziplining
ATV tours
Horseback riding
18-Hole Jack Nicklaus Signature Hualalai Golf Course
Spa and wellness treatments
Hualalai Golf Hale Retreat
Tennis courts and lessons
Dave Scott Triathlon Experience
… and so much more!
Most of these tours require a booking ahead of time. Make sure to talk to the Four Seasons concierge to arrange your tour and pick a date and time. You shouldn't always need to book before your stay for most things, but I always err on the side of caution. If you definitely want to do something, try to book it ahead of your trip!
Book Your Stay at Four Seasons Resort Hualalai!
Hopefully all your questions about staying at Four Seasons Hualalai have been answered. This resort is truly an incredible, one-of-a-kind place and I could not recommend a stay here more. I promise you're going to wish you booked a longer trip!
It's really a great place to stay, whether it's for a honeymoon, a girls trip, or a family trip. Make sure you book your stay as far in advance as possible because it usually sells out throughout the year! Certain room categories only have a few rooms available, so booking ahead will ensure you can get the room you want.
If there are any questions you still have about Four Seasons Hualalai, feel free to leave a comment below, send me an email, or DM me on Instagram! Happy travels!!!
Click here to book your stay at Four Seasons Resort Hualalai.
Pin me to Pinterest!!!! ⤵︎