This awesome, free post might contain affiliate links. I'll receive a small commission when you purchase from my links, at absolutely no cost to you. Your constant support is always appreciated!
The islands of Hawaii are full of beautiful beaches, stunning coastlines, delicious food, and kind people. When visiting Hawaii, you may choose to stick to one island or you may choose to visit a few islands. If you choose to stick to just Maui, don't forget to consider taking a day trip to another island, like Oahu. Flight connectivity between the islands is really great and it's pretty easy to take a day trip from Maui to Oahu. Keep reading to find out how to make this day trip to Oahu super seamless!
Who Should Take a Day Trip from Maui to Oahu
I'm a big fan of taking day trips. It allows you to see a different place than the one you're visiting. But, I wouldn't recommend everybody visiting Maui take a whole day to visit Oahu. I recommend spending at least 5 days in Maui because there's so much to see, so if you have more time than that, I would definitely recommend a day trip from Maui to Oahu.
Another thing I want to mention about this day trip to Oahu is that you have to understand it's going to be a very full day. If you're not okay with waking up really early and not getting back to your hotel in Maui until pretty late at night, this might not be for you. If it is, keep reading to find out how to do this day trip from Maui to Oahu!
Spending more time in Oahu? Click here to see the best things to do in Oahu.
How to Get to Oahu from Maui
While Maui and Oahu have only one other island in between them, they're also not right on top of each other. The islands have about 100 miles of ocean between them. There used to be a ferry that went between islands, but it's no longer operating.
In order to take a day trip from Maui to Oahu, you're going to fly super early in the morning from Maui to Oahu and then fly back super late at night. Hawaiian Airlines has close to two dozen flights between Maui and Oahu every single day, so this is super easy to do.
The flights are around 40 minutes each way and the ticket will run you around $100 per person. I'd recommend getting a flight around 6 am so you'll be in Oahu by 7 am and have the full day ahead of you. I'd recommend planning your flight home around 10 pm so you can have dinner without having to rush back to the airport.
Search for flights between Maui and Oahu here.
Renting a Car During Your Oahu Day Trip
The first question that comes up when going on a day trip from Maui to Oahu is should I rent a car? I definitely think you should rent a car during this day trip. I personally think renting a car when you're in any part of Hawaii is smart, especially during this day trip. It'll make it easy for you to get around and allow you to optimize your day and do everything and see everything you want to.
My favorite car rental company is Hertz, but if you want to look for the cheapest price, I would recommend using RentalCars. Definitely make sure you get the insurance too! It's just not worth the risk.
Things to Do During a Day Trip from Maui to Oahu
By the time you get out of the airport and pick up your rental car, it'll probably be around 8 am. I'd recommend grabbing a super quick breakfast somewhere. You can go to a cafe near the airport and pick something up to go so you don't waste any time.
Below is a list of the things I recommend doing during your day trip from Maui to Oahu. After I talk about them each, I'll give you the order in which I think you should do them to be as efficient with your time as possible!
Experience history by visiting Pearl Harbor. Pearl Harbor was an incredible tragedy for the US and the museum that's been built around the site is wonderful. You'll learn about what happened and even get to go out on a boat to see the USS Arizona Memorial. You can get tickets here.
Shop 'til you drop in Waikiki. Waikiki is the downtown area that gets the most attention on Oahu. It's definitely commercialized and you'll see a lot of shops you'd see in other large cities in America. That being said, it's a super nice area to walk around.
Drive up to the North Shore and soak up the sun. The beaches on the North Shore of Oahu are famous for their beauty. Depending on the time of year you visit, the North Shore is also where you'll see some crazy surfing waves. Spend a couple of hours soaking up the sun on one of the beaches on the North Shore.
Catch epic views after a hike up to Diamond Head. One of Oahu's most famous hikes is the one up to the top of Diamond Head. The mountain is famously part of the Waikiki skyline and the hike is only about 2 hours long and not too difficult.
Watch the sunset on Waikiki Beach. Despite Waikiki being a commercialized area, the beach is absolutely gorgeous and stretches for about 2 miles. The view of the sun setting with the buildings lit up right next to it is pretty breathtaking.
Oahu Day Trip Itinerary
Now that you know the things you can reasonably do during your day trip from Maui to Oahu, let's talk about how to optimize your time. This is more or less the order I did these things in and it worked out really well and I never felt like we were rushing too much.
The Morning
After you've picked up your car from the airport, I would grab a quick cafe breakfast (if you didn't already eat) so you can get going right away.
The first thing I'd recommend doing is heading over to Pearl Harbor and doing the tour there. You're absolutely going to want to get tickets for Pearl Harbor ahead of time to prevent them from being sold out when you get there.
By doing Pearl Harbor first you kind of get it out of the way. The only reason I say that is because sometimes timing with Pearl Harbor can be a little wonky and you may have to wait a tiny bit to get in. By doing it first, you can plan the rest of your day accordingly.
Pearl Harbor will realistically take you close to two hours, so you'll likely be out of Pearl Harbor by 10-11 am. As soon as you're finished visiting Pearl Harbor, get back to your car and start driving up to the North Shore to continue your day trip from Maui to Oahu.
Late Morning / Early Afternoon
The drive from Pearl Harbor to the North Shore will take you a little less than an hour. As far as beaches on the North Shore go, I highly recommend the beach at Waimea Bay Beach Park. Not only is this beach beautiful, but there's a big rock formation in the middle part of the beach that's super fun to climb up and jump off of. It's a ton of fun, but pretty tame and safe as it's about a 15-foot jump into the water.
I believe you can park on the street, but locals usually park in the church parking lot right down the street from the beach on the right-hand side. The name of the church is Mission of Saints Peter and Paul. Once you walk down to the beach, there's a bathroom where you can change into your bathing suit if you're not already in it. The beach is super wide so even if it's crowded, you'll easily be able to find a spot to put your stuff without being on top of other groups.
After you've spent a couple of hours soaking up the beach, head down the street to The Sunrise Shack for a late lunch. They have coffee, smoothie bowls, and sandwiches that are all delicious and will be great to hold you over until dinner.
Late Afternoon
After you've filled your bellies on açaí bowls and coffee, you'll drive about an hour over to the trail start for the Diamond Head Summit hike. It's time to burn off those smoothie bowls! The hike takes around 2 hours and is 1.78 miles out and back. The hike gives you an incredible panoramic view of Waikiki.
After you finish the hike, it'll probably be early evening, around 5 pm. Head back to the car and drive down to Waikiki and find parking in this area for the rest of the night. Waikiki is super walkable, so you'll be able to leave the car parked until you need it again to head back to the airport.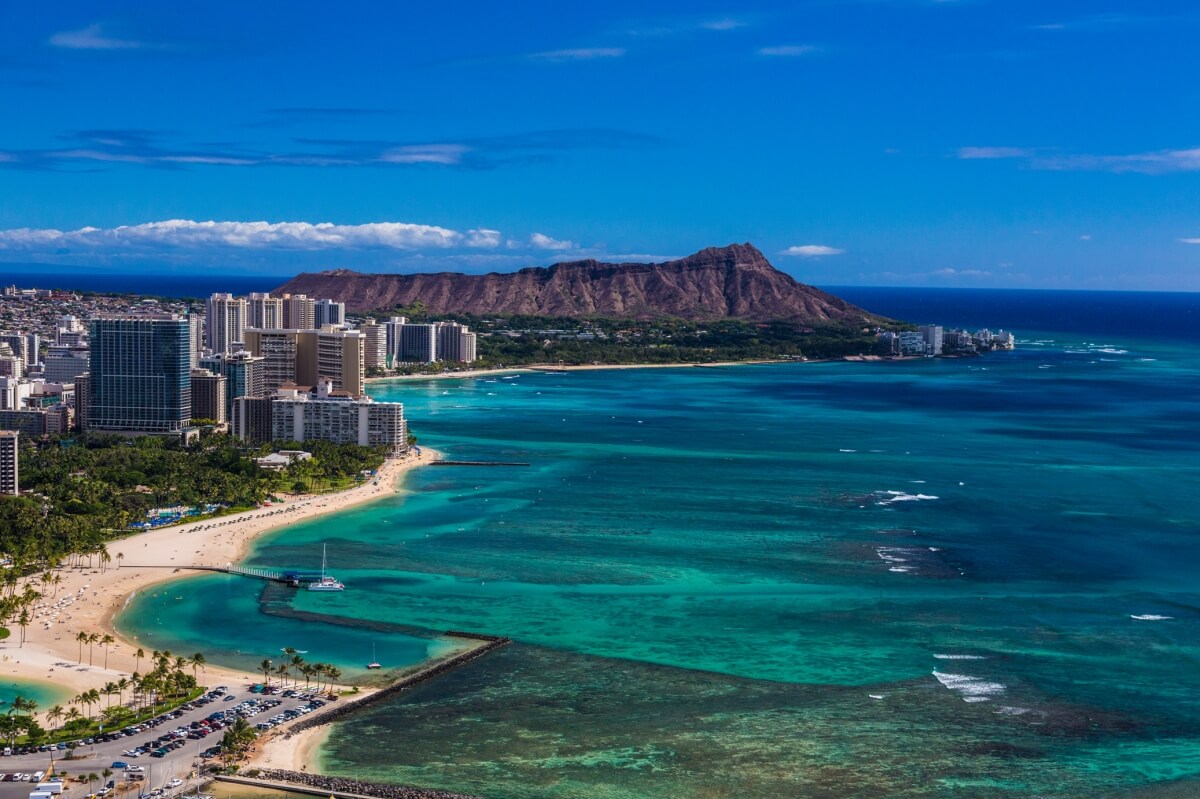 The Evening
Now that you're in Waikiki, you can walk around and see the shops in this area. You'll want to grab something to eat while you're in the area too. There are plenty of options to choose from. A super cliché place to eat is Cheeseburgers in Paradise. As cliché as it is, the food is great!
While you're walking around, make a stop at one of the few Honolulu Cookie Company locations to try some cookies and get some to take with you. The cookies are to die for – you'll thank me later!! They also make for a great souvenir for friends and family back home.
Once you're done walking around and shopping, head down to Waikiki Beach to soak in the beauty of the beach with the buildings in the background. Try to catch the sunset here if you can! The beach is also pretty incredible once it's gotten dark because the lights from the buildings reflect off the water and the beach. It's definitely the perfect way to cap off your day trip from Maui to Oahu!
Finally, it's time to head back to the airport so you don't miss your flight back to Maui! Make sure to give yourself enough time to drop off your rental car and still have time to get through security.
Pin me to Pinterest!!!! ⤵