This awesome, free post might contain affiliate links. I'll receive a small commission when you purchase from my links, at absolutely no cost to you. Your constant support is always appreciated!
Maui, Hawaii is one of the most beautiful places in the United States. From lush sand beaches and cascading waterfalls to epic resorts and delicious Hawaiian food, there's so much to see and do in Maui. This Hawaiian island has a little bit to offer for everybody, whether you're traveling with your significant other, friends, or family. Keep reading to find out 10 can't miss things to do in Maui!
When to Visit Maui, Hawaii
Hawaii, and more specifically the island of Maui, is beautiful to visit all year long. The weather is consistently in the 80s all year long, with the hottest temperatures during the summer months of June-September.
Maui does have a rainy season during its winter, from November to March. That being said, Maui is a tropical island so the rains tend to be powerful, but short-lived and it only rains about 20% of the time. The island of Maui has so much to offer year-round, so don't ever hesitate to visit because of the timing.
Curious about how to spend your time in Maui? Check out this guide for 5 days in Maui.
Getting Around Maui
Knowing the best way to get around the island is crucial in order to start crushing this list of top things to do in Maui. The absolute best way to get around Maui is by car. Simply put, the island isn't big, but it's not small either. Taxis and Ubers can be quite expensive, so I would only rely on those if you don't plan on leaving your resort often.
If you plan to do at least 3-4 of the things on this list, you definitely need to rent a car. I'm a big fan of Hertz, but if you want to just get the cheapest option available, you can search for that here. If you want to really get into the Hawaiian mood, rent a 2- or 4-door Jeep!
Also planning a visit to Oahu? Check out the best things to do in Oahu here.
Top Things to Do in Maui
There are so many things to do in Maui that it can be hard to choose. Your vacation time is precious, so you want to make sure you're filling your time with the most epic things to do in Maui as possible.
You should always pre-book activities when you're visiting Maui, especially during the high season. Make sure you at least pre-book activities that you know you'll be disappointed if you can't do while you're there – you can always add more later!
These will sometimes book up months in advance depending on what the activity is, so you definitely want to stay on top of this. Keep reading on for a list of the 15 best things to do in Maui, Hawaii.
1. Drive Maui's famous Road to Hana
The Road to Hana is easily the most famous thing to do in Maui and something you absolutely can't miss. This 52-mile drive takes you along Maui's northern coast from the airport all the way to the easternmost city on the island called Hana.
Despite only being 52 miles long, this adventure will take all day, so I highly recommend waking up early and carving out the whole day for it.
During the drive, you'll cross over 59 bridges and take 620 hairpin turns. The drive isn't scary, but it's along the coast so it can be some pretty crazy roads, sometimes one land wide. Road to Hana can be done on your own with your rental car, but if you're a bit nervous about tackling it on your own, you can book yourself on a small group tour.
There are a lot of hard-to-find, hidden stops along the Road to Hana. If you opt to do the drive yourself, I highly recommend using the Gypsy Guide Road to Hana app to take you along the journey. It only costs $9.99 and guides you along the Road to Hana while telling you all about the history of Hawaii.
Book a small group tour to see Maui's famous Road to Hana here.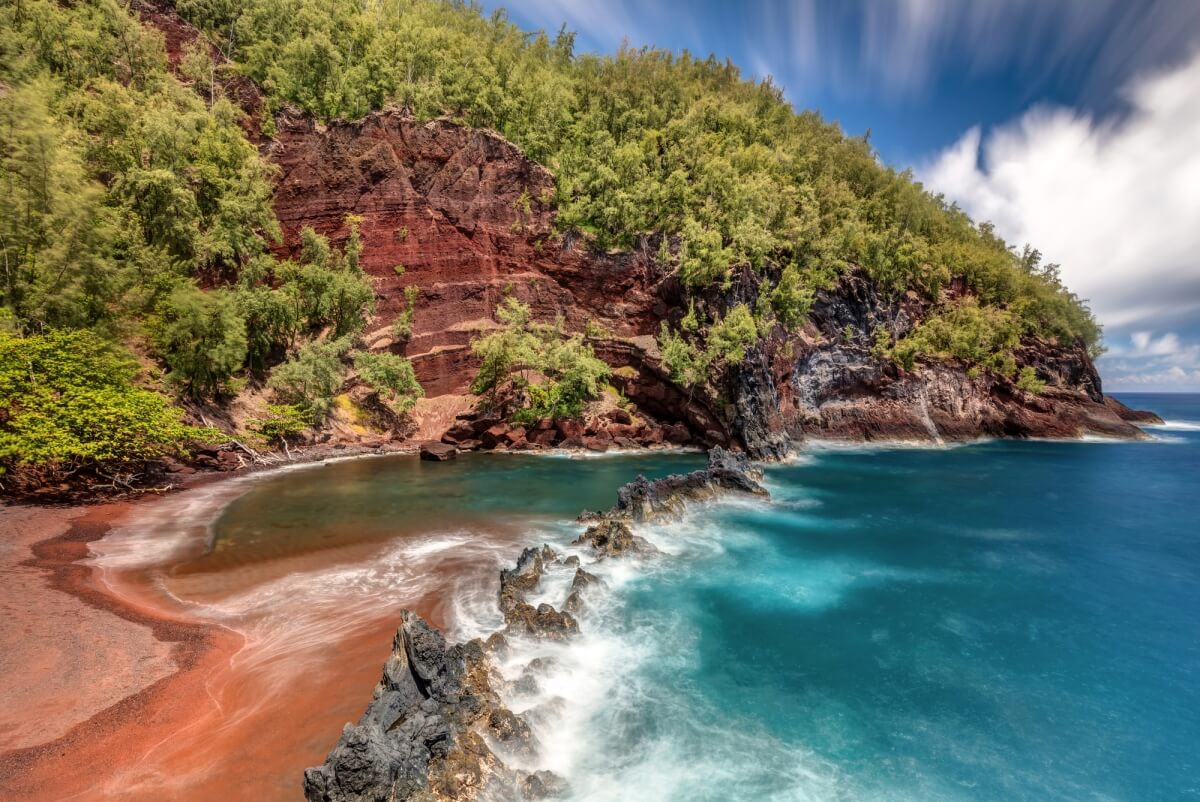 2. Wander around the charming town of Paia.
Located on Maui's northern shore, Paia is a charming little town that makes for a perfect stop during your trip to Maui. It's also conveniently located at the start of the Road to Hana, making it a great place to visit after you're finished your Road to Hana drive.
Paia is full of great little shops and restaurants, including the famous Mama's Fish House. If you want to stop at Mama's Fish House, make sure to make a reservation! If you're looking to spend extra time in Paia, check out some of the beaches in the area, like Ho'okipa Beach Park, Baldwin Beach Park, and Paia Secret Beach.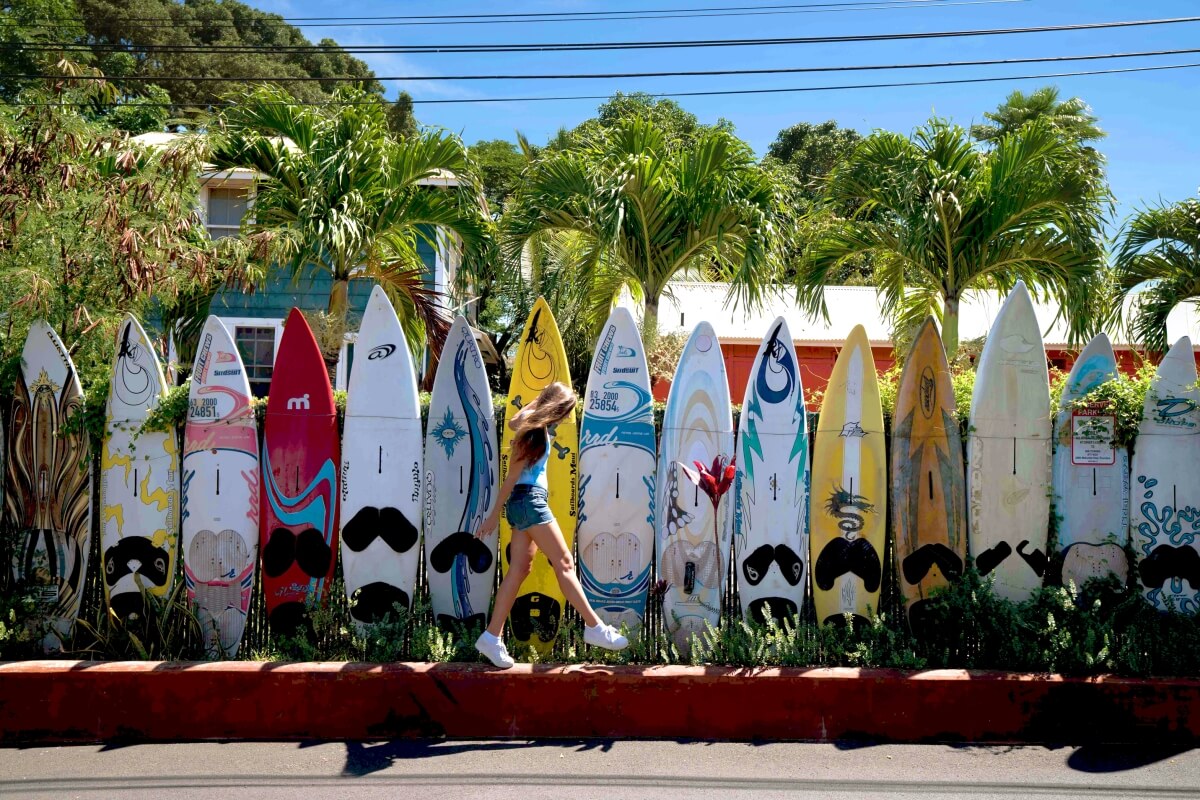 3. Catch the sunrise in Haleakala National Park.
One of the coolest things to do in Maui is to watch the sunrise from Haleakala National Park. It's easily one of the best places on the island to watch the sunrise and I promise you'll never experience anything like it. Make sure you dress appropriately because even though you're on a tropical island, you'll be at the top of a mountain during sunrise so it'll be chilly!
You can opt to visit Haleakala by yourself using your rental car. If you do it this way, you'll have to get a permit for a specific day and time through this link here. The tickets open up 60 days in advance, so I advise you to try to book this as close to 60 days in advance as possible. The tickets only cost $1.50, but I promise you they will sell out.
If you're interested in visiting Haleakala and all the tickets are sold out or you don't want to do the drive yourself, you can opt to join a tour to the summit that includes breakfast. Remember, this will be a very early morning, so be prepared. Plus, if you join a tour, you can sleep on your way to the top!
Book a tour to visit the Haleakala summit for sunrise.
4. Snorkel with turtles and tons of colorful fish at Molokini and Turtle Town.
Snorkeling is easily one of the best things to do in Maui. There are a few different popular snorkeling options in Maui, but the best one is hands down the visit to both Molokini and Turtle Town. Molokini is a crescent moon-shaped island that sits off the coast of Maui.
During WWII, it was used for bombing practice, but later was protected as a Marine Life Conservation District and Bird Sanctuary. The reef has come back to life and is now home to some of the best snorkeling in Maui.
Another epic place to snorkel is this area referred to as Turtle Town. As I'm sure you can guess, it gets this name because it's home to tons of beautiful sea turtles. When I snorkeled here I saw at least a dozen sea turtles, so you're basically guaranteed to see a bunch of them. Make sure to give them space and marvel at them from a distance!
Book an epic snorkeling trip to Molokini and Turtle Town here.
5. Learn how to surf in Maui.
Oahu might be Hawaii's surfing capital, but that doesn't mean Maui isn't a great place to learn how to surf! Whether you're looking to brush up on old skills or you've never surfed ever before, learning to surf is a great way to add a little bit of excitement to your trip to Maui.
The best way to learn to surf in Maui is to book a small group lesson to learn how to surf. This is a great activity whether you're traveling alone, with kids, or with friends or your significant other. Maybe you'll even become an expert during your lesson and be ready to take on some more of Maui's waves!
Click here to book surfing lessons in Maui.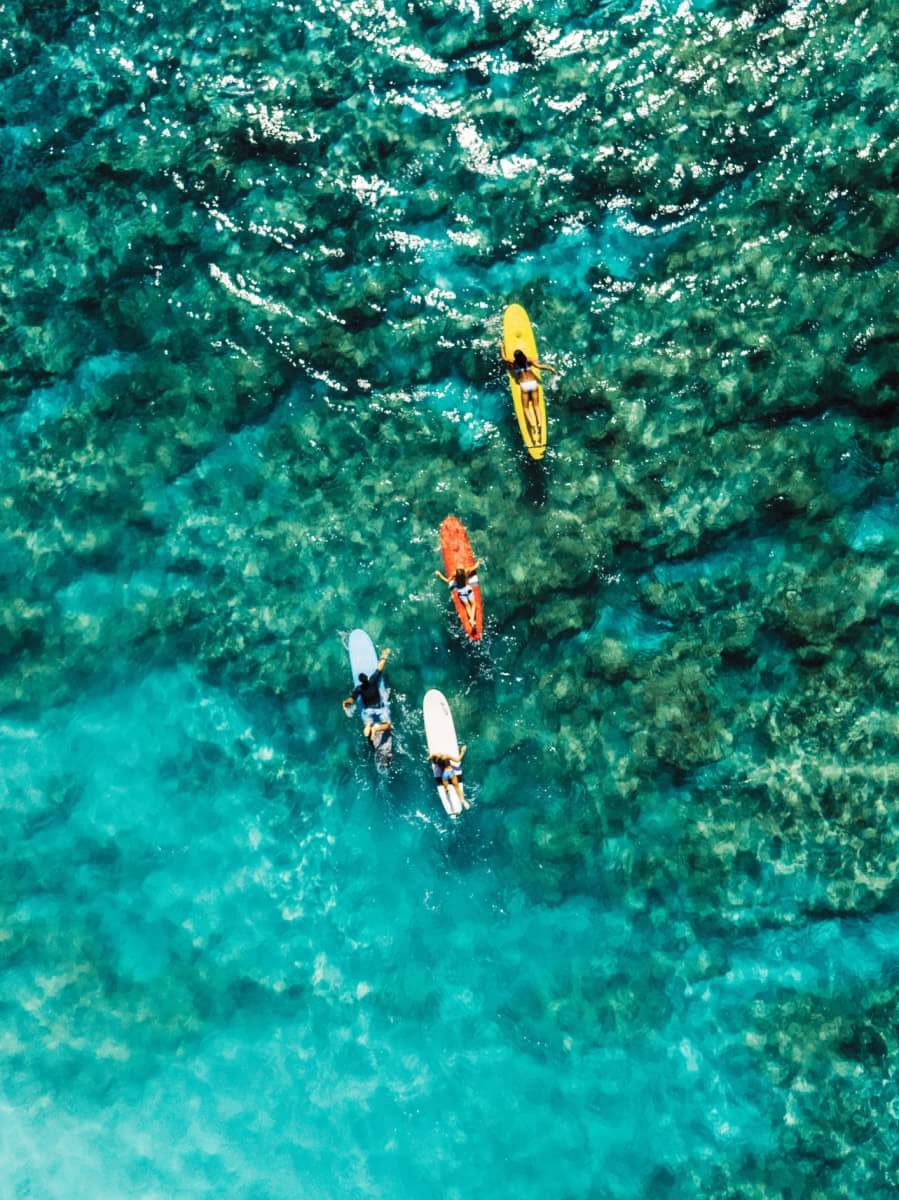 6. Experience Hawaiian culture with a luau.
You can't visit Maui and not attend a luau! It's such a quintessential thing to do on the perfect Hawaiian vacation. Luau's in Maui usually involve some kind of Hawaiian dinner and a show. They usually last for a few hours and you watch the show as you chow down on delicious Hawaiian foods.
A lot of hotels will have luaus right on property or will partner with another hotel that does, so that's the first place I'd look into booking a luau during your stay in Maui. However, you can always book one separately from your hotel if they don't offer it. I would recommend checking out this luau in Maui. Make sure to pre-book these as it's not uncommon for them to sell out far in advance.
Pre-book your table at a luau in Maui here.
7. Go chasing waterfalls!
Maui is a magical island and there's no shortage of absolutely incredible waterfalls and hiking throughout the island. This tropical environment is perfect for discovering beautiful waterfalls all over the place, but you have to know where to look.
Because Maui is a beach destination, a lot of people don't think about all the incredible things you can do outside of visiting the beach, like visiting and swimming in waterfalls around the island.
Go chase waterfalls around the island of Maui with a waterfall and rainforest hiking tour. There are tons of hiking and waterfalls to see on your own, but Maui is full of hidden gems so doing a tour is a great way to see the best there is to offer.
Go chasing waterfalls with this waterfall and rainforest hiking tour.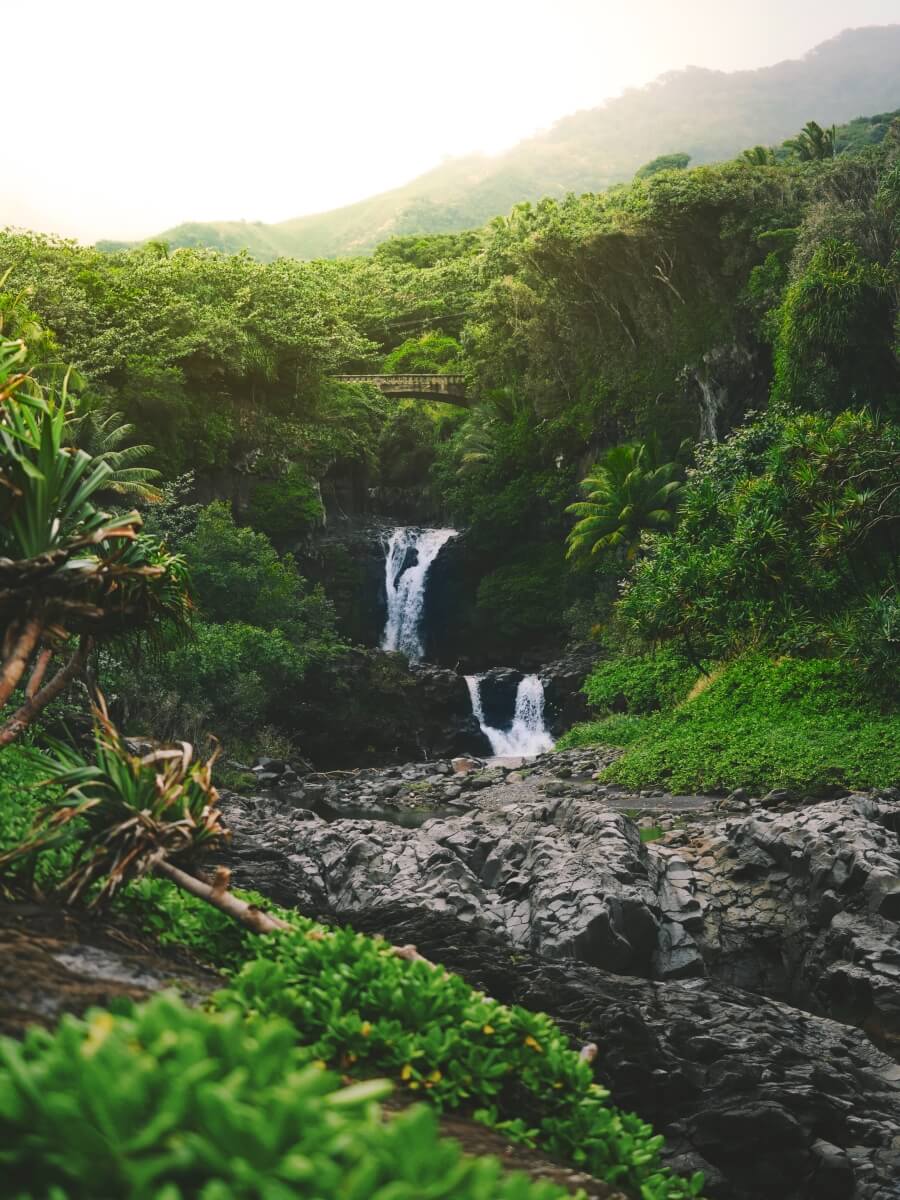 8. Watch whales breaching right off the coast.
What's cooler than being able to see these gentle giants up close? Maui is a great place to go whale watching, but this is a seasonal activity. The only time of year that whale watching runs is between November and May, however, January to March is the peak season for whale watching in Maui.
The best place to go whale watching in Maui is off the island's western coast. I'd recommend booking this afternoon whale watching tour from Lahaina Harbor. If you're interested in a much more up-close and personal experience with the whales, check out this kayak whale watching and snorkel tour.
Book your whale-watching cruise here.
9. See the island of Maui from a unique perspective with a helicopter tour.
Let's be really upfront – helicopter tours can be quite expensive. But, they're 100% worth the money if you choose the right destination to splurge. Maui is one of those places you'll never regret splurging on a helicopter tour to see the island from a unique perspective.
The great thing about a helicopter tour in Maui is that you'll actually fly to the other side of the island and land for an exploratory walk through the Hana rainforest. This is somewhere that would otherwise take you hours to drive to. Plus, the helicopter tours in Maui have more actual flying time than most helicopter tours around the world, so you're getting the best bang for your buck.
Book a once-in-a-lifetime helicopter tour in Maui here.
10. Try some of Hawaii's most popular fruit.
Did you know that pineapples are not only Hawaii's most popular fruit, but are also the symbol of Hawaii? The famous Dole Plantation is one of the things to do in Oahu, but Maui has its own pineapple production to experience as well.
This Maui pineapple tour will take you to the Hali'imaile farm to learn all about pineapples and how a working pineapple plantation runs. Not only will it be a really interesting tour learning all about pineapple production from growth to harvest, but you'll get to taste tons of delicious pineapple as well. It doesn't get better than homegrown pineapple from Hawaii!
Book this tour to get an in-depth look at pineapple growth and production in Maui.
11. Spend an afternoon walking around Lahaina.
Maui has several incredible, charming towns and Lahaina is one that you definitely shouldn't miss. Lahaina is on Maui's western coast near Kaanapali. Front Street in Lahaina is a really cute area to walk around. It's full of tons of restaurants, shops, and other fun things to do.
The famous Cheeseburgers in Paradise is also in Lahaina, so it's a great place to grab food one afternoon. This is especially so if you're staying at one of the resorts in the Kaanapali area because Lahaina is so close by. After you eat your heart out in Lahaina, you can stroll the streets and burn off the big meal shopping until you drop!
If you're looking for more of a beach vibe when visiting Lahaina, their coastline here is breathtaking. I'd recommend checking out Baby Beach or Kamehameha Iki Park.
12. Spot different types of dolphins in their natural habitat.
Maui is known for epic whale watching, but did you know you can also spot a few different types of dolphins off Maui's shores? You might get lucky just randomly seeing them from the beach or while snorkeling, but if you want to virtually guarantee you'll see them, book yourself onto a snorkeling and dolphin-watching tour.
You'll get the incredible opportunity to see a few different types of dolphins, such as spinner dolphins and Pacific bottlenose dolphins in their natural habitat. If you're lucky, you may see other wildlife such as sea turtles, whales, and maybe even seals!
Book a tour to see dolphins up close in their natural habitat.
13. Experience the thrill of a lifetime zip lining in Maui.
Places like Costa Rica are known for zip lining, but did you know you could also go zip lining in Maui? If you're looking for a thrilling adventure after whale watching and snorkeling, be sure to check out the zip lining Maui has to offer. The coolest part is the zip lining course is actually at a place called Camp Maui, which was the Pacific's WWII Marine training base.
You'll spend a couple of hours soaring through this incredible zip lining course at speeds of up to 45 miles per hour. There will be no shortage of epic panoramic views of Maui's upcountry and northern shore. It'll definitely be an experience you'll never forget!
Book this zip lining tour to soar around Maui's northern coast.
14. Spend a day beach hopping around the island of Maui.
Easily one of the best things to do in Maui and one thing Maui is known most for is its beaches. There's no shortage of absolutely incredible beaches in Maui. If you spent a month on the island, you still would barely scratch the surface of beautiful beaches, but that doesn't mean you shouldn't try to see as many as possible!
Take one day out of your trip to just drive around seeing these gorgeous beaches for yourself. Most hotels and resorts in Maui are on the island's western coast, so I would recommend starting there and only venturing out if you run out of beaches to see (which you probably won't!).
If you want to stick around the Lahaina, Kaanapali, and Kapalua area, make sure to check out visit Black Rock Beach, Kapalua Bay Beach, May's Beach, and Baby Beach. If you're wanting to stick to the Kihei and Wailea area, check out Kamaole Beach Park, Kalepolepo Beach Park, Oneloa Beach, and Keawakapu Beach.
15. Get some hiking in during your Maui adventure.
We've talked a lot about beaches, restaurants, and shopping so far, but Maui has so much more to offer. One of the most exciting things to do in Maui is to check out some of the hiking trails the island has to offer.
There's an abundance of these during the Road to Hana drive and in Haleakala National Park, but make sure to check out some of the hiking trails in other parts of the island too.
One of the best places to discover hiking trails is through AllTrails, which I would definitely recommend checking out while you're in Maui. Some hiking trails that would be fun outside of Road to Hana and Haleakala National Park are the Kapalua Coastal Trail, Nakalele Blowhole Trail, and the Waihe'e Ridge Trail. Make sure to be super respectful of trails and people around you while hiking and to always leave no trace.
Pin me to Pinterest!!!! ⤵