This awesome, free post might contain affiliate links. I'll receive a small commission when you purchase from my links, at absolutely no cost to you. Your constant support is always appreciated!
Oahu is the most visited island in Hawaii, with nearly 5 million visitors annually. The island is home to the capital of Hawaii, Honolulu. Oahu is often overlooked as a destination in Hawaii for those looking to escape the grind of reality back home due to the commercialized nature of Honolulu. But, Oahu has much more to offer than the city of Honolulu, especially if it's your first time visiting Hawaii.
During a stay of 5 days in Oahu, you'll be able to escape outside the city and venture onto other parts of the island. From the epic surfing beaches of the North Shore to the calm waters on the East Coast, Oahu has a ton to offer for anybody.
As you read, you'll learn everything the island has to offer on this mindfully planned Oahu itinerary. By the end, you'll be ready to throw down your credit card and book that flight!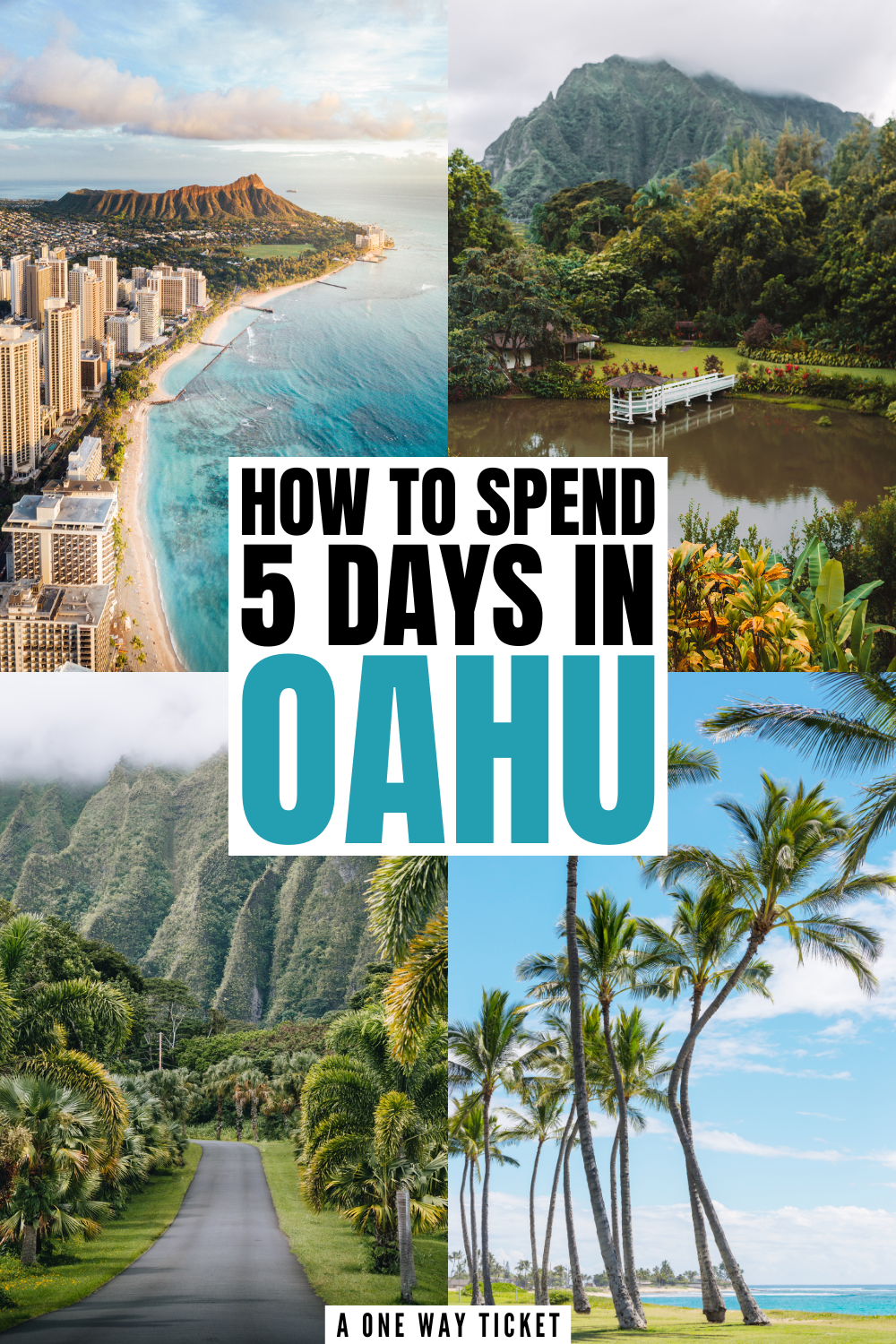 How to Get to Oahu
The best way to get to Oahu for 99.9% of people is to fly (unless you have a boat, in which case, invite me!). Oahu has the most connectivity of all the Hawaiian islands for flights from the United States, so you might be surprised what flight options are available.
When searching for flights, you want to search for flights to Honolulu's Daniel K. Inouye International Airport (airport code: HNL). You'll find nonstop flights here on a variety of airlines from the typical Hawaiian gateways like Los Angeles, San Francisco, Seattle, and Dallas.
However, you can also get nonstop flights from some other destinations like New York City/Newark, Las Vegas, Austin, Boston, Washington D.C., and Denver.
If you're traveling from overseas, you can also find nonstop flights to Oahu from all over the world from places in Asia like Tokyo, Seoul, and Manila to places like Auckland, New Zealand and Sydney, Australia.
Getting Around During 5 Days in Oahu
The best way to get around during a 5-day stay in Oahu is with a rental car. You'll end up spending some serious money if you have to Uber or take taxis everywhere, so splurge on the car rental.
Sometimes renting a car is an afterthought when planning a trip, but don't let that be the case when planning your trip to Oahu. Car rentals can sometimes sell out and you'll be stuck without any options, so plan ahead!
TRAVEL TIP: ALWAYS get insurance when renting a car. You won't always need to use it, but it's super important to have to prevent your travel budget from being unexpectedly blown out of the water.
How Long to Spend in Oahu
As you can probably tell by this article, I think spending 5 days in Oahu is the sweet spot. Spending 5 days on this incredible island bridges the gap between spending too little time and too much time.
You could, of course, spend less time if you're okay just seeing the major highlights. Likewise, you could spend more time if you want to take things a little slow. Spending 5 days in Oahu allows you to get a good, in-depth overview of the island, while still allowing time to spend on other islands, like 5 days in Maui.
Don't have a lot of time to read? Skip down to the short and sweet version of this itinerary.
Best Time to Visit Oahu
Hawaii is truly a great year-round destination. There are pros and cons to any time of year. Hawaii often sees more crowds in the summer months due to schools being on vacation, so try to avoid this time if you can help it.
One of the best times to visit any destination is during their shoulder season. The shoulder season in Oahu is between the months of April-June and September-December. If you can plan your trip during this time, you absolutely should.
Visiting during certain times of year allows you experiences you can't have year-round. For example, if you're interested in adding a visit to the North Shore to see epic surfing on Banzai Pipeline, this is best done over the winter months. Likewise, the winter months are when you can go whale-watching to see humpback whales, which is something Hawaii is known for.
The weather will be in the 80s and sunny all year long. You will experience the occasional rain in Oahu, but just know it's often a fast rain storm that will turn into sun shortly after.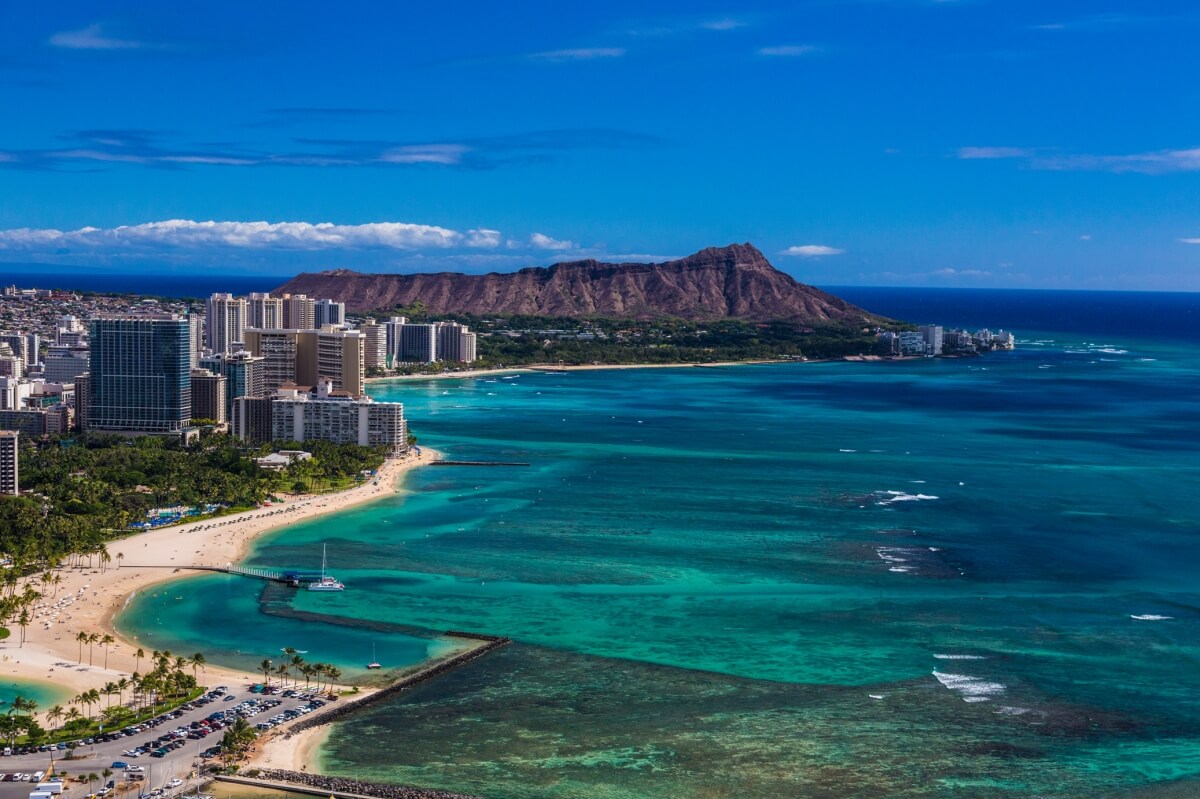 Where to Stay in Oahu
Knowing where to stay in Oahu is super important when planning your 5-day Oahu itinerary. The most popular area to stay in Oahu is Waikiki. Located on the island's south shore, it's the most central for all the things to do in Oahu, so it makes the most sense logistically and it's what I recommend the most.
If you want to stay somewhere outside of Waikiki, look into Ko Olina. Ko Olina is on the western part of the island of Oahu. The only con to Ko Olina is that there's not much else to do over here. There are a few hotels over here, some of which are great hotels. It's a much more relaxing area to stay in compared to the hustle and bustle of Waikiki, so you'll have to weigh the pros and cons of staying here.
Lastly, there are some hotel options on the North Shore. I normally wouldn't recommend staying here unless you truly want to spend 5 days in Oahu exploring the North Shore in detail. While it's a beautiful place, it's pretty far out of the way of everything except the North Shore, so staying up here isn't super convenient.
When considering pricing for hotels in Oahu, remember that Hawaii is an expensive destination. When one dollar sign ($) might normally mean a hotel under $100/night, here something under $250/night is considered a steal. Plus, you will pay a premium to get those epic ocean views, so keep that in mind.
Here's a list of my highest recommend hotels for your Oahu itinerary.
SEARCH HOTEL PRICES IN OAHU:
Hotels.com | Booking.com | Orbitz | Expedia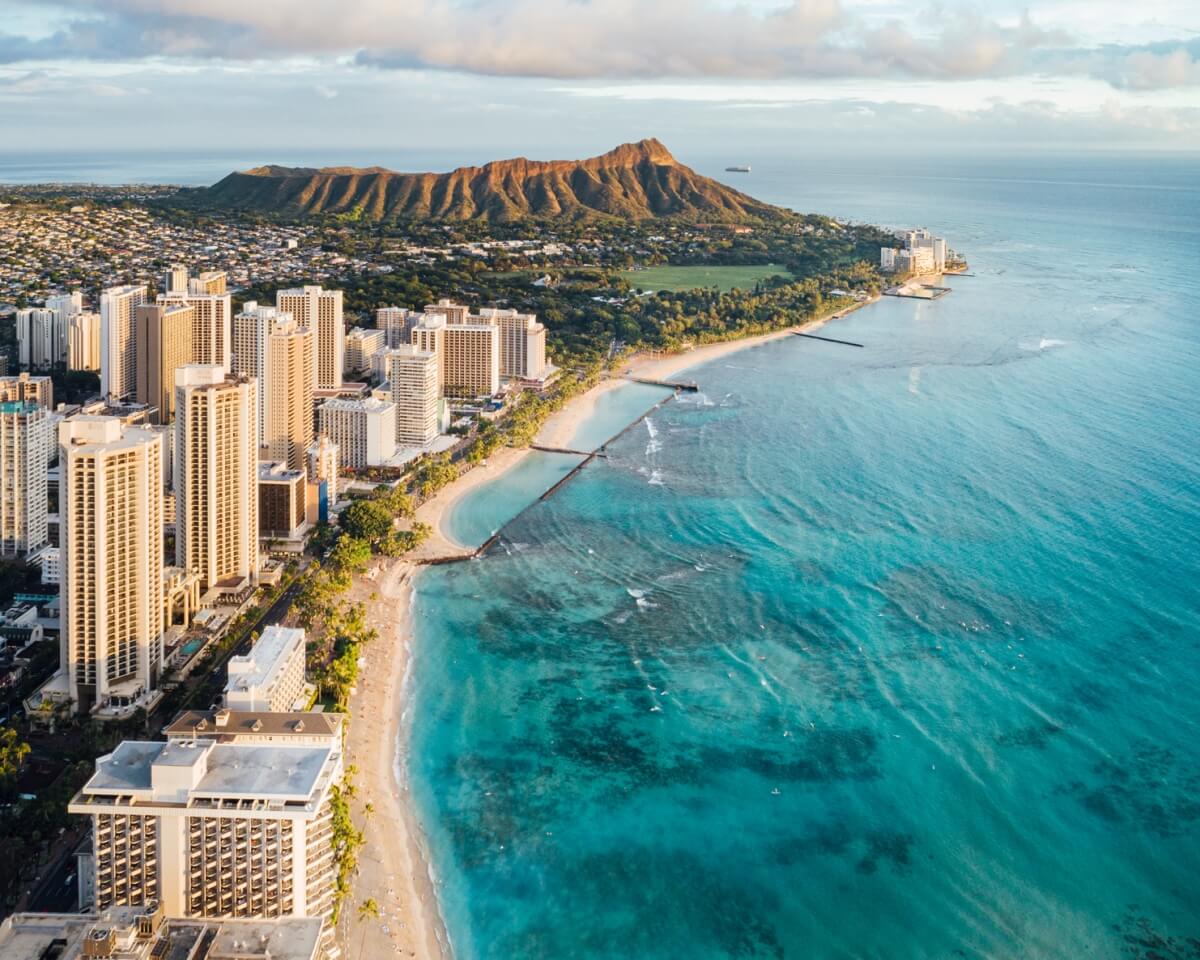 What to Pack for 5 Days in Oahu
Knowing what to pack for your Oahu itinerary is super important. Hawaii is a really unique place, so there might be certain things you may not think to put on your packing list. See below for a comprehensive list of must-have items for your Oahu packing list.
5 Days in Oahu Itinerary
Now that you know some of the details about planning your 5 days in Oahu, let's get down to business. The upcoming information is my best recommendation for an Oahu itinerary. You can always shuffle the days when necessary for availability or your own style.
That being said, after being to Oahu a few times myself, I find this 5 days in Oahu itinerary to be the best way to do it overall. It keeps you in certain areas of the island on certain days to maximize your time. You can always do more and you can always do less, but this is the best happy medium itinerary.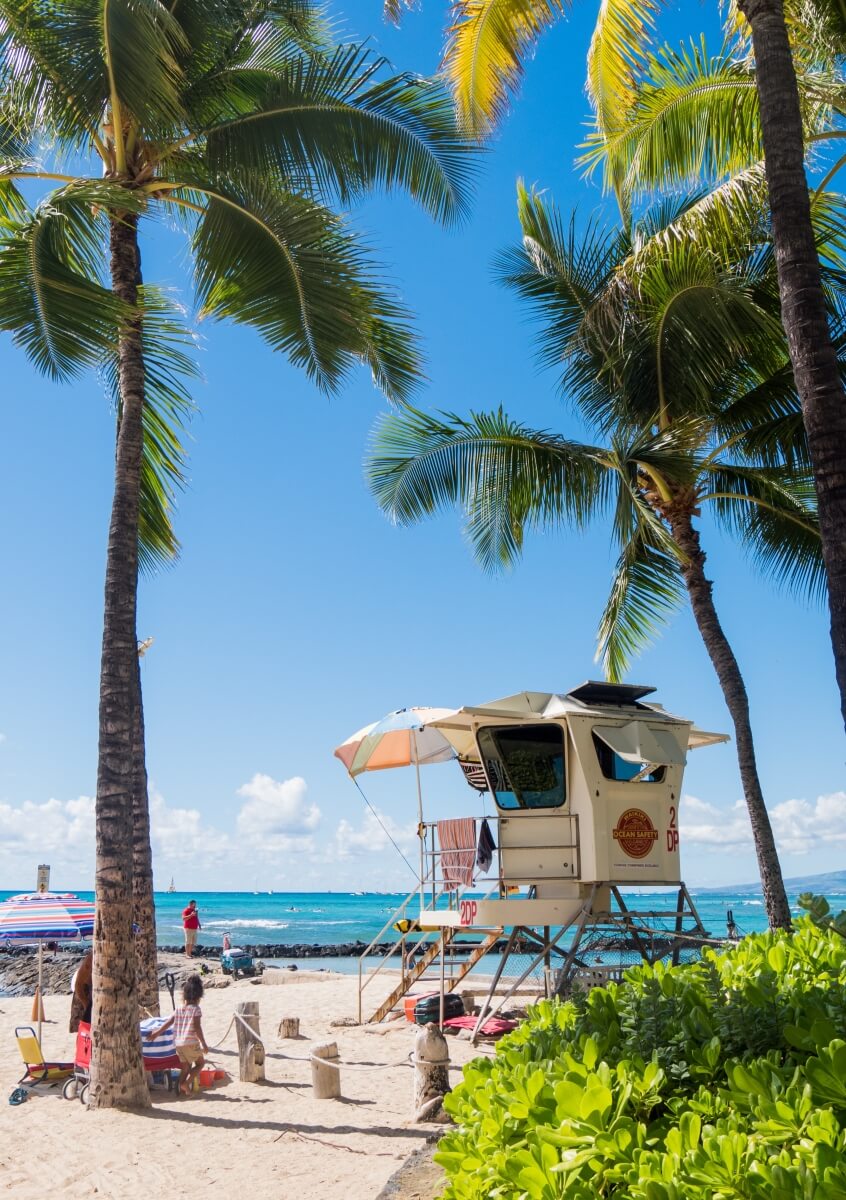 Day 1: Arriving in Oahu
After you arrive at the airport in Honolulu and pick up your rental car, you'll want to head right over to your hotel. If it's too early to check-in, you can either leave your bags there and go grab lunch (you'll be hungry after the long flight!) or you can post up by the pool.
This day is mostly going to be about relaxing and settling in. However, if you're the type of person that likes to beat jetlag by distracting yourself (honestly, it's the best way), then I would recommend an easy activity on day 1 of this Oahu itinerary.
Consider booking a sunset cruise around Waikiki on your first day. This is a super low-key activity, perfect for getting out there to do something without doing too much. If you're staying in Waikiki as I recommend, you'll already be close by.
If you want to look at another option and it's the right time of year, December-May, an afternoon whale-watching cruise is another perfect day 1 activity in Oahu. After you get back to your hotel, get some good sleep because tomorrow is a big day!
Day 2: Pearl Harbor, Diamond Head, & Waikiki
Start your day with a visit to the Pearl Harbor National Memorial & the USS Arizona Memorial. While visiting Oahu is about soaking up the sunshine and enjoying the beautiful beaches and Hawaiian culture, it's important to visit places like Pearl Harbor to pay your respects to the people who lost their lives here.
On top of that, it's quite a fascinating place to visit and they did a really great job with it. While you can do a full-day tour of Pearl Harbor, I recommend doing a half-day tour which usually includes about 2 hours at Pearl Harbor.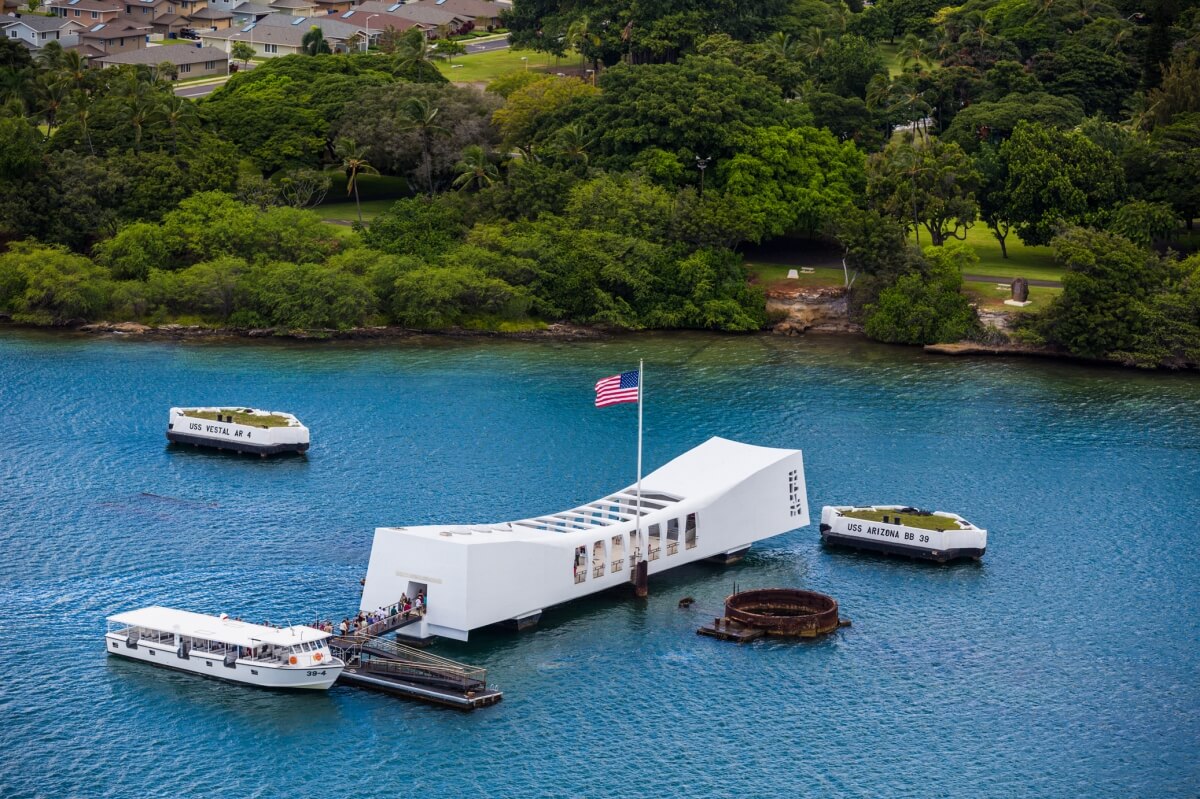 After visiting Pearl Harbor, now is a good time to head over to Diamond Head. Diamond Head is one of the most popular hikes in Oahu. This 1.6-mile roundtrip trail will take you around 1 hour to hike. The volcanic crater sits as a backdrop of Waikiki and offers incredible views from the Diamond Head Crater Hike.
Much like most of the other popular attractions in Hawaii, a reservation is required for access to Diamond Head. Head to this website up to 1 month in advance to purchase your tickets. You'll have the option to select how many people will be on your reservation and if you want entry or entry + parking tickets.
Once your hike is complete, head back to Waikiki for a bit of relaxation after your long morning. Take this time to grab lunch, hang out at your hotel, or relax on Waikiki Beach. Waikiki Beach is usually quite busy and full of people, but it's a gorgeous beach and definitely worth the visit. To end the night, book tickets for a luau!
Day 3: Exploring the North Shore
The North Shore is arguably one of the best parts of Oahu. I would argue that anybody who says anything negative about Oahu hasn't visited the North Shore, because it's completely different from the hustle and bustle of Honolulu and Waikiki.
Your whole 3rd day on this Oahu itinerary is mostly going to be a beach day spent on the North Shore, so make sure you pack everything you'll need for the day in your rental car before the early start. Start your day with a swim at one of the many beaches on the North Shore.
I recommend starting at Waimea Bay Beach Park because it's a great, long stretch of beach. On top of that, it has a big rock in the middle of the beach that's super fun to jump off.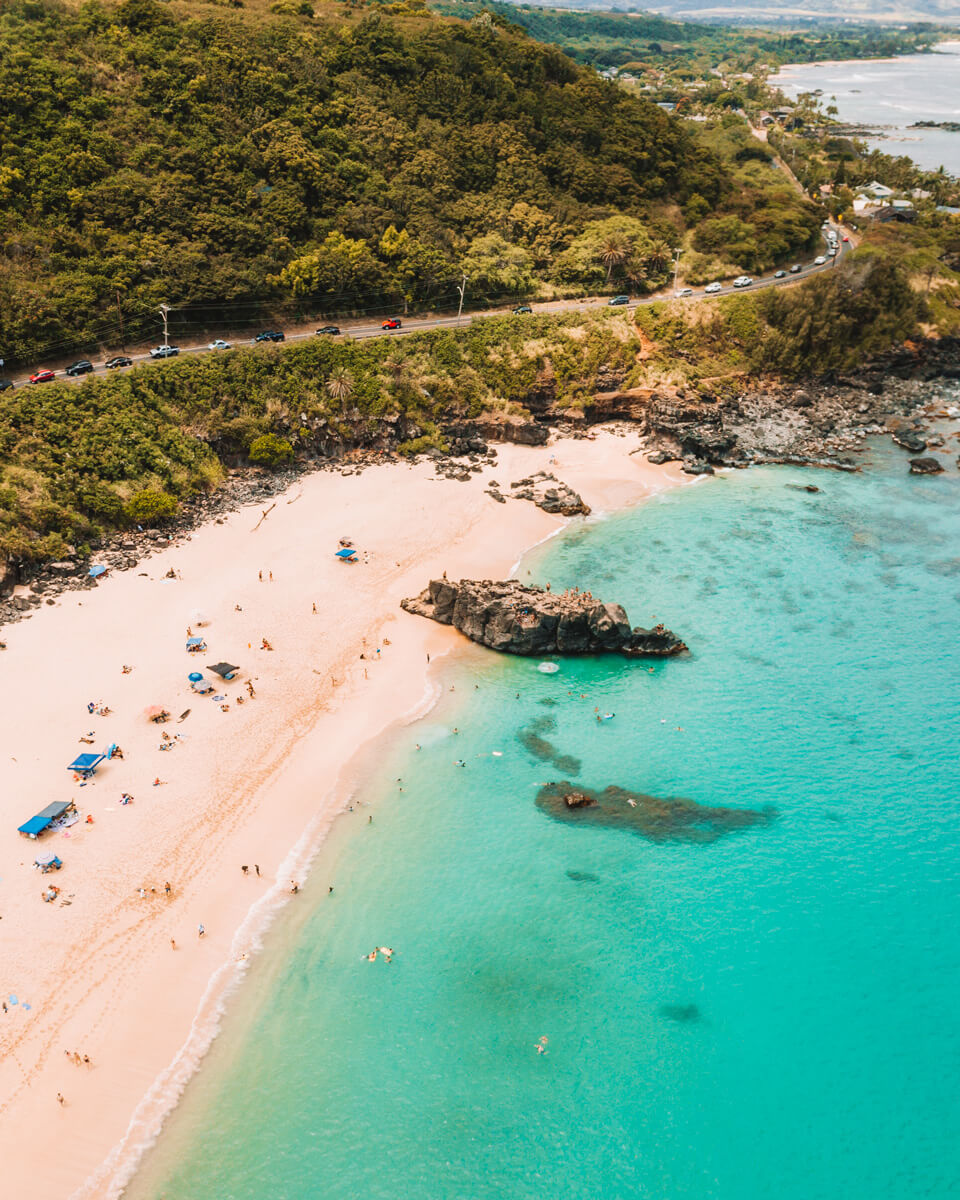 It has full facilities to allow you to change into your bathing suit as well. Plus, it has a proper parking lot, which can be a good thing or a bad thing when you consider that the parking can fill up very early.
TRAVEL TIP: If you opted to not rent a car or just don't feel comfortable driving longer distances, consider a circle island guided tour that will have you visiting the North Shore, Downtown Honolulu, and historic sites, as well as other parts of the entire island.
Since you started your day so hungry, you'll probably work up an appetite during your early morning beach sesh. Pop over to Hale'iwa Bowls and grab an acai bowl, a coffee, or a smoothie to hold you over until lunch. While you're at Hale'iwa Bowls, head over to the small, but adorable town of Hale'iwa to walk around and explore some of the local shops.
Acai bowls always make me hungry in an hour, so after walking around Hale'iwa, you'll be ready for lunch. Check out Giovanni's Shrimp Truck for some of their famous garlic shrimp. If you're not a fan of shrimp, there are a few other food trucks in the same lot, so you'll be able to find something to eat too.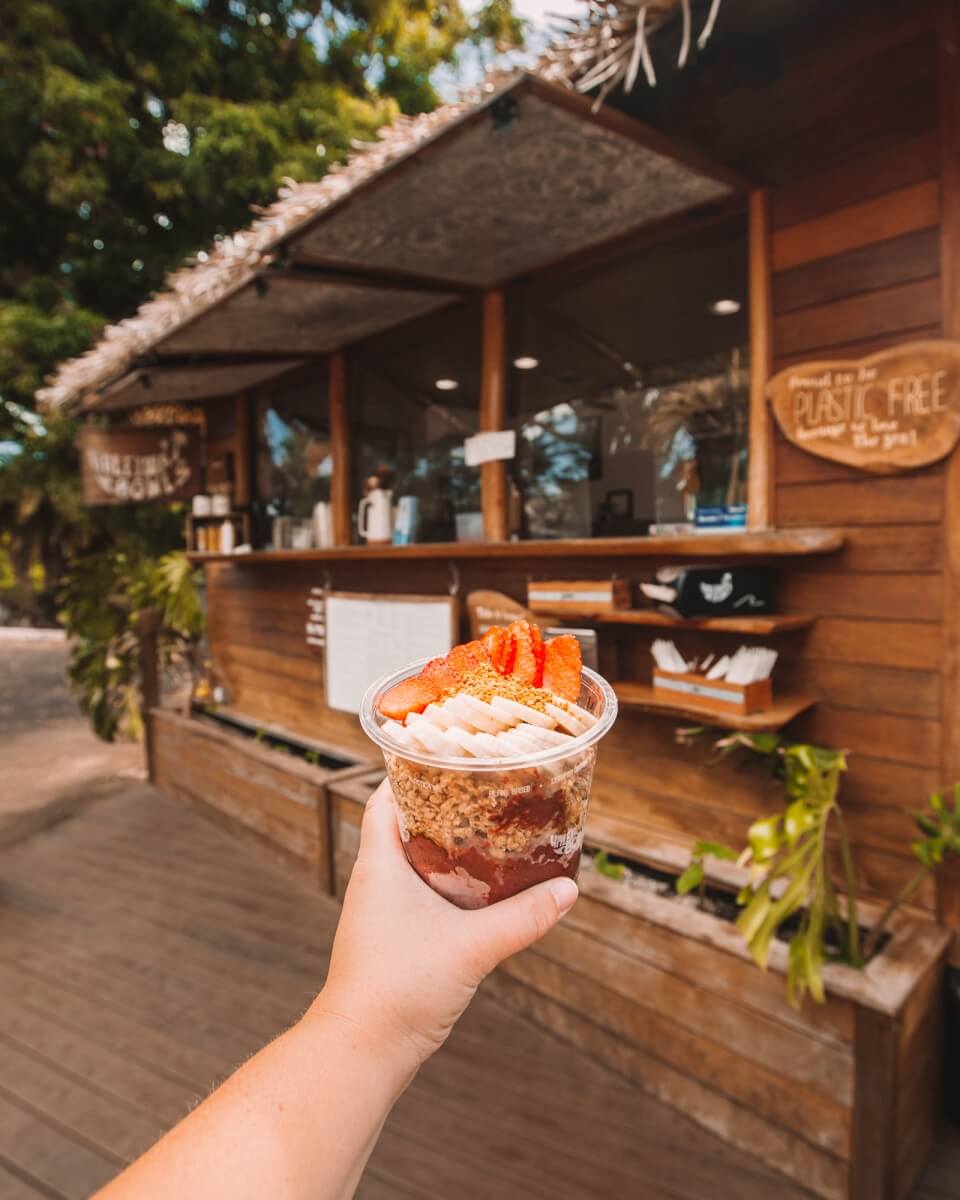 Now that you're properly full of delicious food, it's time to go explore some more of the famous North Shore beaches. You have yet to do any snorkeling, so now is a perfect time to check out the snorkeling.
Shark's Cove is one of the best places to go snorkeling. It's a bit of a rocky area (which is usually great to see fish), but if you're looking for something a bit less rocky, consider some snorkeling at Laniakea Beach. You may even see some sea turtles here!
If you have time after snorkeling or prefer to stay on the beach instead of going in the water, head over to Sunset Beach. It's a beautiful sandy beach, perfect for relaxing. As you can tell by its name, it's also a great place to watch the sunset if you're there at the right time.
If you prefer to see some action and are traveling in winter (December-March), head over to Banzai Pipeline to see some professionals surfing the up-to-30-foot waves.
Day 4: The Eastern Side of Oahu
An area of Oahu I rarely hear about is the Eastern area of Oahu. I would argue it's just as nice as the North Shore, although it's much more low-key. Day 4 of your 5-day Oahu itinerary is going to be spent on the eastern shore of Oahu and it starts with a road trip through the Pali Highway towards the eastern coast of the island. There's a slightly quicker way to go, but it's a scenic highway – thank me later!
Start the day at Kualoa Ranch. This area is famous for being the set of many legendary movies and TV shows like Jurassic Park, LOST, 50 First Dates, and Hawaii 5.0.
In order to visit Kualoa Ranch, you have to do a tour. They offer many different tours for many different interests, so I would recommend looking through all the options and picking what interests you the most.
After a fun morning at Kualoa Ranch, stop at Byodo-In Temple. This is a Buddhist temple that was dedicated to the Japanese immigrants of Hawaii. Admission is only $5 and it's definitely worth a stop.
Next, make a stop at Ho'omaluhia Botanical Garden. Once you see this place, you'll probably recognize it as it's easily one of the most photogenic natural sites in all of Oahu. It's open daily and free to enter. You can drive right in through the botanical gardens. There are also parking areas to allow you to get out and get up and close to the beautiful scenery.
The last stop of the day is dinner at Hale'iwa Joe's, specifically their Haiku Gardens location. There's a trick to getting a table here because it's very popular and they don't accept reservations. They open at 4 PM, so the key is to show up around 30 minutes before they open and wait in line.
If you show up later, you'll likely have to wait 60-90 minutes before you can get a table. Don't worry – it's worth the wait. Plus, if you have to put your name in and wait due to a long line in front of you, there's a garden area below with a gazebo that's nice to walk around and kill some time.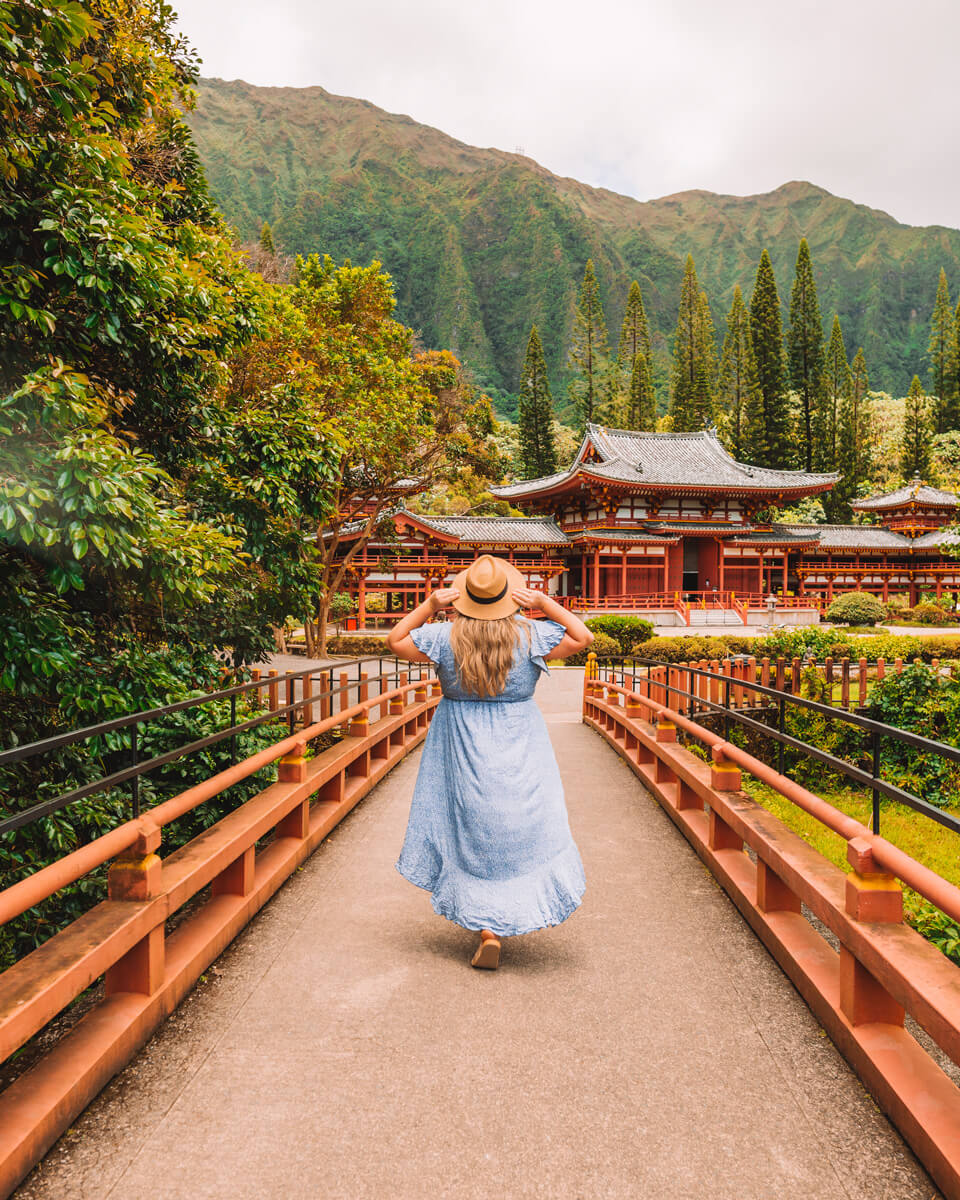 Day 5: Snorkeling, Hiking, and Beach Time
Sadly, your 5 days in Oahu are coming to an end. On your fifth and final day on your Oahu itinerary, we're heading a bit outside Waikiki to the southeastern portion of Oahu.
Before you get to your first stop, head over to Leonard's Bakery to try some of their famous malasadas. Malasadas are fried donuts that ironically originate in Portugal. However, they've become super popular in Hawaii, and Leonard's makes some of the best. You'll want to get there early because they open at 5:30 AM and can be quite busy and your first stop today is going to start early.
After filling up on malasadas, it's time to snorkel at the famous Hanauma Bay Nature Preserve. This cove beach area in Oahu is one of the island's best and most popular snorkeling spots, full of tons of coral and marine life. It's a very protected area and entry is restricted, so you have to reserve a time slot ahead of time using this website.
It can be very difficult to get tickets, so you have to plan ahead. Online reservations open 2 days in advance starting at 7:00 AM local time. I recommend being on the website 5 minutes beforehand. Start refreshing the page at 6:59 AM because the tickets will sell out and FAST.
If you're unable to get tickets and still want to visit, you can try to get your hands on some of the very limited walk-in tickets when they open at 6:45 AM. However, I would use this option as a backup only if you're unable to secure tickets in advance.
Once you're finished experiencing the marvel of Hanauma Bay, head over to the Lanikai area of Oahu. This area has a great beach and also a great hike. It's up to you if you want to go to the beach first or do the hike first. However, I'd recommend doing the hike first and relaxing after the hike.
The hike is called the Lanikai Pillbox Hike. AllTrails rates it as a hard hike, so only do the hike if you're prepared and physically fit enough. The hike is 1.7 miles out and back and usually takes around an hour to complete. Once you reach the top, you'll get incredible views of this area of Oahu.
After your hike, head down to Lanikai Beach for some ultimate relaxation. Lanikai Beach is one of my favorite beaches on the island. The water is calm and it's not crazy packed like Waikiki Beach can be. It feels like a lot more of a local beach than a lot of the others on the island, so it's something really special.
Sometimes parking can be difficult at Lanikai Beach because it's a pretty residential area. If you have too much trouble parking, you could head over to Kailua Beach instead.
Whether this is your last full day or you have to fly out tonight will determine how much time you can spend at Lanikai Beach.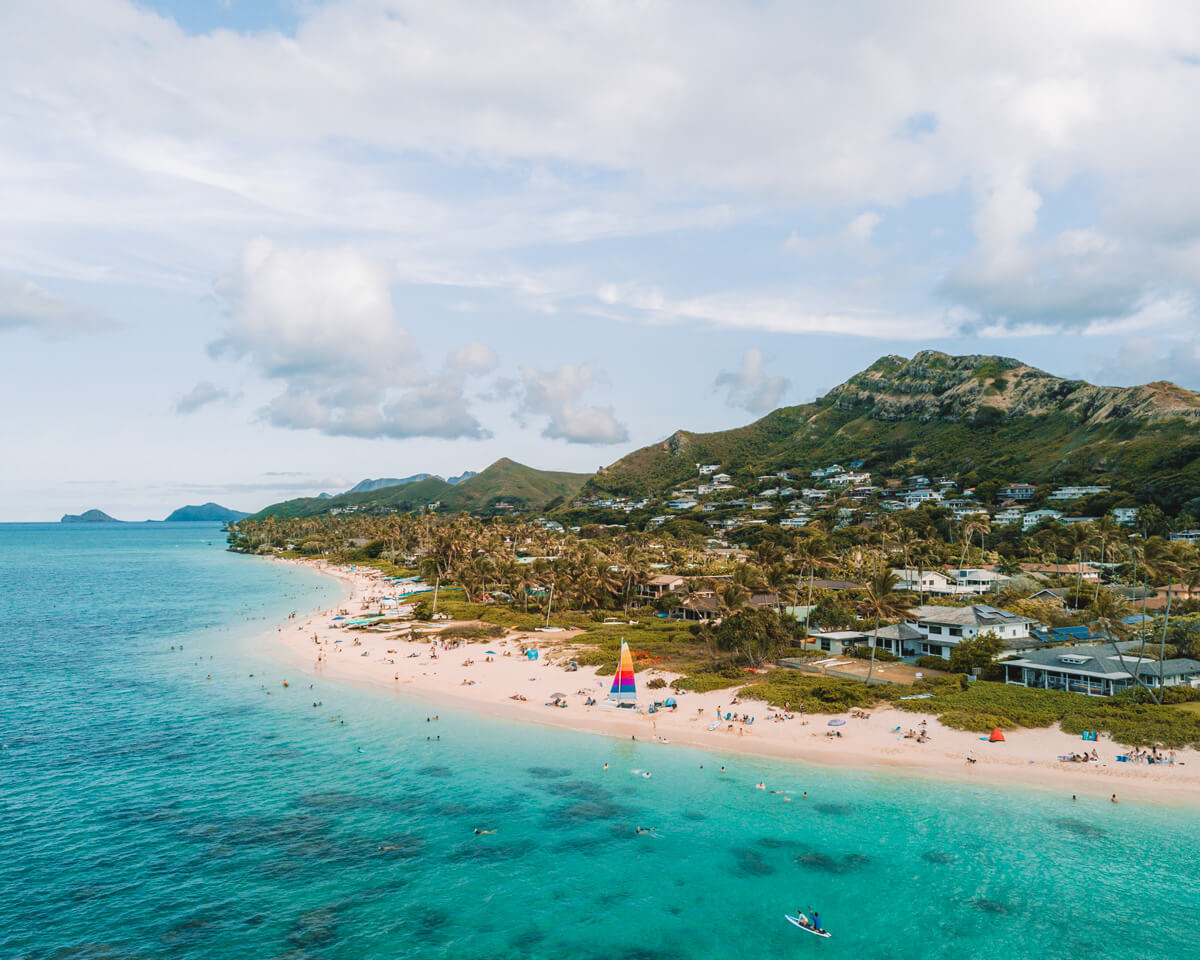 5 Days in Oahu Itinerary: The Short & Sweet Version
Planned a last-minute trip and don't have time for a deep dive into all the best things to do in Oahu? No worries! I've got you covered. If you just want the short and sweet version of this epic 5 days in Oahu itinerary, your wish is my command.
Day 1: Arriving in Oahu
Day 2: Visit Pearl Harbor, Diamond Head, & Waikiki
Day 3: Explore the North Shore
Day 4: Kualoa Ranch, Byodo-In Temple, Ho'omaluhia Botanical Garden
Day 5: Hanauma Bay & Lanikai Beach
Interested in visiting more places in Hawaii? Hawaii's main four islands for tourism are Oahu, Maui, Kauai, and Hawai'i (aka the Big Island). Check out these other super helpful posts on Hawaii!
Pin me to Pinterest!!!! ⤵︎