This awesome, free post might contain affiliate links. I'll receive a small commission when you purchase from my links, at absolutely no cost to you. Your constant support is always appreciated!
Vancouver, Canada offers that perfect Pacific Northwest blend of ocean and mountains with bustling city vibes adjacent to stunning nature. This unique combination lends itself to a host of activities for visitors, from snow skiing to taking in a local concert, kayaking to shopping at the public market, and hiking the trails to dining in modern eateries. Plus, your favorite TV show was probably filmed here, so you might run into a film set or two during your stay. Whether a quick weekend girls' trip or a longer family vacation, a stay in Vancouver will not disappoint. Take a look at some of the best Airbnbs in Vancouver below and start planning your trip!
How to Get to Vancouver
Vancouver is located on the west coast of Canada in British Columbia, about two and a half hours north of Seattle, Washington. If you are coming from Washington state or northern Oregon, you can enjoy a beautiful scenic drive up to Vancouver – just factor in some time at the border depending on the time of day.
If you are not located in western Washington, you most likely will be arriving by airplane. Vancouver International Airport (airport code: YVR) is the second busiest airport in Canada, but it is also one of the highest rated airports in North America and is just under a half hour drive to the heart of Downtown Vancouver.
For locals of the Pacific Northwest, taking the train, bus, or even a ferry are other options to get to this beautiful city.
How to Get Around Vancouver
Whether you want to rent a car or travel by foot really depends on your itinerary. Vancouver has a fairly high walkability score of 80. The downtown area, Gastown, Granville Island Public Market, the waterfront, and more are very easy to get around by foot or bicycle.
If you want to venture to Stanley Park or some of the other farther out trails and parks, renting a car, using a ride share service, or using public transportation are recommended. TransLink, the city's bus service, and SkyTrain, the city's light rail service, are both great options for visitors commuting all around Vancouver.
The Best Airbnbs in Vancouver, Canada
Staying in an Airbnb while you visit Vancouver will put you in the heart of the city. Some of the best Airbnbs in Vancouver allow you to feel like a local, while also being a more affordable option than hotels. Plus, it allows for your trip to have options – spend the day on the town but make dinner back at your apartment and enjoy the lights of the city, or put your feet up for a movie night after a day out hiking.
There are so many incredible Airbnbs in Vancouver – check out some of the best below!
Loft Studio Next to Historic Gastown
This stylish studio boasts a beautiful and modern interior equipped with everything you need for a comfortable stay away from home. It's centrally located on the border of Gastown and Chinatown, some of the hippest spots to explore in Vancouver. Steps away from trendy eateries, markets, shops, and nightlife scenes, you will never run out of things to do.
Ten-foot ceilings give this spacious studio a bright and welcoming vibe and with one bed, it would be the perfect place for a couple or a pair of friends.
Wake up and enjoy a latte from the espresso machine, explore the city by foot, and relax at night in the soaking tub of this Airbnb Plus, one of the best Airbnbs in Vancouver.
Click to check pricing on Airbnb.
Vintage Guest Loft in Converted Warehouse
This Airbnb is famous for its unique and eclectic décor. There are tons of cool details for guests to enjoy – think, a real working record player! Besides this, it is conveniently located in walking distance of all of the hot spots of Vancouver.
This open-concept loft includes one comfortable king bed, wood beam ceilings, and an industrial and rustic ambiance. As an Airbnb Plus, it proves to be not just clean, but also charming and full of character.
This is one of the best Airbnbs in Vancouver if you want to feel a part of the city, but also enjoy a comfortable and captivating home. You'll wish you could stay longer!
Click to check pricing on Airbnb.
Rustic Open-Concept Apartment in Gastown
With a stunning southwest style, this Airbnb is the perfect getaway for one or two travelers looking to relax and enjoy the city of Vancouver. On a clear day, catch a stunning view of the Cascade Mountains out the front window. Enjoy a walk to local coffee shops, breweries, and shops as you stay in historical Gastown.
This Airbnb is the perfect spot to stay for a couple or two friends visiting Vancouver. The only bedroom features a queen bed, so you'll have a nice and cozy stay.
This apartment's open-concept gives way to exposed brick, wood beam ceilings and a comfortable leather couch. With its unique, rustic decor and charming style, you might not want to leave this Airbnb.
Click to check pricing on Airbnb.
Downtown Apartment with Stunning Views
The views alone sell this one-of-a-kind Airbnb. You will catch both sunrise and sunset in this stunning home that can host up to 8 guests.
Beautifully furnished and located in the heart of the city, you can't go wrong with this place. Experience downtown living in a secure apartment with building amenities free to guests, including a sauna, free parking, a gym, and a pool table.
After running around the city, come back and cook a delicious meal, enjoy the 42" TV in the spacious living room, and of course, gaze at the breathtaking views of ocean, mountain, and city in one of the best Airbnbs in Vancouver.
Click to check pricing on Airbnb.
Upscale Comfort in 2 Bedroom Suite
The next Airbnb is the perfect option for families with children or a group of friends looking to relax. It can host up to 6 guests with 2 bedrooms and 3 beds. You name it, this Airbnb has it – three TVs, a comfortable sofa bed, espresso maker, full kitchen, soaking tub, and outdoor seating with loungers and a grill.
Located in the heart of Commercial Drive, guests can walk to nearby parks, coffee shops, and restaurants that are steps away from this Airbnb. After exploring the city, enjoy a movie or game night in this spotless, fully stocked suite.
The stellar location, upscale amenities, and incredibly thoughtful hosts make this one of the best Airbnbs in Vancouver.
Click to check pricing on Airbnb.
Stunning Bright Central Loft
Enjoy spectacular views in this bright loft that is the perfect getaway for two guests. With floor to ceiling 16-foot windows, the city views don't get better than this. Plus, you are just blocks from everything you could want in a visit to downtown Vancouver.
In the upstairs loft, guests will enjoy a memory foam queen bed with views of the city ahead. Below the bedroom, there is a fireplace, 50" TV, full kitchen, and a soaking tub. You'll also have access to the building's gym if you want to sneak in a quick workout on your trip.
With tons of natural light, a cozy environment, panoramic views and a central location, it's bound to be a perfect experience staying in this stunning loft.
Click to check pricing on Airbnb.
The Urban Eagle's Nest, a Condo with Sweeping Views
This Airbnb, affectionately referred to as The Urban Eagle's Nest by its hosts, truly makes you feel like you have an eye over the whole city of Vancouver. The trifecta of city, mountain, and ocean views (from the 30th floor!) is only matched by a pristine space in the central Stadium/Crosstown District location.
Although located in an active, lively neighborhood, this Airbnb offers a peaceful escape for guests. Amenities for up to 5 guests include a spacious outdoor patio, a fireplace, 55" smart TV, full kitchen, coffee station, and free parking, which is not always a given in Vancouver.
If you're looking to stay in the heart of the city, look no further than this incredible Airbnb!
Click to check pricing on Airbnb.
Newly Renovated Historic Home
If you're looking for a more peaceful, home away from home stay in Vancouver, this Airbnb is for you. This guest suite is part of a newly renovated historic home in the Commercial Drive area of Vancouver and is the perfect getaway for 2 guests.
This Airbnb is designed to reflect a 5-star hotel with its thoughtful layout, local art, rain shower, and heated bathroom floors. Enjoy the outdoor patio and serene living area or take the Skytrain for a short trip to downtown.
You'll find this to be one of the best Airbnbs in Vancouver with its tranquil atmosphere, contemporary design, easy access to public transit, and luxurious amenities.
Click to check pricing on Airbnb.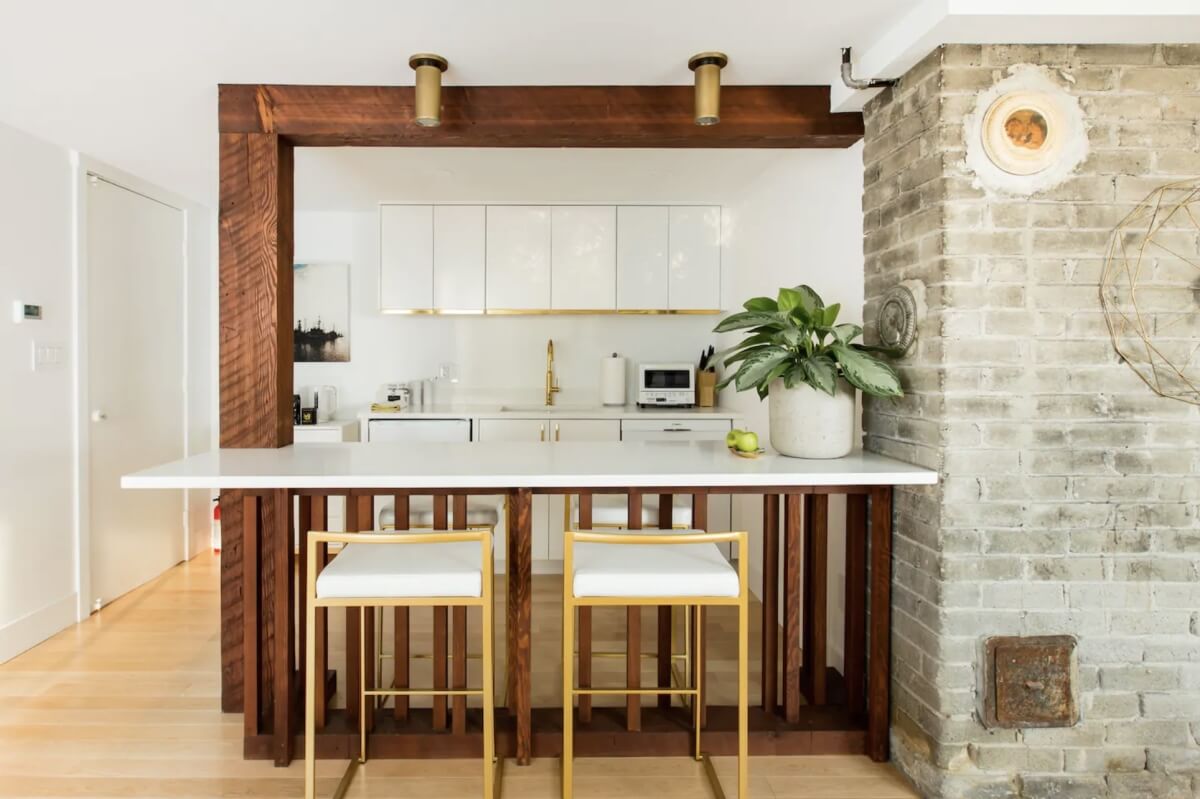 Serene Southlands Suite with Private Patio
Get ready for a cozy and inviting stay at the Southlands Suite. Located in Kerrisdale, a neighborhood south of Vancouver's downtown and just 10 minutes from the airport, this stylish studio offers everything you'll need for a perfect stay for two.
Staying in this Airbnb gives you the chance to experience Vancouver like a local in a safe and upscale neighborhood. In this welcoming suite, you'll enjoy a comfortable queen bed, heated bathroom floors, room darkening shades, and an outdoor terrace to take in the sunrise with your morning cup of coffee. The space is clean, bright, and full of thoughtful and charming decor.
Stroll around the city or take public transit to downtown hot spots, and then come home and light a fire and put on a movie as you cozy up in bed. This Airbnb is all you need for a splendid and serene weekend trip to Vancouver.
Click to check pricing on Airbnb.
Contemporary Apartment in Financial District
A sophisticated stay for two awaits you in this beautifully decorated apartment located in the buzzing financial center of Vancouver.
Minutes away from city shops, restaurants, and the Vancouver Art Gallery, this Airbnb is ideal for those traveling on business, for couples wanting a getaway, or travelers looking to experience the fun the city has to offer.
The apartment features gorgeous city views, contemporary furniture and décor, and everything you need to cook, entertain, or just relax with a glass of wine. This bright and inviting home with its natural light and central location easily adds it to the list of best Airbnbs in Vancouver.
Click to check pricing on Airbnb.
Pin me to Pinterest!!!! ⤵