This awesome, free post might contain affiliate links. I'll receive a small commission when you purchase from my links, at absolutely no cost to you. Your constant support is always appreciated!
Florence, Italy is what most people picture when they daydream about the perfect Italy experience. You can marvel at the Duomo in the center of town and make your way to the top of the bell tower to get a one of a kind view of the city, see the iconic Statue of David at the Accademia Gallery, and indulge in Italy's famous gelato. Want to get away from the hustle and bustle? Florence is also only a short train ride away for a day trip of wine tasting and relaxation in the countryside of Tuscany. If you're thinking of taking a trip to Italy, Florence is a must-see. Here is a handpicked list of the 10 best Airbnbs in Florence, Italy.
How to Get to Florence
Florence is located in central Italy in between two of Italy's other famous cities, Venice and Rome. If you're coming from somewhere close by, you can take a train into the Firenze Santa Maria Novella railway station. Make sure to buy your tickets ahead of time using Rail Europe.
Check train pricing to Florence with Rail Europe.
If you're flying to the city, you'll want to fly into Florence Airport, Peretola (airport code: FLR). The only flights into this airport, however, are from other parts of Europe. If you're flying in from another part of the world, you'll have to connect through another airport.
The airport is located just about 3 miles from the city center. A car ride from FLR to the center of Florence is only about 20 minutes. To make things easier on arrival, book a shared airport transfer here or a private airport transfer here.
How to Get Around Florence
The absolute best way to get around Florence is by foot. Even though this is one of the most popular cities in Italy, it isn't as big as you may think. You can walk from one end of the city to the other in about 30 minutes!
If walking around the city isn't an option for you, you can hop aboard Florence's ATAF buses. There are stops all across the city and tickets are inexpensive.
The Best Airbnbs in Florence
When visiting Florence, staying in an Airbnb is a great option! You can pick a space that meets your needs and will make your stay extra special. For example, if you're traveling with friends or family, an Airbnb is perfect because you don't have to spend extra money booking multiple rooms at a hotel.
If you're staying for an extended period of time, or if Florence is just one stop on a larger trip through Italy, you can pick a space that comes with a washer so you can do laundry in the comfort of your own space.
And the best part about Airbnbs is by the end of the trip your space will feel like home. Living in an apartment or townhouse will really let you experience the city like a local and create memories that will travel with you wherever you go next.
Duomo Flat with Amazing View
This apartment is definitely a top contender for one of the best Airbnbs in Florence. It is located in the center of town and boasts a one of a kind view of the Duomo from the balcony. You will be just minutes away from some of the best museums, restaurants, and shops the city has to offer.
The inside of this Airbnb is also a sight of it's own with chic decor and fun pops of color. It has two beds and two bathrooms making it a great choice for a small family or couple of friends.
Not to mention, it also comes with a full kitchen, washer, AC unit, and just about every other amenity you could hope for in an Airbnb. This apartment has it all and is definitely the perfect place to relax after a long day exploring the city.
Click to check pricing on Airbnb.
Cozy Apartment for Lovers of Books and Music
This one bedroom apartment has an eclectic, bohemian feel in the most tasteful way possible. It is full of unique decor and one of a kind treasures, but is airy and modern all at the same time. You will be surrounded by beautiful art prints, dozens of books, and even some musical instruments!
It holds one full bed and a sofa bed, and is equipped with great amenities such as self check in, a full kitchen, washer, and wifi. While located within walking distance of all major attractions, it is also very close to the beautiful Boboli Gardens, a historical park of Florence.
And with room-darkening shades and a cozy feel, this is perfect for you if you want something a little more tucked away and quiet after being surrounded by the bustle of Florence.
Click to check pricing on Airbnb.
Modern Studio Apartment in the Heart of City Center
If you are looking for a simple yet beautiful stay for your trip to Florence, this is the Airbnb for you. It's a studio apartment with one full bed and a sofa bed making it perfect for a solo traveler or couple.
This Airbnb was recently renovated with neutral, modern decor and updated appliances, and holds everything you will need including a kitchen, washer, wifi, and more.
What is also great about this apartment is that it might be one of the most centralized Airbnbs in Florence. You can walk to all major attractions in just about 7 minutes! It is also steps away from the market of San Lorenzo and the Central Market where you can taste Tuscan specialties and even take a cooking class. If you want to be in the heart of all the action, this Airbnb is a great choice for you.
Click to check pricing on Airbnb.
Charming Apartment Close to the Duomo
This Airbnb is sure to make you feel right at home. It is so warm and welcoming with elevated decor and a charming touch.
This incredible apartment comes equipped with all major amenities, two full beds, and also has a workstation and elevator access! It holds up to 4 guests, so it is best suited for a small family or group of friends.
Located in Piazza del Mercato Centrale, a large open-air market in Florence, this beautiful apartment is in a great location if you want to explore a variety of local food and goods. It's a 3-minute walk to the train station and only steps away from Fortezza da Basso Fair where, depending on the time of your stay, you could attend a fun event or exhibit!
Click to check pricing on Airbnb.
Romantic Apartment on Florence Roof
This apartment is perfect for a couple who wants to be in the heart of it all. It is located on the top floor of a building in the district of Santo Spirito, one of the most lively corners in Florence. You will be surrounded by the true culture and identity of Florence.
This is a one bedroom apartment with a king bed, AC, kitchen, washer, and more! One of its most unique, and arguably best, features is the fully teal tiled bathroom with a walk-in shower and heated towel rack.
Your windows will overlook the rooftops of Florence and you will be surrounded by restaurants, shops, and nightlife as soon as you step downstairs. This apartment really is in the middle of the action, making it one of the best Airbnbs in Florence.
Click to check pricing on Airbnb.
Charming Rooftop Apartment
This apartment is truly unique and the views of the city are absolutely breathtaking! If you're looking to soak in the beauty of Florence at all hours of your trip, it doesn't get much better than this.
This rooftop apartment has two bedrooms – one with a double bed and one with a queen. It is decorated with bright colorful painted walls and unique furniture. The kitchen is surrounded by windows for the perfect view while you drink your morning coffee or whip up an authentic Italian meal. Not to mention, this apartment has all major amenities including a washer, TV, reliable wifi, and much more.
Located in a residential area just outside the historical center, you will have a peaceful quiet stay while still being only a 15-minute walk away from the cathedral, Galleria dell'Accademia, and Piazza San Marco.
Click to check pricing on Airbnb.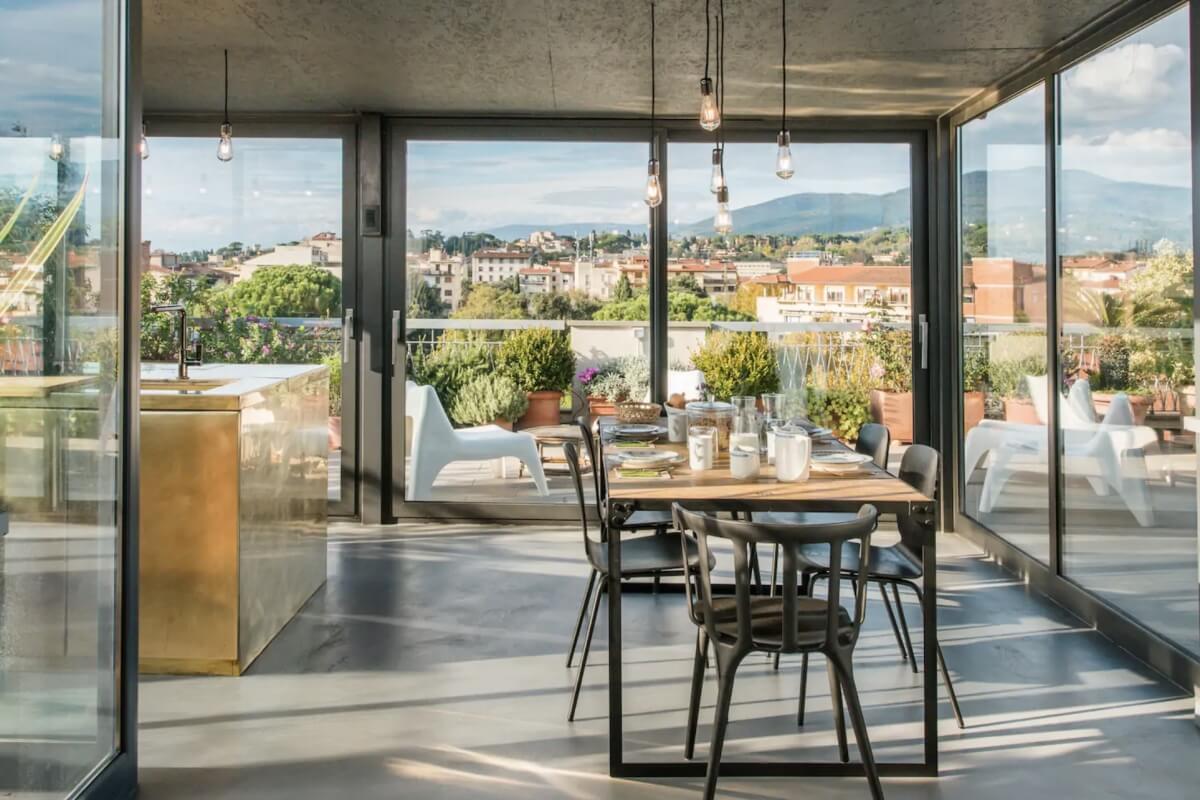 The House of Books
This two story loft is the true definition of elegance. It has a mix of modern and antique decor, a beautiful terrace overlooking the city, and updated appliances in the kitchen and bathroom (which has the most charming tiled shower and pink walls)!
It is located just a 15-minute walk away from the historic center, right next to the tramway, and only a few steps from San Frediano, named one of the coolest neighborhoods in Florence. Plus, if you're a fan of the arts, this loft is also very close to the Visarno Arena concert hall and the Maggio Musicale Fiorentino theatre.
If you prefer to have a car for your trip through Italy, this is one of the best Airbnbs in Florence for you. It has convenient parking spots close by and is only a short distance to a Hertz car rental location!
Click to check pricing on Airbnb.
The Ancient Tower Florence Penthouse
If you want to experience the true culture of Florence, this Airbnb is for you! Located on the top floor of a historic mid-century tower, this Airbnb has a 360-degree private view of the city. It's also on the slightly bigger side of Airbnbs in Florence with two bedrooms, three beds, three bathrooms, and even a place to store your luggage!
It is located in Via de' Benci, a street full of character, and is close to bars and nightlife. You will also be just a short walk away from all major attractions.
If this space wasn't already great enough, the owner of this Airbnb was born and raised in Florence and will provide you with all the knowledge about how to explore the city like a local!
Click to check pricing on Airbnb.
Artsy and Bright Townhouse
After a long day of exploring the city, this Airbnb will transport you to a peaceful floral paradise. It's located in the middle of a courtyard and has two beautiful patios to spend some time relaxing in the sunshine.
This townhouse has two bedrooms each with a queen bed and air conditioning. It also has a full kitchen, TV, heated floors, and nearby parking.
Although you will definitely have peace and quiet while staying here, that doesn't mean you won't be close to everything the city has to offer. This Airbnb is in San Lorenzo, one of the most historical districts, and is only a few minutes away from all major sights!
Click to check pricing on Airbnb.
Santa Croce Terrace Luxury Nest
Decorated by a famous Italian designer, this Airbnb is perfect for those who want an extra hint of luxury in their stay. It was recently renovated in 2019 with beamed ceilings, wooden floors, and eye catching decor. Additionally, this Airbnb has a beautiful patio with a large couch for relaxing and taking in views of the surrounding city making it one of the more elevated Airbnbs in Florence.
This apartment has two bedrooms (one king bed and one double bed), both with memory foam mattresses and room-darkening shades for extra comfort. It also holds a full kitchen, dishwasher, TV, and wifi.
Located walking distance from the city center, you will have easy access to all major sights, easily making this one of the best Airbnbs in Florence.
Click to check pricing on Airbnb.
Pin me to Pinterest!!!! ⤵
Maddie is the traveler behind A One Way Ticket. She has been traveling internationally for over 10 years and has visited 75+ countries on 6 continents. In addition to traveling herself, she's been helping others plan their own travel for 6+ years. Maddie eats, sleeps, and breathes travel and loves to help others discover that same wanderlust!