This awesome, free post might contain affiliate links. I'll receive a small commission when you purchase from my links, at absolutely no cost to you. Your constant support is always appreciated!
Mexico has some of the best all-inclusive resorts in the world, specifically in the Cancun/Riviera Maya section of the country. White sand beaches, gourmet cuisine, and award-winning hospitality all set this area up to be one of the world's best all-inclusive destinations. But, with lots of options comes a bit of a dilemma – which resorts are the best and which is right for you? I can confidently tell you that UNICO 2087 in Riviera Maya is easily one of the best all-inclusive resorts in Mexico. Keep reading to find out why!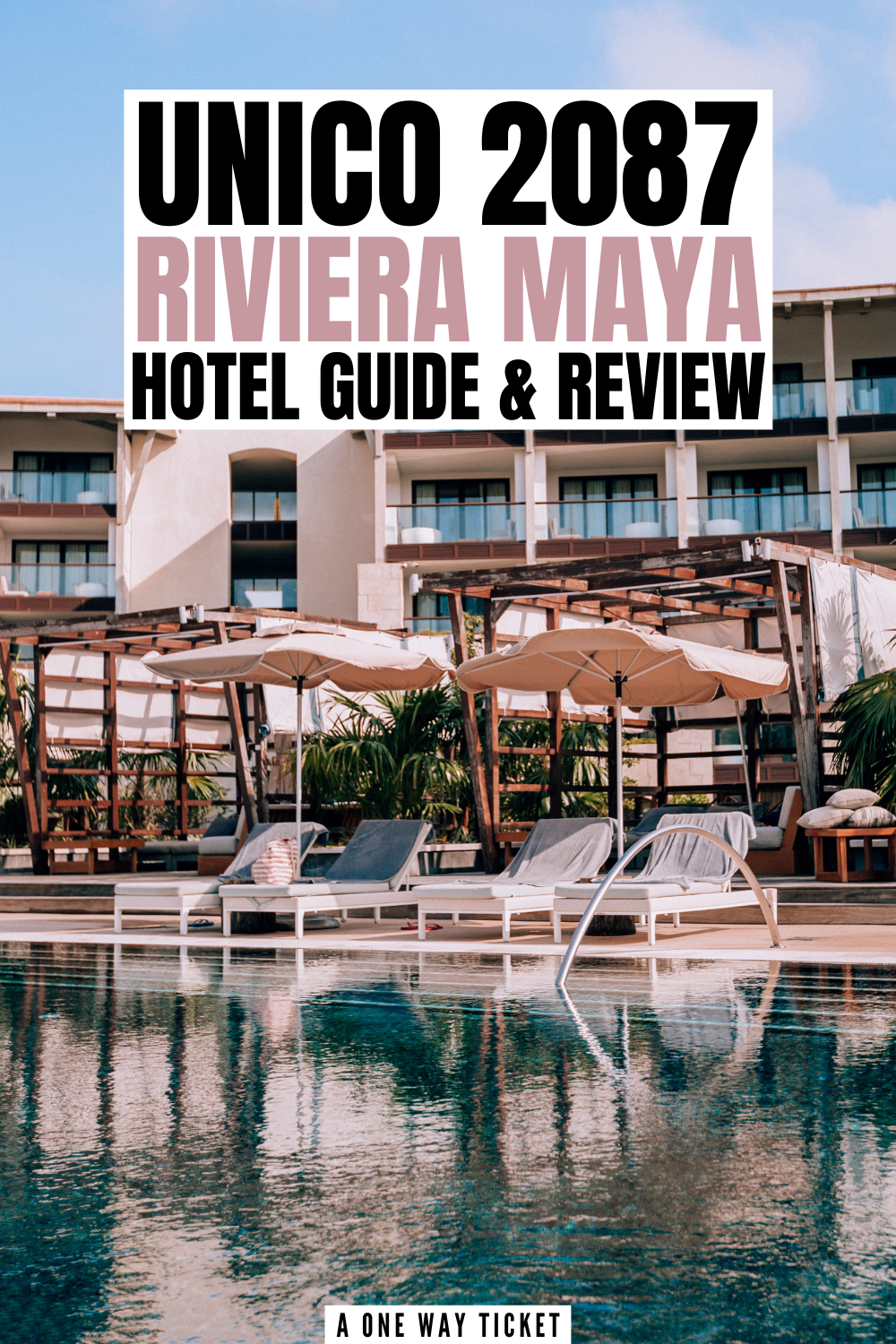 Where is UNICO 2087?
UNICO 2087 is located in the Riviera Maya area of Mexico, which is located in the state of Quintana Roo. The area is on the eastern coastline of Mexico and borders the Caribbean Sea.
More specifically, UNICO is located south of Playa Del Carmen and just north of Akumal, near Puerto Aventuras. This area of Mexico is known for its long stretches of white sand beaches, beautiful blue water, and lush jungle atmosphere.
Interested in staying at UNICO 2087 Riviera Maya and want free upgrades and extra perks? Check out our Luxury Travel Planning service to make your stay one you'll never forget.
How to Get to UNICO 2087
While UNICO 2087 is technically located in Riviera Maya, the whole area kind of lumps together and is considered Cancun. Because of this, the best airport to fly into is the Cancun International Airport (airport code: CUN).
Once you land in Cancun, UNICO is located a bit south of the Cancun area. It's almost as far from Cancun as Tulum is, so it's about a 1 hour and 15 minute drive away from the airport. The drive is really easy though as it's largely down a single road before you arrive at the resort.
The best way to get to UNICO is by a transfer. You can choose either a shared transfer, which can be booked here, or a private transfer, which can be booked here (make sure to select the Akumal hotels option to get to UNICO).
What's Included With the All-Inclusive Package
UNICO 2087 is an adults only all-inclusive resort. All-inclusive means you don't have to worry about any of the details during your stay – everything is included! And UNICO really takes this to another degree.
With your all-inclusive package, below is a list of just some of the things that are included.
5-star adults only accommodations
In-room mini bar, catered to your liking
Custom-scented amenities
Five restaurants and five bars with food and drinks included
24-hour room service
Poolside and beachside service
Land and water sports
Daily and nightly events
…and so much more!
While staying at UNICO 2087, you'll get access to 3 different pools spread throughout the resort. The main pool in the center of the resort even has a swim-up bar so you don't have to leave the pool to grab a cocktail!
Click to check pricing for UNICO 2087 Riviera Maya.
Unlimited Inclusions at UNICO 2087
Something that really sets UNICO apart from other all-inclusive resorts in Mexico is their Unlimited Inclusions program. On top of all that the all-inclusive package provides, UNICO's unique Unlimited Inclusions program includes unlimited golf, snorkeling experiences, spa treatments, local tours, and beauty salon services.
You'll no longer feel guilty about going to the spa twice during your stay at UNICO. Don't forget that the Unlimited Inclusions list do come with a 25% mandatory gratuity/service fee, so they're not free. However, what would normally be a very expensive spa treatment can be had for prices like $50 instead of $300.
Similarly, you can take advantage of snorkeling excursions or local tours to places such as Tulum, Isla Mujeres, Coba, and local cenotes.
Click here to see more about UNICO's Unlimited Inclusions program.
Rooms & Suites at UNICO 2087 Riviera Maya
The rooms and suites available at UNICO 2087 are easily one of the best parts of the entire resort. Even the entry level rooms are incredibly spacious and luxurious, so you truly can't go wrong with whatever you choose.
There are 4 main room types, 3 suite types, and 1 villa type at UNICO 2087. Those listed with Alcoba are the standard rooms and those listed with Estancia are the suites.
Alcoba Swim-Up Pool
Pure Wellness Alcoba
Alcoba Ocean View
Alcoba Ocean Front
Estancia Tropical
Estancia 1 Bedroom
Estancia 2 Bedroom
Villa 2087
Alcoba Rooms at UNICO 2087
At a massive 624 square feet, the Alcoba rooms feel much more like junior suites than standard rooms. The four different Alcoba room options are identical with the exception of the view.
Each room comes with a spacious terrace with a lounge area and a hydro spa tub. You'll also have access to the in-room mini-bar which is stocked daily with housekeeping. If you have specific requests for what you'd like in the mini bar, you can let the hotel know before your stay.
Every room features a King bed, however, you can opt for 2 Queen beds in either the Ocean View or Ocean Front rooms. Other amenities in the standard rooms include 24-hour room service, a Nespresso coffee machine, a JBL Bluetooth sound system, a rain shower, his and her sinks, and an aromatherapy and pillow menu.
Click here to check pricing on Alcoba Rooms at UNICO 2087 Riviera Maya.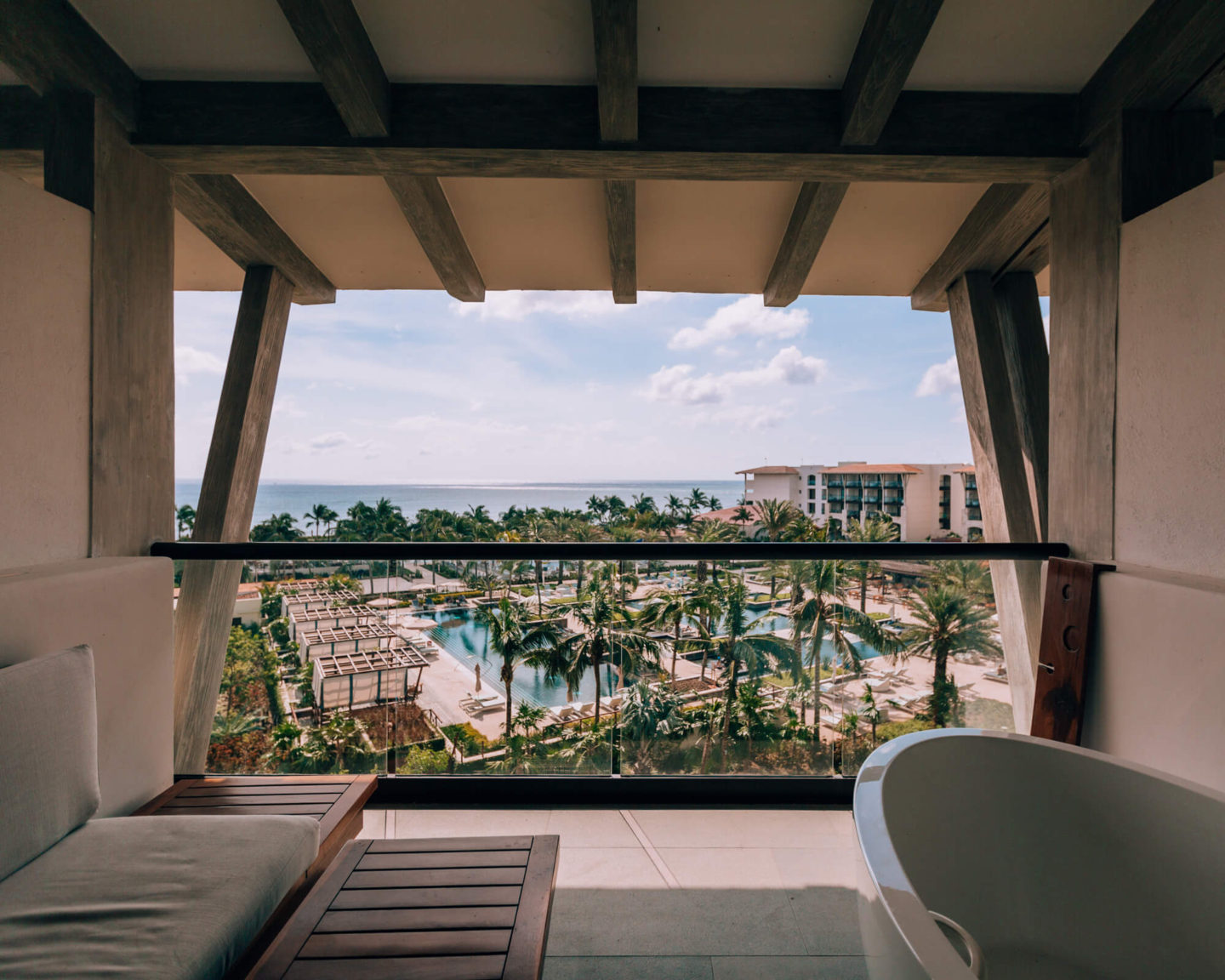 Estancia Suites at UNICO 2087
If you're looking for more room during your stay at UNICO 2087, you'll want to look at booking one of the Estancia Suites. The size of the Estancia Suites differ from suite to suite.
Estancia Tropical: 1,270 square feet
Estancia 1-Bedroom: 1,270 square feet
Estancia 2-Bedroom: 1,894 square feet
Villa 2087: 1,996 square feet
The Estancia Tropical and Estancia 1-Bedroom are both 1-bedroom suites. However, the main difference between these two resorts is the view. The Estancia Tropical has a tropical/garden view, whereas the Estancia 1-Bedroom has an ocean view.
The Estancia 2-Bedroom Suite and Villa 2087 both have 2 bedrooms. However, since Villa 2087 is considered a villa and not a suite, it comes with a full kitchen, dining room, and a second bathroom. While the 2-Bedroom Suite features an ocean view, the Villa 2087 features an ocean front view.
All suite options have similar amenities to the Alcoba rooms, such as 24-hour room service, a rain shower, custom scent amenities, and more.
Click here to check pricing on Estancia Suites and Villas at UNICO 2087 Riviera Maya.
Staying in an Ocean View Room at UNICO 2087
During my stay at UNICO 2087, I stayed in an ocean view room. This was actually my second time staying at UNICO, both times in an ocean view room. Unless you really want a swim-up room, I think the ocean view rooms are the best option.
The ocean view rooms are the most central in the entire resort. You'll be the closest walk to all of the features of the resort, from the spa to the restaurants to the pools and beach – it's all at your fingertips. The swim-up rooms are also equally spread about the entire resort, so you'll be right in the center of the action.
Due to the nature of the ocean front rooms, you'll be right by the beach. While this is also a great location, you'll be right on top of the beaches, so a bit further from the spa and restaurants. That all being said, the resort is perfectly walkable.
Click here to book an Ocean View room at UNICO 2087 Riviera Maya.
Inside the Room at UNICO 2087
Inside the ocean view room, you'll have plenty of space to enjoy your time. Ocean view rooms will hold either 2 people or 4 people, depending on whether you choose a King bed or two Queen beds, respectively. I would definitely recommend going with the King bed option if you can to give you more room.
The bathroom is plenty big enough for both people to use at a time. The rain shower and the toilet are separated behind doors. Girls! The full-length mirror is behind the sliding door – it can sometimes be hard to find.
Across from the bathroom is a large closet area where you can hang your clothes. The closet has a safe where you can put some things you want to lock away to keep safe. There are the most luxurious, comfortable robes in the closet as well. And if you love the robe enough, you can get your own one monogrammed in one of the stores at the resort!
Once you leave this area, it opens up to the bedroom area which is incredibly spacious with either a King bed or 2 Queen beds. There's also a lounge area in the room that walks out onto your balcony or terrace. The balcony is one of my favorite aspects of the room and even has a hydro spa tub to relax.
Since the resort is all-inclusive, the difference in price between four people in 2 rooms and four people in 1 room is minimal, but you'll get a bunch more space with 2 rooms.
Ocean View Room Amenities
UNICO 2087 offers countless amenities to help make sure your stay is the best it can possibly be. To start off, when you check-in, you'll meet your Local Host for your duration.
The Local Host essentially acts as a concierge you can have help you with anything, whether it be restaurant reservations, spa reservations, tour reservations, and any other questions you may have. You can communicate with the Local Host via WhatsApp, so you can reach out with any questions or concerns super easily.
Another thing that will make your stay super relaxing and convenient is the UNICO 2087 app. You can do things like book spa appointments, order in-room dining, and make dinner reservations through the app. Search for "UNICO2087" in the App Store to find the app to download. You can even download it prior to your stay and make dining reservations and spa appointments ahead of time.
Restaurants & Bars at UNICO 2087 Riviera Maya
Since UNICO is an all-inclusive resort, the five restaurants and five bars are included in your stay. That means there's no worrying about what you're spending on food and drinks when you're in paradise!
The heart of UNICO is to bring Riviera Maya in as part of the resort, so all of the ingredients at the restaurants are locally-sourced. See below for the list of restaurants with menu links!
In addition to the multi-sensory adventure you'll experience at UNICO's restaurants, they have several bars and lounges, such as Palmera Lounge and Bar Balam. Every Thursday and Saturday, Palmera Lounge has special shows.
Keeping Safe at UNICO 2087 Riviera Maya
This year has been challenging for everybody, especially travel lovers. UNICO 2087 is doing everything possible to ensure their guests remain safe during their visit. In addition to locally mandated capacity controls, UNICO is going above and beyond.
Hand sanitizer is available at almost every turn in the resort. Socially distanced measures are being taken as well, from dining tables being kept at least 6 feet apart and capacities in elevators, to face coverings required for staff and plastic barriers keeping you separated from staff members.
On top of this, the large majority of the resort is outdoors or open-air, aside from guest rooms, so you can easily stay outside and far away from others if you so wish. In addition, all the restaurants offer outdoor seating if you're uncomfortable with being seated indoors.
Click here to learn more about the hygiene protocols at UNICO 2087 Riviera Maya.
Time to Book Your Stay at UNICO 2087 Riviera Maya!
Hopefully you've learned everything you need to know about staying at UNICO 2087 Riviera Maya. It genuinely is one of the best adults only all-inclusive resorts in Mexico, especially in the greater Cancun area.
The resort tends to book up because of how popular it has become, so I highly recommend booking it as far in advance as possible.
Click here to book your stay at UNICO 2087 Riviera Maya.
If you have any additional questions about UNICO, feel free to leave a comment below or reach out to me on Instagram!
Pin me to Pinterest!!!! ⤵
Maddie is the traveler behind A One Way Ticket. She has been traveling internationally for over 10 years and has visited 75+ countries on 6 continents. In addition to traveling herself, she's been helping others plan their own travel for 6+ years. Maddie eats, sleeps, and breathes travel and loves to help others discover that same wanderlust!