This awesome, free post might contain affiliate links. I'll receive a small commission when you purchase from my links, at absolutely no cost to you. Your constant support is always appreciated!
Martha's Vineyard is the perfect, picturesque seaside town in the United States. It's an incredible place to just escape for a few days or a few weeks and really feel refreshed. This quaint island is known for its picture-perfect homes, incredible seafood, and beaches, but it's so much more than that! Keep reading to find out all you need to know to visit in this Martha's Vineyard travel guide.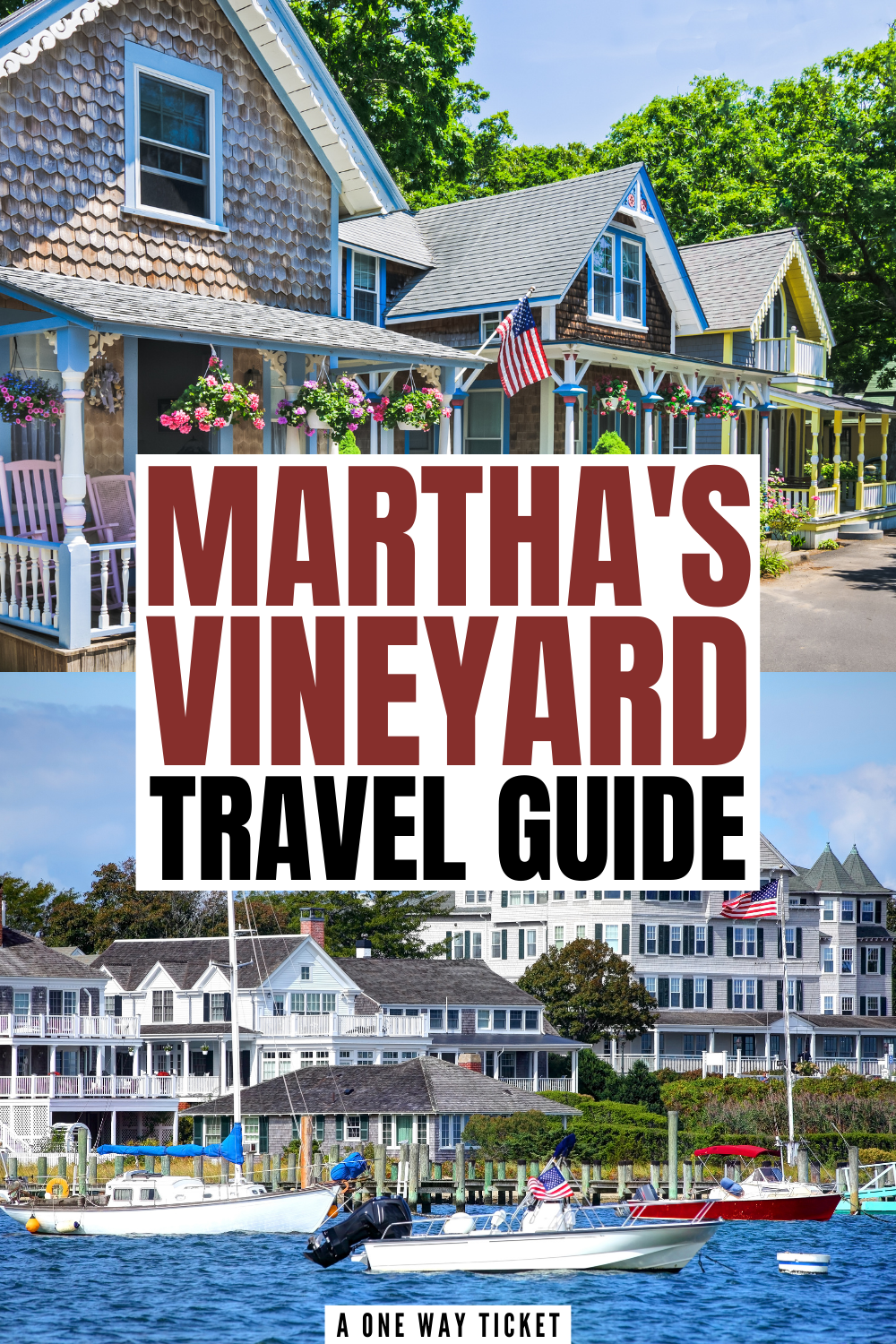 How to Get to Martha's Vineyard
Martha's Vineyard is an island located in the state of Massachussetts, right off the coast of the famous Cape Cod. It's right next to Nantucket, which is another one of Massachussetts' famous islands, and the two frequently get paired together. Because Martha's Vineyard is an island, there are only so many ways you can get there. If you're coming from a distance, you'll likely be flying into the Martha's Vineyard Airport (airport code: MVY).
Like most visitors, you'll likely opt to take the ferry from Woods Hole, which is just south of Falmouth, MA. You can find details about ferry schedules with the operating company, called The Steamship Authority. The ferry does accommodate vehicles, and if you're coming with a car, you'll want to reserve your tickets ahead of time – especially if you're traveling over a popular time like summer! You can reserve your tickets with a vehicle here. Standard passenger vehicle tickets start at $59 each way and increase during popular times.
If you're not traveling with a car, you can purchase tickets through The Steamship Authority's app here. The adult tickets are $9.50 one way or $19 roundtrip. These don't sell out nearly as easily as the vehicle tickets, so you can reserve these a bit more last minute if you need to.
The ferry leaves from Woods Hole and alternates arriving into either Vineyard Haven or Oak Bluffs. Check out where your accommodation is on Martha's Vineyard and try to choose the closer option. Don't fret if the location you want either is full or doesn't match up with your schedule, because you can easily drive to the other port if you're bringing a car with you. Do keep in mind that the Oak Bluffs port closes between October and May.
Best Time to Visit Martha's Vineyard
Martha's Vineyard is genuinely a beautiful place to visit any time of year. It really just depends on what you're looking to get out of it. The island really comes alive in the summer – with the height of their tourism season being between Memorial Day Weekend in late May and Labor Day Weekend in early September.
One of the most perfect times to visit is in September after the crazy crowds have left, but while the weather is still incredible. You definitely won't have the place to yourself like you might in winter, but tourists definitely thin out after Labor Day.
If you visit Martha's Vineyard in the "off season," which is basically late fall, through winter, and into early spring, expect things to be pretty quiet. Some businesses may even close due to the lack of heavy tourism, so keep that in mind for an off season visit.
How Long to Visit Martha's Vineyard
Martha's Vineyard is a place that a lot of people spend their summers, which I'm sure we would all love to do. That being said, if you're visiting as a tourist, you likely won't be able to stay that long. Anywhere between 3-7 days is a great sweet spot for how long to visit Martha's Vineyard.
If you can manage to stay for a week, you absolutely should. There's plenty to do on the island for a whole week, while still allowing you some down time to hang out at the beach if you'd like to. If you only have a long weekend to spare, you can still see lots! Make sure to rent a car and stay somewhere central to be able to properly optimize the shorter stay in Martha's Vineyard.
Getting Around Martha's Vineyard
Some people might say otherwise, but you really should have a car with you when visiting Martha's Vineyard. The only exception I would maybe have to this if you're staying in an epic mansion right on the beach that you don't really plan on leaving. But let's face it, that's probably not what most of us are going to be doing in Martha's Vineyard!
While the island is relatively small, it would still take you about 35 minutes to drive from one side of the island to the other. Plus, part of the charm of Martha's Vineyard is the small towns like Oak Bluffs and Edgartown, and it'd really be a shame to miss out on one of those because you didn't have a car with you.
You can bring a car with you on the ferry, which can cut down on costs like a car rental. However, if you're flying in, you'll likely need to rent a car. I always recommend RentalCars.com for car rentals if you're looking for the best price, or Hertz if you're looking for the best service.
If you're really against renting a car, Martha's Vineyard does have a small public transportation system. You can check out the bus routes and schedules here!
Where to Stay in Martha's Vineyard
The first question to ask yourself to figure out where to stay in Martha's Vineyard is what town should you stay in? The three main town areas in Martha's Vineyard that I would recommend staying in are Vineyard Haven, Edgartown, and Oak Bluffs. All 3 are adorable, quaint towns that will give you the perfect taste of small town charm, without having to compromise on "stuff" like things to do, restaurants, shops, and so on.
You really can't go wrong when deciding between the 3 towns. I personally stayed in Vineyard Haven, which was super convenient because it was a short drive from the ferry. The incredible boutique hotel I stayed at was called Nobnocket Boutique Inn and I would highly recommend it. Not only were the owners incredibly kind and hospitable, but the hotel itself was absolutely perfect. We had a home-cooked meal every morning for breakfast, super comfortable rooms, and small little touches like lavender pillow spray left by the bed every night. I loved the lavender pillow spray so much that I actually went out and bought the same type when I got home!
If you're looking for some other options of where to stay in Martha's Vineyard across all 3 of the towns, below is a great list!
Top Things to Do in Martha's Vineyard
Martha's Vineyard is an island and a beach area, so most of the things to do in Martha's Vineyard are outdoors. That being said, if you're more of an inside person, there are some excellent things to do inside as well! You'll want to rent a car during your stay so you can get around to all the things to do.
You could probably spend an entire summer on the island and never run out of things to do. That being said, there are some top things that you should be sure not to miss during your stay. Keep reading to see a list of all the best things to do in this Martha's Vineyard travel guide!
Take a tour of the whole island. There's so much to see on Martha's Vineyard, that you could definitely benefit from doing a tour with a guide of the whole island. This will help you get a lay of the land and decide where you want to spend the rest of your stay. I recommend this 6-town tour here!
Marvel over Aquinnah Cliffs overlook. Aquinnah is the town on the westernmost coast of Martha's Vineyard and is the home of the Wampanoag people. You can visit this area to shop where your money will go back to the community. Additionally, the town's coast has dramatic cliffs, known as the Aquinnah Cliffs. Here you can visit the overlook and marvel at the stunning coastline in Martha's Vineyard, which also features the Gay Head Lighthouse.
Go lighthouse hopping. Martha's Vineyard is known for having 5 different lighthouses across the island. These lighthouses are the Edgartown Lighthouse, the Gay Head Lighthouse, the East Chop Lighthouse, the West Chop Lighthouse, and the Cape Poge Lighthouse. With the exception of Cape Poge, all are easily accessible by road. However, West Chop is not open to the public.
Visit the Gingerbread Houses in Oak Bluffs. Oak Bluffs is known for its picturesque gingerbread-looking houses. If you type "Gingerbread Houses" into Google Maps, you'll easily be able to find the location of these houses. Take an hour or two to walk around and marvel! There's a little park area in the central area of all these houses, so you could easily have a picnic and enjoy your surroundings.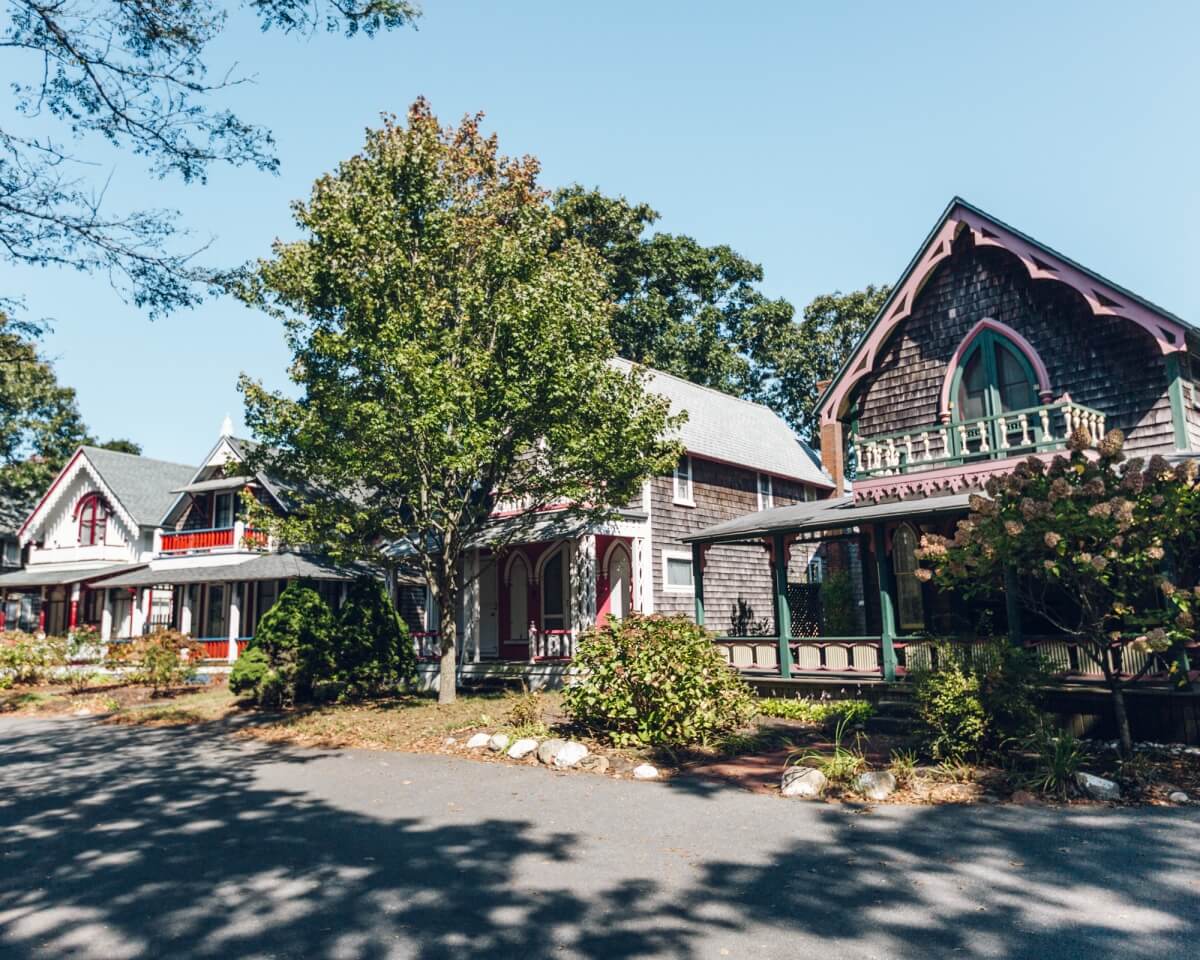 Watch the sunset on the water. Make sure to take a sunset boat ride during your stay in Martha's Vineyard. Not only is the sunset even more beautiful to experience from the water, but seeing the island from a boat gives you a whole new perspective of the island and its beauty. I recommend using Island Time Charters!
Check out the Jaws Filming Locations. If you're a big Jaws fan, you might know that this famous 70s movie was filmed in Martha's Vineyard. There are a bunch of different filming locations you can check out, but the most popular one is Jaws Bridge. If you've seen the movie, you'll recognize the scene immediately. Once you get back to your hotel at night, rewatch the movie and see if you recognize any additional spots!
Visit the Martha's Vineyard Museum. I'm not typically a big museum person, but the Martha's Vineyard Museum really blew me away. Not only does it go through all the fascinating history of the island, but it has incredible exhibitions as well. Tickets are $18 for adults, with a discount for kids and seniors. Find out more information about visiting here.
Relax at the Martha's Vineyard beaches. Martha's Vineyard is a summer beach destination, so it's no surprise that there are tons of great beaches to check out. The beaches you shouldn't miss are: Lucy Vincent Beach, Joseph Sylvia State Beach, Moshup Beach, Inkwell Beach, Katama Beach, and Menemsha Public Beach. If you're really a beach fan, there are way more than this to visit as well!
Visit Chappaquiddick Island. Chappaquiddick Island, known by locals as Chappy, is a little island separate from the rest of Martha's Vineyard, located right by Edgartown. You have to take the ferry to get over to Chappy, and I recommend taking your car to make it easier to get around. On Chappy, you can visit things like Mytoi Japanese Garden, the Cape Poge Lighthouse, and Wasque Point.
Shop 'till you drop! Martha's Vineyard has tons of great areas for shopping. Whether you're stopping to check out Vineyard Vines (they started in MV!), or just wanting to look around, you'll never run out of adorable shops to browse through. Check out Main Street in Edgartown to start out and go from there!
Where to Eat in Martha's Vineyard
Just like anywhere else, one of the most important things you need to know before traveling to Martha's Vineyard is all the best places to eat. Don't worry, there's no shortage of incredible eats on the island.
Being that Martha's Vineyard is an island, you'll find some absolutely delicious seafood on the island. If you're not a seafood lover, you'll still be able to find a ton of incredible restaurants to choose from. Keep reading this Martha's Vineyard travel guide to see all the best places to eat!
Keep in mind, if you're visiting Martha's Vineyard in the off season, quite a few restaurants may be shut down. Do your research past this Martha's Vineyard travel guide to see what's open before visiting!
Pin me to Pinterest!!!! ⤵︎
Maddie is the traveler behind A One Way Ticket. She has been traveling internationally for over 10 years and has visited 75+ countries on 6 continents. In addition to traveling herself, she's been helping others plan their own travel for 6+ years. Maddie eats, sleeps, and breathes travel and loves to help others discover that same wanderlust!