This awesome, free post might contain affiliate links. I'll receive a small commission when you purchase from my links, at absolutely no cost to you. Your constant support is always appreciated!
Aruba is home to some of the Caribbean's most beautiful beaches, such as Palm Beach and Eagle Beach. However, Aruba is also known for its famous Flamingo Beach, where you can interact with gorgeous, pink flamingos and feed them, take photos with them, and more. This white sand beach surrounded by palm trees is on a private island that's part of the Renaissance Wind Creek Aruba Resort. The island is home to two of Aruba's only private beaches. Because it's one of the most sought after places to go in Aruba, you'll need to know how to get there. It can be tricky, but soon you'll have all the information you need to obtain a Renaissance Island day pass to visit Flamingo Beach in Aruba!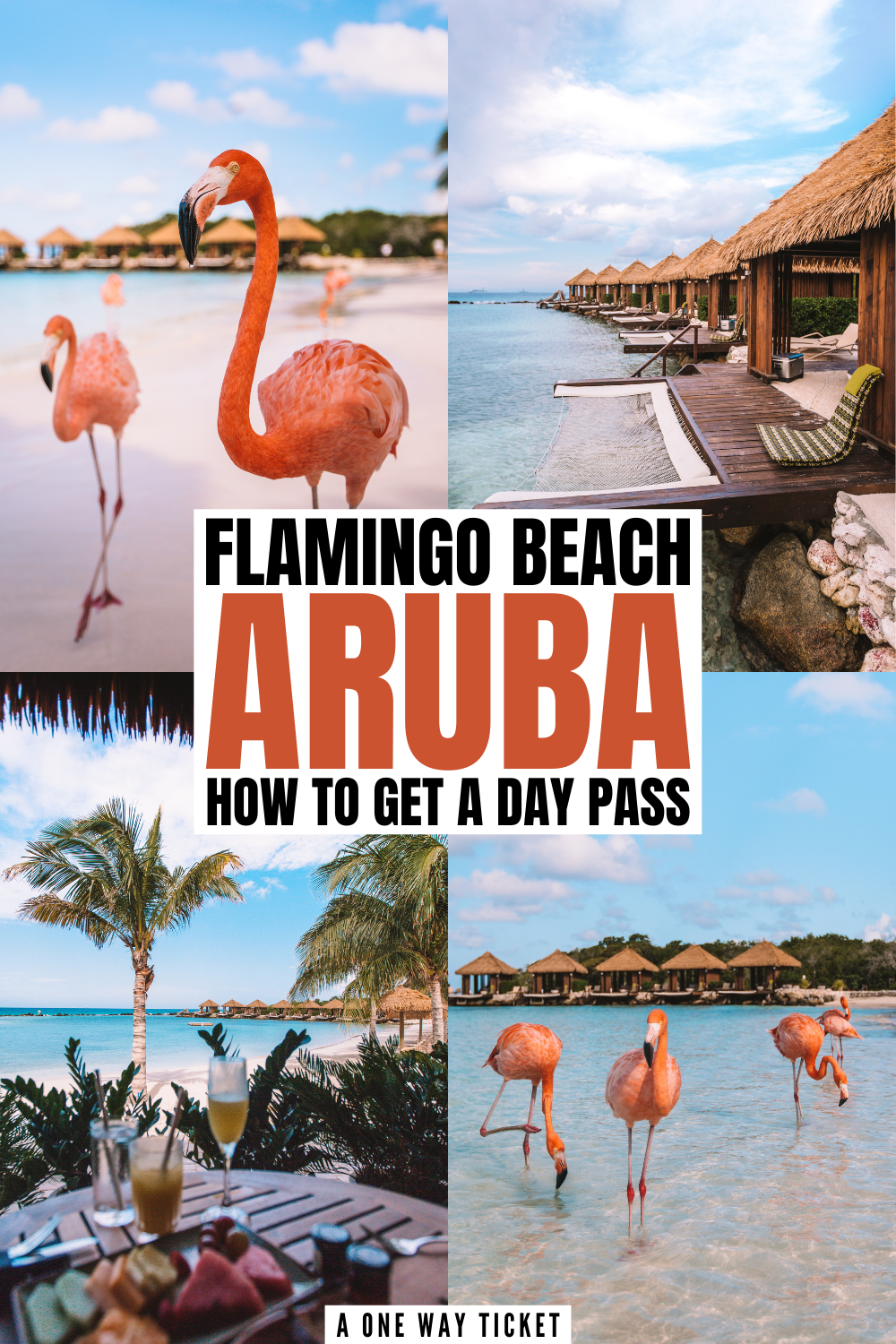 What are Flamingo Beach & Renaissance Island?
Flamingo Beach Aruba is one of the two beaches on the Renaissance Resort's private island, known as Renaissance Island (also referred to as Flamingo Island). This small island is a quick, 5-minute ride away from the hotel on one of the resort's complimentary water taxis. On this beach, you can visit with the island's resident group of flamingos and take photos of them or with them, feed them, and just overall enjoy the experience of hanging out on a beach with a bunch of flamingos!
While Flamingo Beach is the most well-known beach on this island, there are actually two beaches on Renaissance Island: Flamingo Beach and Iguana Beach. Flamingo Beach is the adults-only beach, while Iguana Beach is family friendly. But, don't worry! If you have kids, they'll have an opportunity to interact with the flamingos (more on that later).
Flamingo Beach is one of the most popular things to do in Aruba and is the reason why a Renaissance Island day pass is so sought out. There's a bit of planning involved to be able to obtain a day pass to see Flamingo Beach, so keep reading so you can plan ahead of your visit to Aruba.
How to Visit Flamingo Beach on Renaissance Island
Renaissance Island, and therefore Flamingo Beach, is a private island. That means you can't just show up – you have to know how to get there. All visits to the island have to go through the resort. There's no way to independently visit the island while bypassing the resort. Keep reading for the three ways to get a day pass to visit Renaissance Island in Aruba.
Stay at the Renaissance Resort Aruba
The first and best option to visit Renaissance Island and Flamingo Beach for the day is to stay at the Renaissance hotel. It shouldn't be a surprise that guests at the resort get the first priority to visit Renaissance Island and the flamingos on Flamingo Beach. As a hotel guest at one of the best resorts in Aruba, you have free, unlimited access to visit Flamingo Beach and Renaissance Island. You'll use your hotel room key as your access to the island, so make sure to keep that with you. It's important to remember you need one room key per person to access the island. This is the only way to guarantee access to a day pass for Renaissance Island, and the only way to have free access to the island.
The Renaissance Aruba Resort is actually split between two different sections: the adults-only Renaissance Marina Hotel or the Renaissance Ocean Suites. As an adult staying on either side of the resort, you have access to all the same things. I recommend staying at the Renaissance Ocean Suites because of the proximity to the pool and other sections of the resort. The cost of a room starts around $250/night, but ranges significantly depending on your dates of travel.
Click here to view pricing for the Renaissance Aruba Resort.
Book a Spa Appointment at the Spa Cove
The next easiest way to get a Renaissance Island day pass is to book a spa appointment at the hotel's spa. Renaissance Aruba's spa, the Okeanos Spa, has two sections. The main part of the spa is located at Renaissance's adults-only Marina Hotel. However, the Spa Cove is located on Renaissance's private island, which is also the home to Flamingo Beach and the resident flamingos.
When you book a spa treatment at Spa Cove, you're given access to the Renaissance Island for the day. The main offering at Spa Cove is called the Sea Escapes Package, which can be booked for either one person or two people. This package comes with a tropical open-air Swedish massage, complimentary use of Renaissance beach towels, and the option to include or exclude lunch. Prices for this package start at $160.
The package with lunch includes lunch at Renaissance Island's very own restaurant, Papagayo Bar & Grill, as well as the choice between one frozen drink or one soft drink. The package without lunch includes one frozen drink only.
Click here to view spa packages available at Spa Cove.
Purchase a Renaissance Island Day Pass
If you've decided not to stay at the Renaissance Aruba resort and don't want to book a spa package at Spa Cove, there's one last option you have to get a Renaissance Island day pass. While this last option is available, it's the least reliable option, so keep that in mind.
When the hotel isn't full, they will sell day passes to visit Renaissance Island and Flamingo Beach. If the hotel is 80% full or more, it's very likely there will be no day passes available for purchase for $125 per person. The problem here is that there's no way for you to know if the hotel is super full or not, as it's not something they advertise. It's likely that during peak travel times, such as holidays and high season, purchasing a Renaissance Island Aruba day pass will not be an option.
When there's space, the resort will release day passes to visit Renaissance Island for up to 5 people at a time. These passes become available at 7:00 AM on the day before. This means if you're trying to purchase a day pass for Tuesday, you want to check right at 7:00 AM on Monday. It's very important to remember that when they release these passes for purchase, there are very few available and it's important to act fast. Check every day starting one week prior to your trip, because sometimes the resort will release space earlier than 1 day prior.
If you're able to successfully purchase a day pass, this includes the boat ride to Renaissance Island, one meal (either breakfast or lunch), and a drink. You'll have full access to all the facilities on the island and will have the opportunity to purchase cabanas.
Click here to purchase a Renaissance Island Aruba day pass.
Things to Do at Flamingo Beach in Aruba & Renaissance Private Island
There are plenty of great things to do on the Renaissance Private Island to fill up a full day. My first recommendation would be to arrive early – especially if you're able to visit the island because of your spa booking or your day pass. You'll want to make the absolute most of this day, and the best way to do that is to be on the first or second boat from the resort to the private island. The boats begin at 7:00 AM and the last boat leaves the island at 6:45 PM. The best time to get the boat is early in the morning, as it only holds 20-25 people and you don't want to wait in a long line!
Once you're on the private island, there's an endless array of things to do. Aside from the beautiful beaches you have to lounge on all day, there are activities such as water sports, tennis courts, restaurants, and a spa, among others. Plus, there's free WiFi, so you'll be able to share this unique experience with all your friends!
Interact with the Flamingos at Flamingo Beach Aruba
The most enticing activity at Renaissance Private Island Aruba is the guests of honor – the beautiful pink flamingos! While the island is beautiful, the flamingos are really why you visit. If you're lucky, you may find the flamingos roaming around any part of the island. However, you're most likely to find them on Flamingo Beach.
On Flamingo Beach, you can get flamingo food to feed the flamingos. This is probably the best way to get a photo of yourself with the flamingos close up. The flamingos are pretty calm, so you'll be able to stand around them and interact with them very easily. Remember, Flamingo Beach is adults only, so kids are not allowed. However, kids are able to go over and visit the flamingos and feed them between the hours of 9:00-10:00 AM.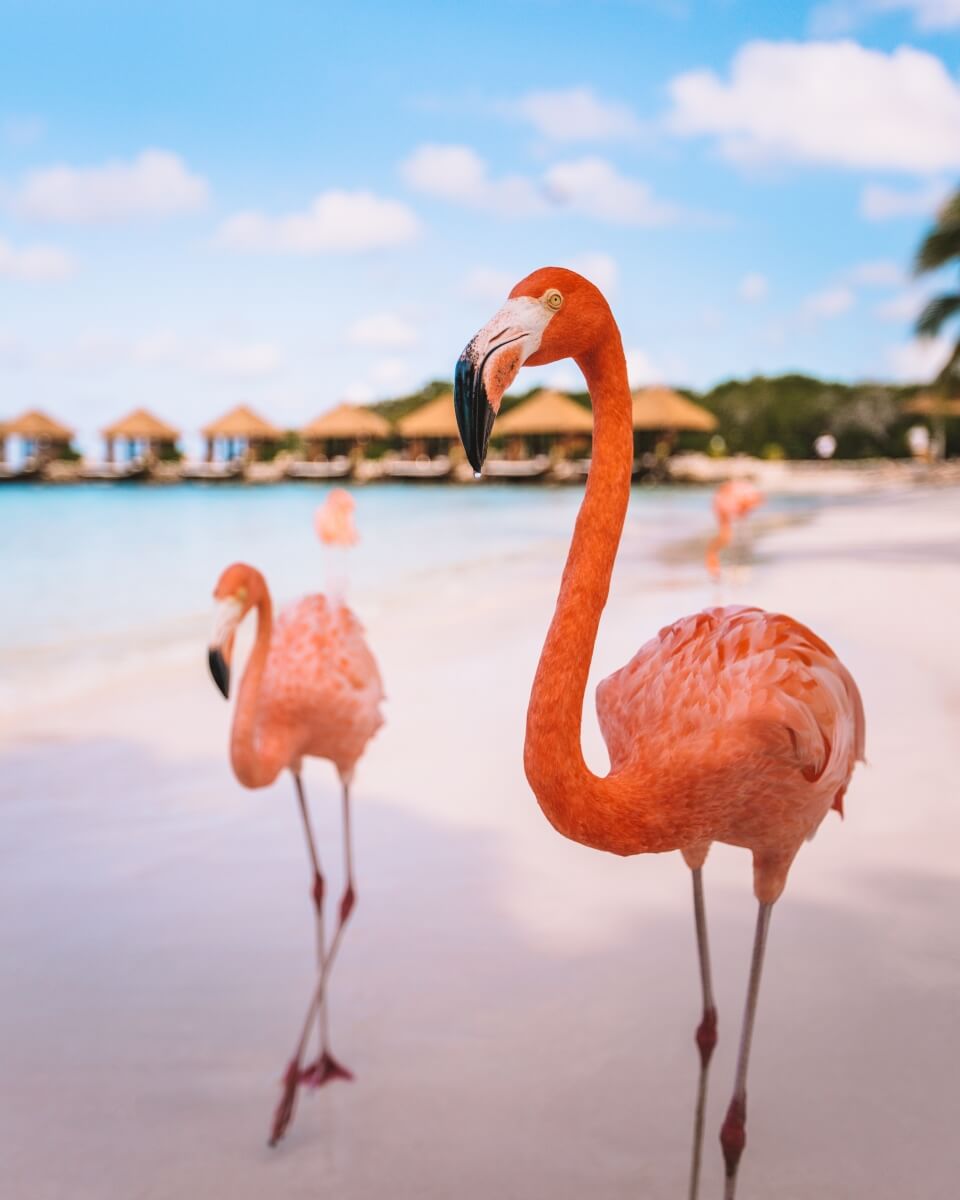 Water Activities on Renaissance Private Island Aruba
It should be obvious that there are a bunch of great water-based activities on Flamingo Island. There's a little water sports hut on the island where you can sign up for activities such as snorkeling, scuba diving, boat trips, and more. When you arrive on the island, make sure to stop by the water sports booth anyway to pick up a towel for the day.
This is also the place you'll want to rent snorkel masks to snorkel around the island's waters. This is a great place to snorkel because the beaches have super calm waters as a result of the rocks on the cove beaches. The rocks also make a great spot to search for some colorful, tropical fish while snorkeling.
Renaissance Island Fitness Center & Spa Cove
Renaissance Island has an extension of the Renaissance hotel's spa, the Okeanos Spa, referred to as Spa Cove. If you plan on getting a spa treatment at the Spa Cove, I highly recommend booking this ahead of time. It's possible to call the hotel once you're on the island to book a last minute appointment, but this is a bit more difficult to do.
If you're looking to work out instead of relax at the spa, you can visit Flamingo Island's very own fitness center. This is a toned down version of the hotel's fully equipped fitness center, but it's sufficient. You can also opt to play some tennis on the island's very own tennis courts or walk through the island's nature trail (where you might even run into the roaming flamingos!).
Rent a Private Cabana at Flamingo Beach
Renaissance Private Island has some of the coolest private beach cabanas I've ever seen. You can rent a private cabana on either beach – Flamingo Beach or Iguana Beach. These cabanas are kind of like half overwater bungalows, so it's a really cool experience. The cabanas have tons of shade, lots of seating, a ladder into the water right from your cabana, and a netted hammock right over the water.
There are 2 different types of cabanas you can rent – regular cabanas or deluxe cabanas. The regular cabanas hold a maximum of 4 people and the deluxe cabanas hold a maximum of 6 people. Renting your cabana comes with bottles of water, wine, a food amenity, butler service, towels, water floats, and snorkeling masks. You can rent a regular cabana or deluxe cabana at either Flamingo Beach or Iguana Beach. However, remember that Flamingo Beach is adults only, so if you're with kids, you'll have to rent your cabana for Iguana Beach.
The regular cabanas start at $425 for the day and the deluxe cabanas start at $500 for the day. These will sell out as there's only a few of each type, so make sure to book them well in advance. You can book them here.
Book your Renaissance Island private cabana here.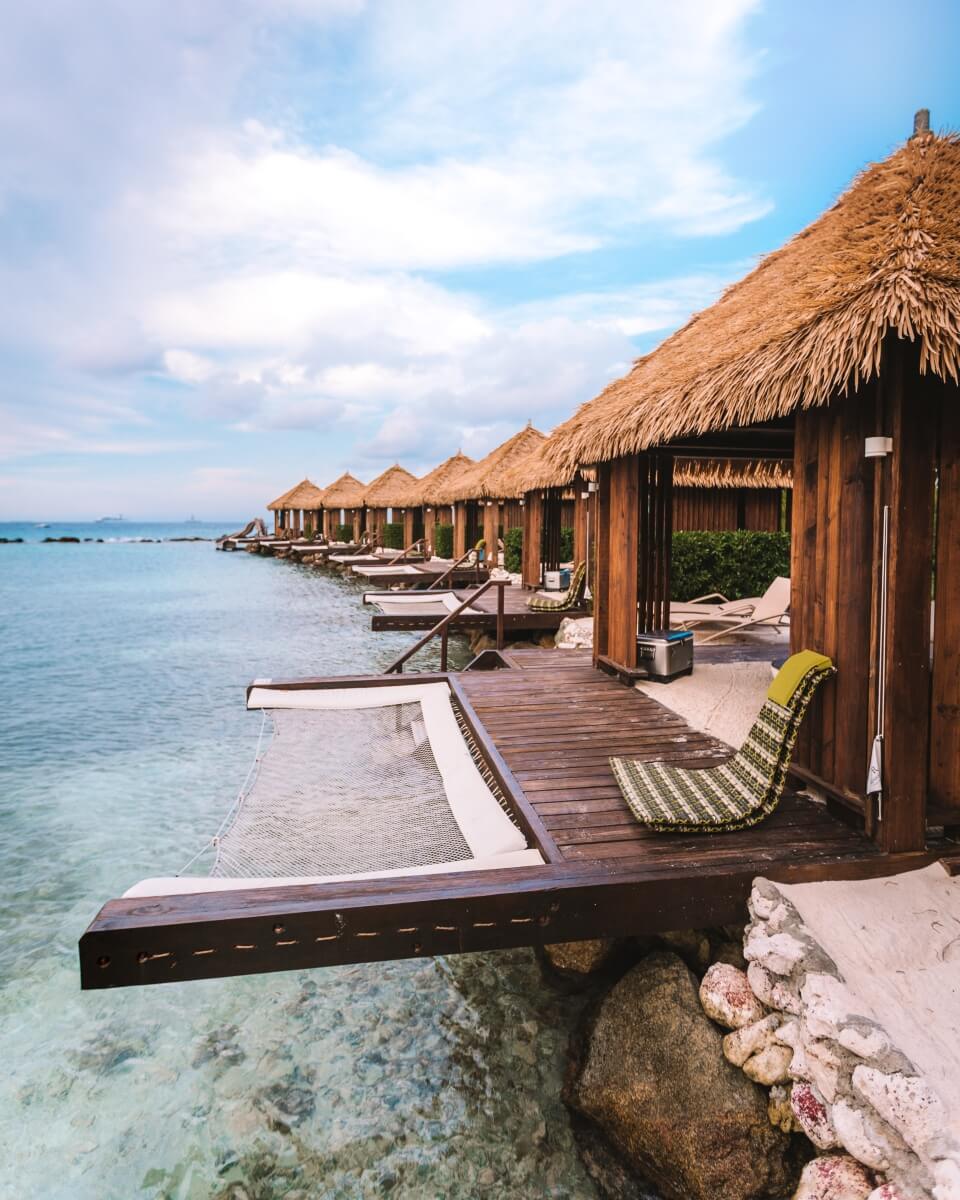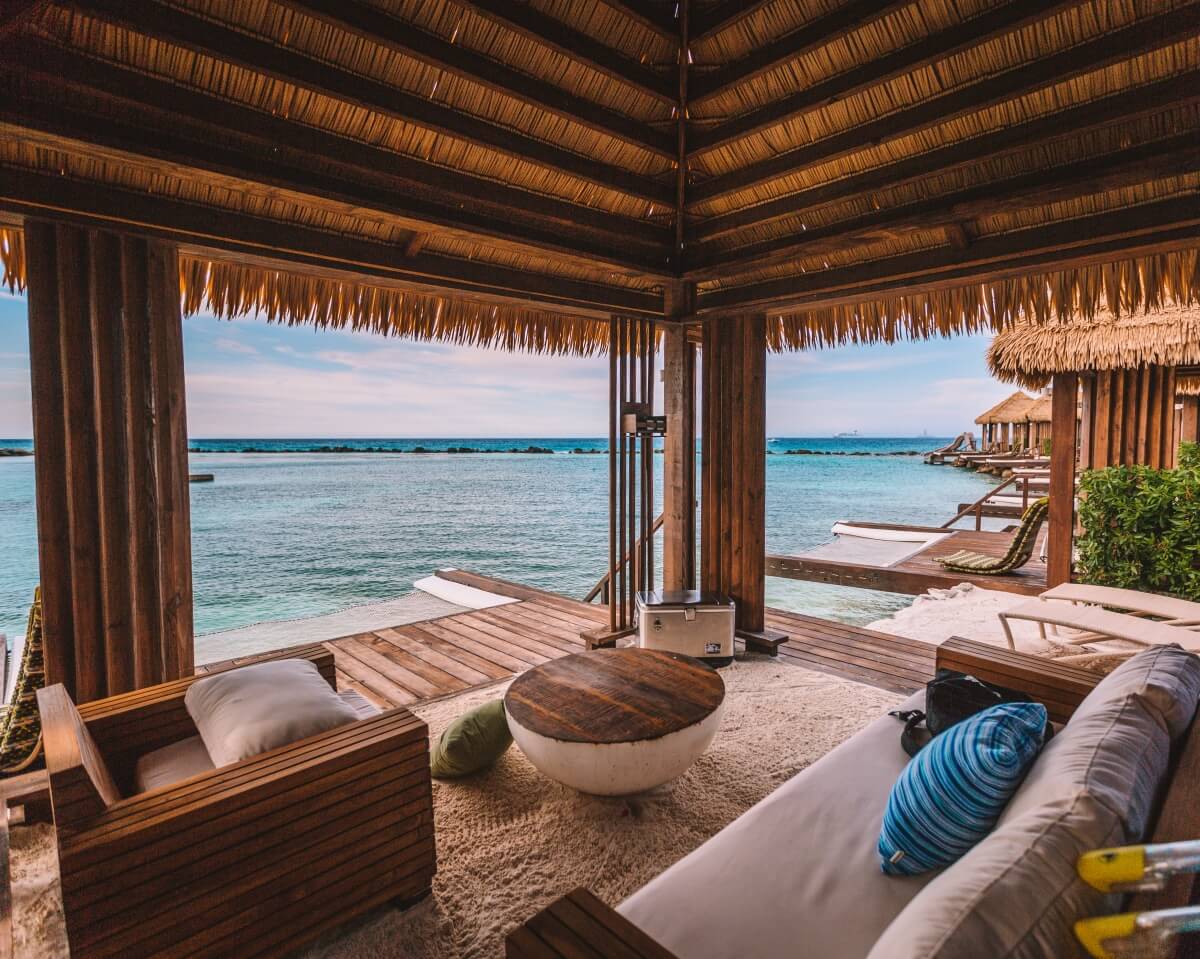 Restaurants at Renaissance Private Island
If you plan on spending a full day at Flamingo Beach, it's super important to know what food options are available for you because you're not allowed to bring outside food to the island. If you opt for the Renaissance Aruba day pass by purchasing it directly or by booking a spa package, you'll automatically get either breakfast or lunch and a drink at the island's Papagayo Bar & Grill. The restaurant is open between the hours of 8:30 AM-5:00 PM, so make sure to plan accordingly.
If drinks are more your vibe, head over to the Flamingo Beach side for the Mangrove Beach Bar. This little shack will serve up some of the best drinks on the island of Aruba. The Mangrove Beach Bar and Papagayo Bar are open from 9:00 AM-6:00 PM for drinks.
Best Beaches on Renaissance Aruba Private Island – Flamingo Beach vs. Iguana Beach
When you arrive at the island, you'll want to set your stuff down on some chairs. There are random chairs around any side of the island, but the best spots are obviously the beaches. You'll have to choose between spending the day at Flamingo Beach or Iguana Beach. You can of course switch around, but the best seats (in the front row) on either beach tend to fill up by mid-day.
Flamingo Beach is adults only, so if you have kids with you, you'll default to spending your day at Iguana Beach. If you're an adult, I actually found Iguana Beach to be less crowded and a nicer beach. Flamingo Beach is the best option if you're trying to avoid kids, but there's so much space on this beach that I never found this to be an issue. Because of the draw of the flamingos, I found Flamingo Beach to be more crowded, so I found Iguana Beach to be the perfect spot to relax.
Things to Remember for Flamingo Beach and the Renaissance Aruba Day Pass
Before I leave you to go enjoy Aruba's beautiful flamingos, I want to reiterate a few points that are really important to remember. First, the only guaranteed way to get a Renaissance Aruba Day Pass to visit Flamingo Beach is by being one of the guests of the Renaissance Aruba Resort. If you're going to be disappointed without a chance to visit the island, book at least 2 nights of your stay at this hotel to get a full day on the private island.
Another important thing to remember is that kids are only allowed on Flamingo Beach to interact with the flamingos from 9:00-10:00 AM daily. If you're traveling with kids, make sure to be there during this time. If you're not traveling with kids, you're free to visit with the flamingos anytime they're around.
Make sure to line up pretty early in the morning to get the best priority to visit the island. The boat ride from the Renaissance hotel to the island only takes about 5 minutes, but the boats only fit 20-25 people. Avoid waiting in a long line by arriving early in the morning.
Lastly, if you want to book a private cabana on either Flamingo Beach or Iguana Beach, book it very far in advance – I'm talking months if you book your stay early enough. The deluxe cabanas on either beach are the first to sell out, but they all will sell out.
Pin me to Pinterest!!!! ⤵︎