This awesome, free post might contain affiliate links. I'll receive a small commission when you purchase from my links, at absolutely no cost to you. Your constant support is always appreciated!
The Italian capital of Rome is one of the most incredible places to visit. It's no surprise that it's a high tourist area. Rome has a diverse amount of must-see attractions, from historical sites, archeology, and art to ancient ruins and excavations, and religious buildings. You'll never want to leave this beautiful city.
Rome is the capital of Italy and has a population of 2.8 million. According to myth, the city was founded by twins, Romulus and Remus, who fought for power which eventually led to the death of Remus. Romulus took Rome for himself, hence the name Rome.
The city is almost 3,000 years old, so there is a lot of incredible culture, old architecture, and art for visitors to enjoy. That's not all – Rome is also known for its incredible world-renowned food. From the famous pizza and pasta, cheese and wine, to gelato and Dulce, you'll never get tired of trying the famous Italian food. Keep reading for the 15 best things to do in Rome, Italy!
When to Visit Rome, Italy
Rome is an amazing place to be, so it's no surprise that tourism picks up during the summer months and during holidays. This is when you'll see a lot of tourists visiting the area, so if you're looking to visit during a time when the crowds will be a little bit smaller, consider visiting during the fall or spring months.
Rome is humid and dry from mid-June to September with a comfortable average temperature of 82°F. August is considered its hottest month when temperatures can get up to about 87°F.
The cool season lasts from late November to mid-March with a daily average temperature of 60°F. January is Rome's coldest month with an average low of 37°F.
If you're wanting to visit Rome when the crowds aren't as heavy but you want to avoid cold weather, I suggest going in late October or early November when the crowds aren't as heavy and the temperature is moderate. Another ideal time for you to go would be in April or May, when the temperatures are beginning to warm up and right before the increased traffic of the summer season.
Not sure where to stay in Rome? Check out this awesome list of the 10 most incredible Airbnbs in Rome, Italy.
Getting Around Rome, Italy
Rome is actually pretty compact, so the best way to get around is to explore by foot. If you're wanting to get from one side of the city to other or just want to save time, I would recommend taking a taxi. Beware of the price the taxi drivers ask you to pay though.
Taxi drivers in Rome are known to set the price ahead of time instead of using the meter to charge tourists a higher price. This happens a lot right outside of major tourist attractions. To avoid overpaying for taxis, download the app Free Now, which is similar to Uber, and offers great taxi prices around the city of Rome.
If you prefer public transportation, the city does have local buses and a metro that runs every 7-10 minutes. For access to these modes of transit, you will need to get a transportation card ahead of time. You can find more information on how to do this here.
Planning to travel around Italy? Check out this perfect 10-day Italy itinerary here!
Top Things to Do in Rome, Italy
Rome, otherwise known as the Eternal City, has so much incredible historic architecture, art, and religious culture. It has some of the best views of iconic architecture. There is something for everyone to enjoy in Rome, which is what makes it one of the best places to visit in Italy. If you're a family, a couple, or traveling solo, you are going to have an amazing experience.
Rome is a big tourist area, so do some research before your trip to determine which historic sites you want to visit. I recommend booking your activities in advance so that you're not missing out on anything that you want to do. If you have no idea where to start, keep reading to see the top 15 things to do in Rome, Italy!
1. Learn about Rome's historical sites on a walking tour.
If this is your first time in Rome and you don't know where to start, consider taking a walking tour to get your bearings and see the most incredible things to do in Rome. This gives you the opportunity to familiarize yourself with the city and mark down the sites you want to return to.
On your first day, you can focus on free activities like the Piazza Del Popolo, Piazza Venezia, and the Capitoline Museums in Piazza Del Campidoglio. These are all town squares where you can familiarize yourself with your surroundings. If you have time, try to take a short walk down Appia Antica, one of Rome's oldest roads.
You can also stop by Rome's historic center to get more information on the history of the Roman Empire. Piazza Navona is not too far from there and you can stop there to see the famous Fontana Dei Quattro Fiumi.
You can do a DIY walk around the city if you want to, but a local guide will know a lot about the city and its history, so I recommend booking a walking tour so that you don't miss out on any interesting information about the sites you're looking at.
You can take a beautiful scenic walk at dusk by booking a small group here. But if walking doesn't sound like your thing and you're comfortable with it, you can take a unique Segway tour. If you like thrilling activities, start your trip off with a walking haunted Rome ghost tour!
Click here to take an incredible walking tour of Rome.
2. Visit the beautiful Trevi Fountain and make a wish.
The Trevi Fountain, or Fontana di Trevi, is one of the most amazing things to see in Rome and probably the most famous fountain in the world. It's located in a central location within the city, just south of the Tiber River. It's the largest fountain in the city and one of the oldest.
Many architects and artists had their hand in the creation of the Trevi Fountain. It gets its name from Tre Vie (three ways) because the fountain was the meeting point of three different streets.
There's a myth that states that if you throw one coin in the fountain, you'll return to Rome. If you throw two, you will fall in love with an Italian. And if you throw three, you'll marry the person that you met. In order for your wishes to come true, throw the coin over your left shoulder with your right hand.
Fun fact: they take over a million euros from the coin each year and use it to feed the homeless and perform other good causes!
3. Walk the famous Spanish Steps of Rome.
The Spanish Steps in Rome consist of 135 steps with three terraces, attributing honor to the Holy Trinity. The steps lead from the Piazza di Spagna to the Trinita dei Monti, the French monastery church. While walking the steps you'll get to observe significant beautiful murals by various artists.
The best thing about walking the Spanish Steps is that it's completely free. You can also visit the Trinita dei Monti for free. The Spanish steps are a great place to visit. The scenery at the top is a beautiful panoramic view over Rome, creating the perfect photo opportunity.
If you're visiting in April, you'll have the honor of seeing the steps covered in azalea flowers in honor of Rome's anniversary. Another significant day to visit is December 8th. The city covers the statue of Mary in Flowers in honor of Mary's Immaculate Conception. The pope visits the Spanish Steps on this day, so if you're there during this time, it would be awesome to visit that.
If you'd like to learn more about the Virgin Mary, be sure to also visit Santa Maria Maggiore. This church is dedicated to Mother Mary. Many people think it is one of the most beautiful churches in Rome.
4. Get a taste of Italy with a walking food tour.
Italy produces world-renowned food, so exploring different food joints and getting a taste of traditional Italian food on a walking food tour is something I highly recommend. Many of the recipes that restaurants serve are being passed down through generations and are top secret.
Italy has the freshest veggies, meats, and cheeses so your culinary experience is bound to be one of the best. On this walking food tour, you will visit a popular food market before you embark on your tasty food expedition. If you want to sip on some Italian wine during an evening tour, click here!
Authentic Italian food is so highly regarded, so these tours are likely to sell out. If this is something you're interested in, be sure to book in advance to secure your spot doing one of the best things to do in Rome!
Get a taste of Italy by booking a walking food tour.
5. Visit the iconic Vatican and Sistine Chapel.
You don't want to miss your chance of visiting the breathtaking Sistine Chapel and Vatican Museums during your visit to Rome. The Sistine Chapel is one of the most famous architectural structures in Vatican City because of its astonishing paintings by Michelangelo and other Renaissance artists.
The Vatican City is about 15 minutes outside of the center of Rome and it's free to get into and explore. However, if you want to visit the Vatican Museums and Sistine Chapel, you will have to pay. This attraction is extremely popular so I recommend booking a skip-the-line tour so that your experience can be more comfortable and you won't have to wait hours in line.
If you do get the opportunity to go to Vatican City, be sure to check out St. Peter's Square where you can observe over 100 statues of saints. You can also go check out St. Peter's Basilica, which is one of the largest churches in the world.
If you want to see St. Peter's Basilica from a unique perspective, head over to Aventine Hill. This is one of the seven hills of ancient Rome. It's also the perfect place to view St. Peter's dome through a keyhole.
The crowds can get thick so you may want to book a luxurious early-bird tour to enter these attractions before they open. If you'd like, you can visit the top of St. Peter's Basilica for an extra cost. Enjoy an on-site breakfast buffet before a VIP touring the museums by clicking here!
Click here to book your skip-the-line tour of the iconic Vatican Museums.
6. Be a part of a religious Papal Mass.
Experience something truly special and book a Papal audience tour. Every Wednesday at 10:30 AM, the Pope addresses the public to give his weekly message and blessings. The address lasts about 90 minutes and includes a speech, prayer, blessings, and fellowship.
If you have a religious article such as a cross, rosary, or bible, the Pope will bless it at the end of the ceremony. If you don't take anything but want a blessed artifact, you can find them throughout the Vatican during your visit.
As you can imagine, this event is extremely popular so booking a tour is your best bet to get a good view and experience. If you're lucky, you may get the opportunity to receive a blessing from the Holy Father himself.
Be sure to reserve your spot at the Papal Audience by booking here.
7. Explore the world famous Roman Colosseum and Roman Forum
Don't miss your chance to book a skip-the-line tour of the Roman Colosseum. It's one of the 7 wonders of the world because of its state-of-the-art architectural and structural design, making it the most iconic thing to do while visiting Rome. This amazing structure is over 1900 years old.
In 1379, a great earthquake shook Rome and damaged the Colosseum. That's why it's partially destroyed on the outer south side. When the cobblestone fell after the earthquake, a lot of it was taken and used to build churches, hospitals, and other structures around Rome. Find out which structures those are so you can brag that you've touched the top of the famous Rome Colosseum!
The Colosseum was typically used for entertainment, but in a very brutal way. It's estimated that over 400,000 people died fighting in this amphitheater. You can learn more about its history by booking a Colosseum and Roman Forum Tour. You'll be able to skip the long lines and visit restricted areas like the underground and the arena.
Book your incredible tour around the Roman Colosseum here.
8. Ride around the streets Rome on a Vespa scooter.
There is nothing as iconic as riding around Rome in a Vespa scooter! Rome is a very touristy place and there are a lot of people walking on the narrow ancient streets. There's not enough room for cars to drive around and park. You will see a lot of people cruising on Vespa scooters because it's more economical.
Rome is built on a lot of hills so you won't see many people riding bikes either. Vespa scooters have become the choice of travel around Rome for tourists and residents.
Vespas are actually pretty cheap to rent, but you'll have to get an international driving permit. For your convenience, I suggest doing a Vespa tour. Riding around Rome in a Vespa is an experience you'd regret missing and is easily one of the most exciting things to do in Rome.
If you'd like to do a Vespa night tour, then you can book one here. There is also the option to book a private tour and tailor the experience to your own interests!
Take a ride around Rome by booking a Vespa Tour.
9. Observe class paintings at the Villa Borghese & Gardens.
Italy is very well known for the amazing artists that stepped out of the woodwork during the Renaissance era. The Villa Borghese Gallery, or Galleria Borghese, is home to a lot of the incredible pieces that were produced by Caravaggio, Bernini, Titian, and other famous artists.
If you're visiting Rome, observing these beautiful classic paintings, sculptures, and antiques is a must. As you're walking through the gallery, you'll learn incredible stories about the pieces, and maybe even some secrets.
You'll also have the opportunity to explore the peaceful Villa Borghese Gardens. You'll find a beautiful terrace where you can take in the beautiful sight of Rome's rooftops and plazas beneath you.
You can visit Villa Borghese & Gardens on your own, but you may wait in line for a while. This activity attracts thousands of visitors because of its significance. So if you don't want to wait a long time then you may want to book a skip-the-line small group tour.
By having a tour guide, you'll have the advantage of hearing the inspirational stories behind each piece. This is cost-friendly and likely to sell out so you'll want to book your spot in advance.
Reserve your spot to visit Villa Borghese & Gardens here.
10. Learn about the origins of Christianity and visit the Catacombs of Rome.
Do one of the most unique things to do in Rome and go on a Catacombs tour. This is a great way to learn about the origins of Christianity. The catacombs are underground burial grounds that were originally used for Christians and Jews. They did not want to burn their dead like the pagans did, so they created undergrown tunnels to honor their own burial customs.
When the catacombs were created, it was against the law to bury the deceased inside the city limits. So the solution was to build hidden passageways below ground to allow the Christians to freely bury their dead.
As you're walking through the dark tunnels, you'll learn about ancient Roman history and the beginning of the Christian religion. You'll actually get to observe the bones of 4,000 Capuchin monks in the Capuchin Crypt.
Reserve your spot to explore the Catacombs by booking here.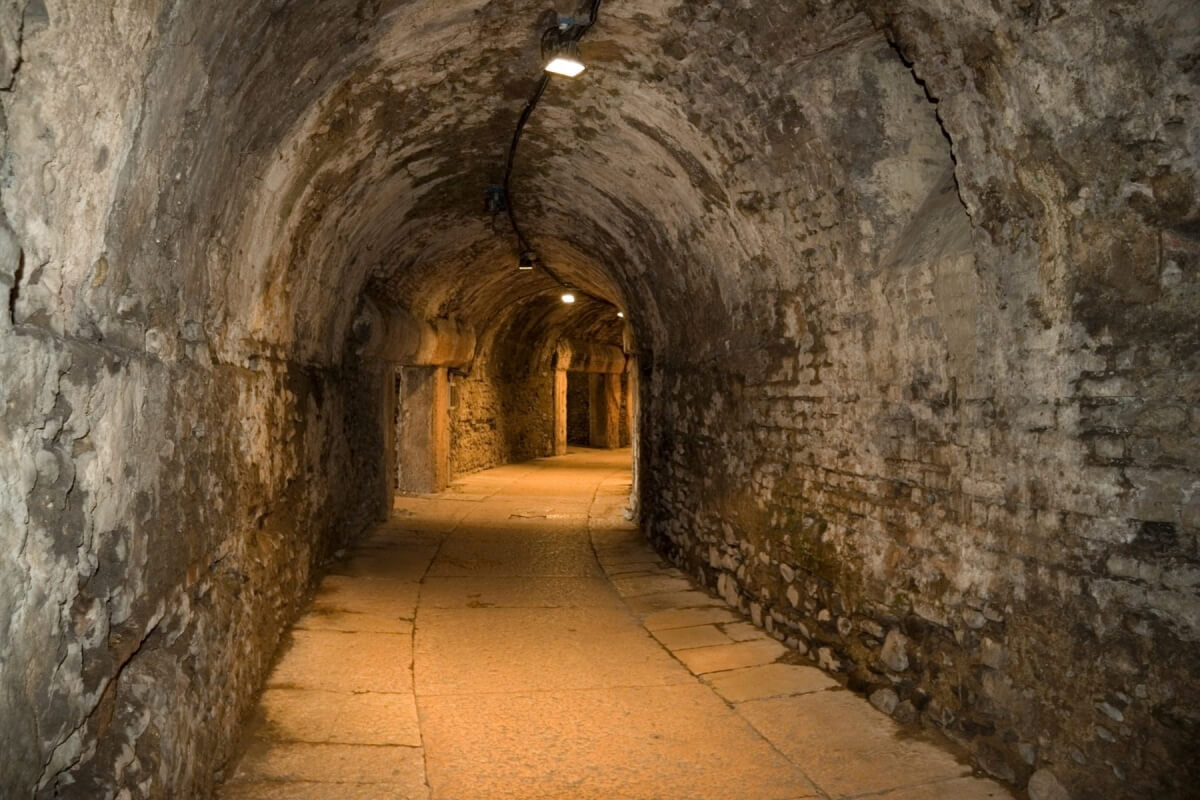 11. Relax and sip some wine in the Frascati countryside.
Don't miss your opportunity to book a Frascati food and wine tour. Frascati is a quaint town and surburb of Rome, about 18 miles outside of the city center. This charming area has amazing wine, small villas, and family-owned vineyards and bakeries.
If you're looking to get away from the traffic of Rome, consider spending a day here in Frascati. This is the perfect place to relax and take in gorgeous views of the wine country.
You can view another option that takes a little bit less time, but still offers a food and wine tour here. If you're willing to travel a little bit further from Rome, consider taking a short trip to the Lazio countryside for a food and wine tasting in a medieval winery!
Take a break from Rome's traffic and book a Frascati food and wine tour here.
12. Learn how to make authentic Italian pizza.
Yes, you can learn how to make fresh Italian pizza by taking a pizza-making class! Pizza was actually first created in a small town just outside of Rome.
Italians only use the freshest pureed tomatoes and herbs for their pizza sauce, which is why the taste is significantly different from the taste of pizza in the United States. Tasting freshly made pizza is an absolute must-do when visiting Rome.
If you want to go beyond just tasting the pizza and actually learn how to make it, you can book a pizza-making class here. You can also learn how to make the best gelato, by booking a gelato and pizza-making class here.
Learn how to make authentic Italian pizza by clicking here.
13. Become an Italian chef and book a pasta-making class.
Pizza is not the only famous dish in Italy. You can't forget about the incredible pasta that everyone raves about! One of the best things to do in Rome is to take a pasta-making class and learn how to make pasta from old family recipes.
If you're a sucker for good views, consider taking this pasta-making class and learn how to make pasta with an incredible view of Piazza Navona. Another really cool option is a pasta-making class where you can learn about different cuts of pasta and different sauces.
Click here to book your pizza-making experience with an authentic Italian chef.
14. Explore the wonders of the iconic ancient Pantheon of Rome.
The Pantheon is an architectural wonder, serving as the best preserved monument of ancient Rome. This structure is considered the temple of all gods. Ancient Romans used it as a burial ground for various kings during ancient times. It has also served in the past as a Catholic church. It is one of the most imitated architectural structures of ancient Rome.
The Pantheon is one of the top attractions for visitors because it has an incredibly fascinating history. By booking a Pantheon tour, you can learn the in-depth origination of this iconic ancient structure. Marvel inside this massive unsupported dome building while learning some Roman myths, including the story of Romulus and Remus.
People refer to the oculus at the top of the Pantheon as "The Eye of the Pantheon." When Emperor Hadrian was building this structure in the 18th century, the oculus was the only source of light. If you want to learn more about Emperor Hadrian, consider stopping by the Mausoleum of Hadrian, otherwise known as Castel Sant'Angelo.
Reserve your chance to visit the iconic Pantheon by clicking here.
15. Take an all-inclusive train to the Lost City of Pompeii.
If you want to get out of Rome for a day, you may want to book an all-inclusive Pompeii day trip. Pompeii was once a thriving Roman City that was destroyed after the eruption of Mount Vesuvius. Now, visitors can go and explore these preserved ruins freely.
Sit back and relax as you enjoy riding on a high-speed train to your destination. When you arrive you can visit a local winery for lunch and sip on some white wine. The coolest part is that you will be on the slopes of the very volcano that destroyed the city, Mt. Vesuvius.
When visiting Pompeii, be sure to head over to the amphitheater. There you will observe the cleverly constructed structure built on the edge of the city. Here they would have gladiator games, much like the ones at the Roman Colosseum.
Book your incredible all-inclusive trip to the ancient city of Pompeii by clicking here.
Pin me to Pinterest!!!! ⤵︎