This awesome, free post might contain affiliate links. I'll receive a small commission when you purchase from my links, at absolutely no cost to you. Your constant support is always appreciated!
When planning your Italian holiday, no doubt Venice will be at the top of your itinerary. Venice (or Venezia) is a small city on the northeast coast of Italy in a lagoon in the Adriatic Sea. Known as the Floating City, Venice is built entirely on water. The city is home to historical untouched architecture, magnificent palaces, churches, and museums, and of course the famous Grand Canal. There is truly nowhere in the world like Venice. As you plan your stay, check out this list of the 10 best Airbnbs in Venice, Italy.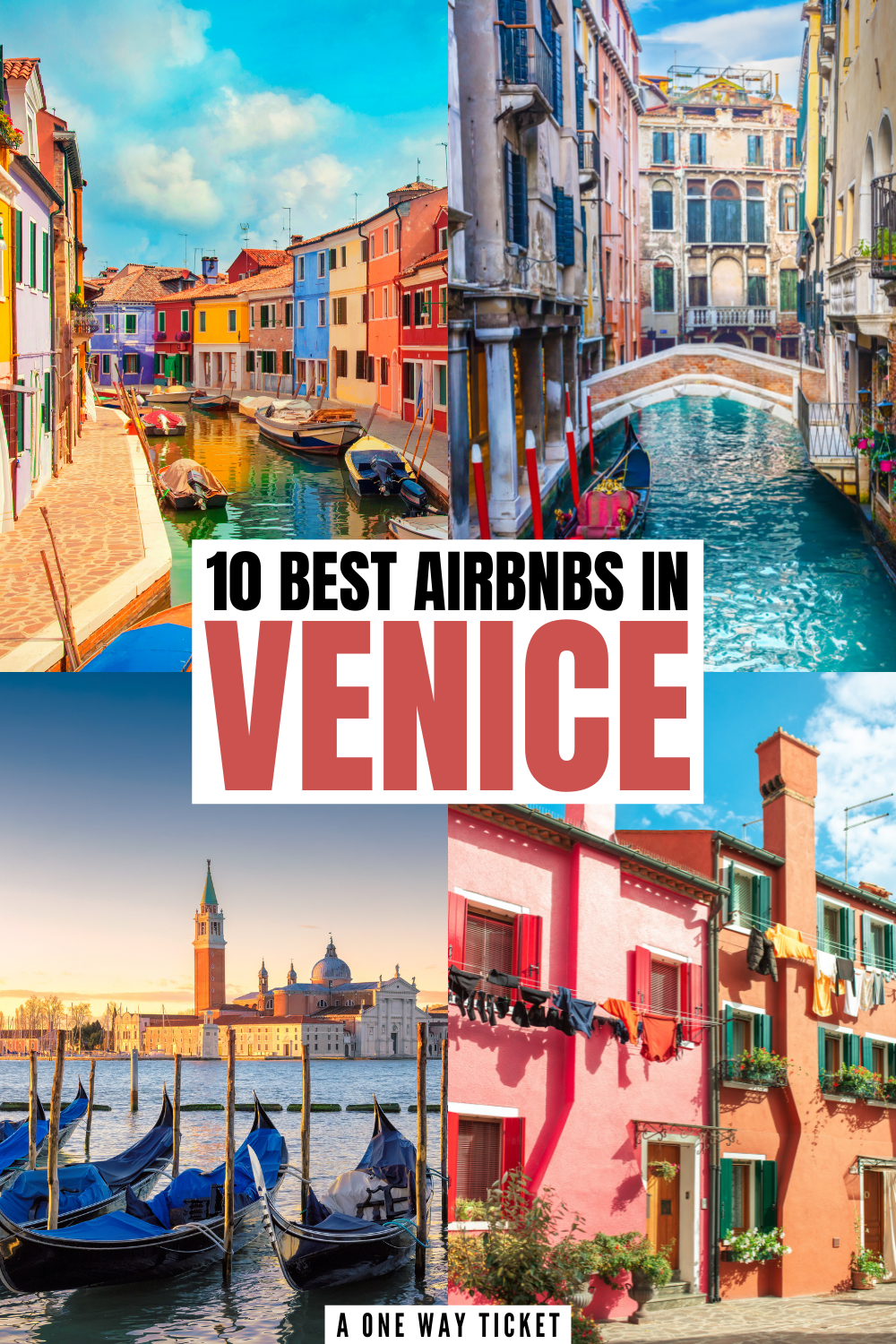 How to Get to Venice
Depending on where you are traveling from, you can arrive in Venice by car, train, bus, or airplane. Whichever method you choose, you will arrive at the Piazzale Roma, which is the end of the line for land vehicles in Venice. From there, you can walk or hop on the Vaporetto, the public water-bus transportation system. Once you arrive in Venice, it's usually a few minute's walks to your destination.
If arriving by plane, you will land at the Venice Marco Polo Airport (airport code: VCE), located about 5 miles north of the city and currently offering flights from central European cities as well as longer flights from the United States, Canada, South Korea and the Middle East. From the airport, you can take a reasonably priced water taxi, or a regular taxi or bus to the edge of the city.
If arriving in Venice by train, the Santa Lucia Train Station resides on the edge of the city. There is also a public metro terminal as well as parking garages nearby.
How to Get Around Venice
One of the fun parts about Venice is that cars are strictly banned. This means residents and guests get around the city by foot or by boat on The Grand Canal, Venice's "main street." Yes, now is where you get to enjoy the picturesque gondolas!
The water-based public transport includes water buses (larger, communal boats, use a travel card for these) or public gondolas (use cash for these, up to 10 passengers). Then there's the scenic gondola ride, which is pricier, but you'll feel like you stepped into a movie.
Finally, one should note that Venice requires a lot of walking through alleys, footbridges, and cobblestones, as well as climbing stairs. Visitors with large amounts of luggage or limited mobility should take this into consideration.
The Best Airbnbs in Venice
Staying in an Airbnb is an amazing way to visit Venice. Airbnbs put you in the heart of the city and walking distance to every gorgeous site. You can experience the city like a local, commuting by water taxi to your home, cooking a few meals on your own, and enjoying the extra space.
Some of the most stunning Airbnbs in Venice are located in historic buildings with stunning views of the Canal. Living in one of these apartments during your stay will make you feel like a true Venetian!
Historic Apartment on the Grand Canal
Travel back in time in this historic home, a perfect romantic getaway for two. Warm up by the fireplace, enjoy the rustic décor, or escape to the terrace for a glass of champagne overlooking the Canal.
With one cozy bedroom, this apartment is centrally located in the heart of Venice. Guests will love the sweeping views out bright 10-foot windows, carefully selected original art, and the neighboring restaurants and bars.
The private terrace offers not just breathtaking views, but a private pier where taxis or boats can land. With chandeliers, 16th-century furniture, original paintings, you will feel like you stepped into history in this Venetian-style saloon.
Charming Stay in the Dorsoduro District
This Airbnb Plus is a fantastic stay for a group of friends or a few couples. With three bedrooms and up to six guests, this apartment resides in the Dorsoduro district, walking distance to tourist spots but not so crowded.
After wandering around the magical city, escape to this private two-story home. Cook a meal and sip wine around the dining table or relax with a movie. This Airbnb features the unique, Venetian style with bright colors, mirrors, and Murano chandeliers.
Experience the magic of this charming and inviting Airbnb as part of your unforgettable trip to Venice.
Click to check pricing on Airbnb.
Sophisticated Hideaway in San Paulo
Marvel at the quintessential Venetian elegance of this two-bedroom home. As soon as you walk in, you are met with opulent furnishings, terrazzo floors, an ornate chandelier, and a wood-beam ceiling.
Amidst exquisite décor and vibrant colors, guests can enjoy two bedrooms with a double bed and two twin beds, plus two bathrooms.
Another reason making it a top desired Airbnb in Venice, it's located in the San Paulo area. Guests can take a water taxi straight to the house. You are a 7-minute walk to the Rialto Bridge with plenty of nearby restaurants and shopping. Although there is so much to see around Venice, you might find it difficult to leave this relaxing and sophisticated Airbnb.
Romantic Suite in Rialto
Experience timeless Venice in this romantic third floor apartment in an 18th century building. This suite is perfect for two guests looking for a cozy place to unwind after a day of exploring.
Located near the famous Rialto Bridge, this Airbnb has one queen bed, wood-beamed ceilings, and a functional kitchen. With a modern aesthetic combined with a historic feel, guests can admire the beautiful murals on the living room walls. This stylishly renovated apartment invites travelers to enjoy an espresso or a show on the Apple TV after a full day of walking to nearby Venice hot spots.
If you're looking for a romantic trip for two, consider making this Airbnb your home base. The location is outstanding, and the apartment is chalk full of warmth and charm.
Click to check pricing on Airbnb.
Light-Filled Maisonette in Canalside Gardens
This stunning Airbnb for three guests is as breathtaking as its location on the Canal. With a picturesque common space full of outdoor sofas in a lush garden, guests can take in the view of colorful buildings on the water. Inside, step into a bright, modern apartment with marble floors and whitewashed beams.
Although nestled in the center of bustling Venice, guests can enjoy a true escape here. A beautiful bedroom with a double and single bed are located upstairs with the kitchen and living area downstairs.
After a quintessential morning cappuccino on the terrace, walk a few minutes to St. Mark's Square. Explore restaurants, shops, and museums nearby before returning for a quiet evening on the Canal. With unmatched amenities inside and out, this home.
Click to check pricing on Airbnb.
Luxurious Waterfront Apartment on the Canal
Bask in luxury in this waterfront apartment, a three-minute boat ride to St. Mark's Square and ten minutes from Rialto Bridge. Explore the Guggenheim across the canal or simply take in the view from the deck patio.
This apartment hosts 2 guests with a handmade leather queen bed in a bedroom that opens to a private garden. Enjoy the chic tufted sofa, mint-green accents and vintage flourishes. Relax with a glass of wine on the deck at dusk taking in the lights of the Grand Canal.
You'll feel like you're in an Italian dream at this Airbnb, as it boasts style, luxury and stunning views. Plus, it once was the home of artist Rosalba Carriera!
Click to check pricing on Airbnb.
Chic Home in an Ancient Venetian Building
This Airbnb features high beamed ceilings, marble floors and chic décor to match. Situated in the heart of Venice, this one-bedroom apartment would make a fabulous getaway for two guests. Amidst red accents throughout, visitors can also admire the Italian arches, chandeliers, and big windows overlooking bustling streets.
The apartment is located in a historic building, just a few steps from Camp San Giacomo dall'Orio, a lively outdoor area where families gather all year round. If you are visiting in July, be sure to catch the evening tango festivals. At this apartment, you are also just a minute's walk from the waterfront and all major tourist spots.
The space is clean and comfortable with modern style. You'll quickly feel at home and fall into a nightly routine of grabbing gelato a few doors down and unwinding in this one-of-a-kind Airbnb.
Click to check pricing on Airbnb.
Modern Loft with Open Space
This bright and welcoming Airbnb is the perfect stay for a family or group of friends traveling together. With 2 bedrooms (separated by a semi-wall) and 3 beds, up to 6 guests can enjoy this large loft with a full kitchen, open space living and beautiful, local furnishings.
Overlooking the canal, this Airbnb is located in Dorsoduro, central to supermarkets, restaurants, bars, museums and more. Spend a leisurely morning cooking breakfast, then explore the enchanting city that is Venice.
A large Airbnb like this one is a rare find in Venice, so if traveling with a larger group, this might just be the Airbnb in Venice for your group.
Click to check pricing on Airbnb.
Elegant Flat full of Charm
Stroll through the city and unwind at this charming and spacious Airbnb full of Venetian history. With two bedrooms and three beds, this apartment is perfect for a small family or group of friends.
Combining history and modernity, this authentic Venetian apartment features original tile flooring, glass chandeliers, antique furniture and a contemporary kitchen. Take in the view of the city through the balcony off the master bedroom. Enjoy fine dining at the elegant dining area.
Centrally located near the train station, the Grand Canal, and the hubbub of the city, visitors can wander the city or take a water taxi to discover more of Venice.
Click to check pricing on Airbnb.
Modern Apartment in 16th Century Building
Finally, to round out our list, this Airbnb will take you back in time and make you feel like a true Venetian. Situated in a 16th century building, this apartment is a romantic stay with a cozy king bed in a lofted bedroom. Or enjoy a stay with friends, as there is also a murphy bed downstairs.
The space includes tall ceilings, views of the Canal, Venetian floors, and a full modern kitchen. The cobblestone entry and picturesque back garden just complete the ideal European scene. After a busy day walking around the city sites, escape to this quiet, peaceful Airbnb. With a stunning view out of the floor-to-ceiling windows, this apartment really tops the list of one of the best Airbnbs in Venice.
Click to check pricing on Airbnb.
Pin me to Pinterest!!!! ⤵︎
Maddie is the traveler behind A One Way Ticket. She has been traveling internationally for over 10 years and has visited 75+ countries on 6 continents. In addition to traveling herself, she's been helping others plan their own travel for 6+ years. Maddie eats, sleeps, and breathes travel and loves to help others discover that same wanderlust!