This awesome, free post might contain affiliate links. I'll receive a small commission when you purchase from my links, at absolutely no cost to you. Your constant support is always appreciated!
Puerto Rico is such an easy (and cheap!) flight away from a good portion of the United States, especially for me on the East Coast. I was able to visit this beautiful little Caribbean island earlier this year and absolutely loved it! Not only was it a charming place to visit, but it was such an easy weekend trip. The best part? No passport required!! It felt so odd to be going to somewhere in the Caribbean and not bringing my passport with me.
The main airport in Puerto Rico and where you'll likely want to fly in is the San Juan Luis Muñoz Marín International Airport, otherwise known as SJU. I flew Frontier to San Juan. Dozens of other airlines fly there, including the big US airlines like American, United, Delta, JetBlue, etc. There are non-stop flights from a lot of US cities, so check your best airport to see if they offer non-stop service to San Juan!
Where to Stay
For a first-time shorter trip to Puerto Rico, it's best to stay in San Juan and its surrounding areas. You can easily take day trips to other parts of the island, so it's a great base for a short trip. That being said, there are multiple spots in the San Juan area you can stay in whether it be Condado, Old San Juan, or some of the beach areas a little bit outside of the city center. See my top 4 picks down below to give yourself some ideas!
Intercontinental San Juan
This is where I stayed. It was a quick 5-10 minute ride from the airport. I paid a taxi $17 to take me from the airport to the hotel which seemed a bit ridiculous for such a short ride, but the taxis have regulated prices. Pro tip: You can't take Uber from the airport, but you can take Uber TO the airport.
The hotel was nice, although it could probably use some updating on the exterior. The pool was big and had a bar and restaurant right there. The beach was wide with ample room for everybody to use the chairs provided by the hotel. The rooms were clean and comfortable. Overall, the hotel was great for a short stay.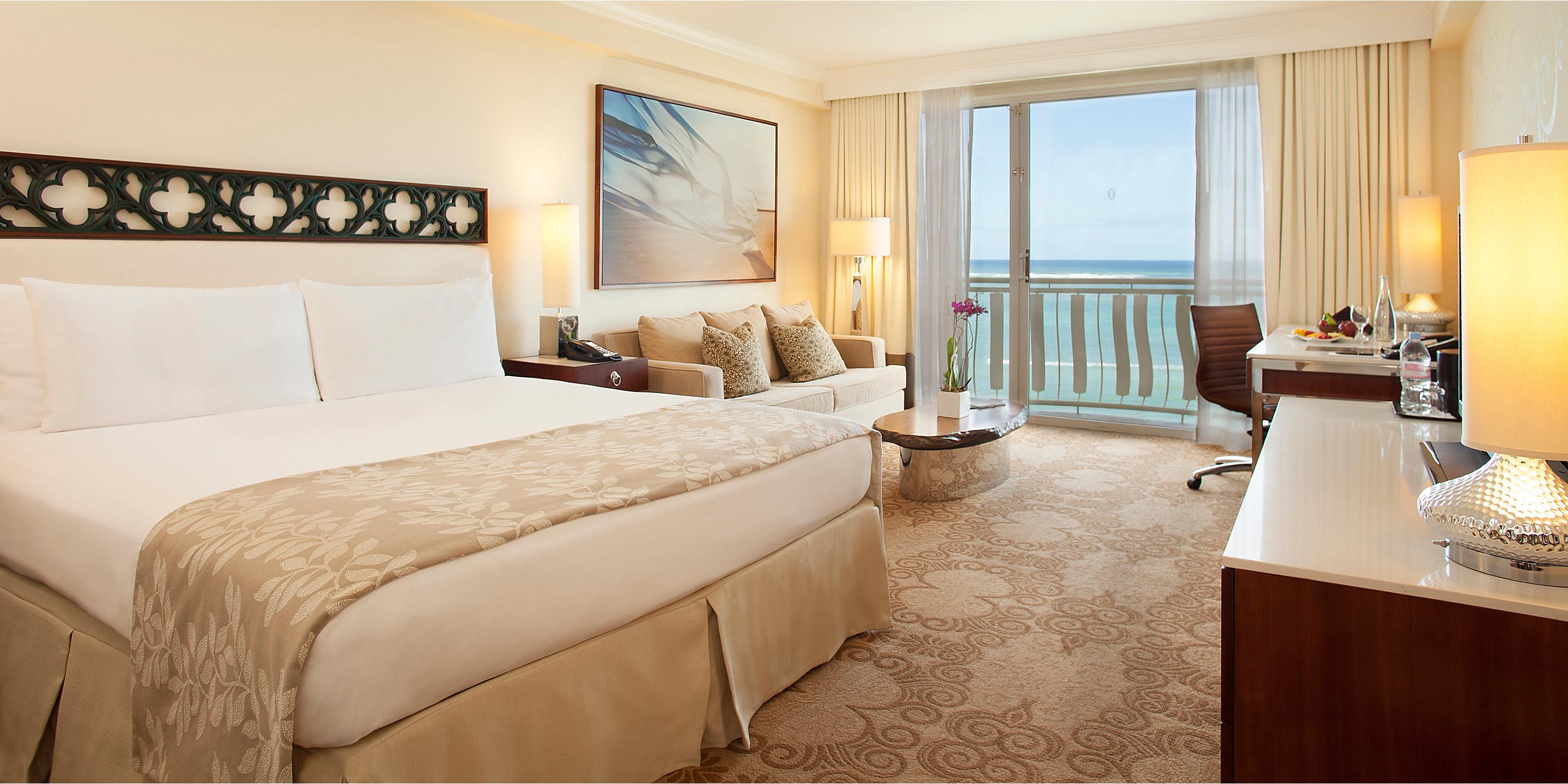 St. Regis Bahia Beach Resort
I love St. Regis properties, so I can't say enough about this hotel. It's beautiful and offers everything you'd expect from a St. Regis. That being said, it's about a 45-minute drive from San Juan. I would stay here if you were looking for more of a relaxing, beach weekend as opposed to a weekend to experience San Juan. From the looks of it, I wouldn't want to leave anyway!
Condado Vanderbilt Hotel
Condado is a more upscale part of Puerto Rico. It's only a 10 minute drive from the heart of San Juan, so this area offers you the best of both worlds: beautiful beaches and proximity to the city.
Hotel El Convento
El Convento is a boutique hotel in Old San Juan. It's in a perfect spot in the heart of the city. If you're interested in being close to nightlife and lots of restaurants, this is where you want to be! Also, it feels a lot more authentic than some of the other hotels.
What To Do
The island of Puerto Rico is huge and there are endless things to do. I'm going to focus on things you can do in the San Juan area and as a day trip or tour from San Juan.
Boat Day
Puerto Rico is in the Caribbean, so what better to do that go out on a boat?! The beaches in the San Juan area don't really offer the bright blue water and white sand beaches you expect of the Caribbean. That's where a boat trip comes in.
Spend your day relaxing on a catamaran sailboat with an open bar, lunch, and visit other beaches around Puerto Rico. You can go snorkeling or just relax on the beach or on the boat. I used the company East Island Excursions and can't say enough nice things about them. The staff was great, the boat was beautiful, I could go on!
Depending on the location you choose, this is most likely going to be an all day excursion, so make sure you leave a whole day free!
Walk Around Old San Juan
Old San Juan is just the most charming little part of the city. Every street is better than the next. Everything is so quaint and surprisingly quiet and peaceful to walk around. The streets are full of picturesque pastel houses that look like they're out of a fairytale.
Make sure you stop by Fortaleza Street (aka Calle Fortaleza) to see the colorful umbrella street! It was hard to find when we looked it up. If you get lost, ask some locals where it is. If you look on Google Maps and type in "Paseo de Sombrillas," it should take you to the right place.
Puerto Rico is HOT! Make sure while you're walking around you sit down and people watch for a little while in the shade. If that doesn't cool you off, stop by Señor Paleta and get one of their famous popsicles! They were cheap, delicious, and so nice to cool off in the heat! There's a location right by the umbrella street, so make a stop after you've taken a bunch of photos there.
Bioluminescent Bay
The Bioluminescent Bay is not in San Juan, in fact it's like a 2 hour drive from San Juan (with stops along the way to pick people up!). The tours are at night because you need darkness to see the bioluminescence. We opted for the later tour of the two times offered figuring the darker it was, the better everything would look.
Let me begin this by saying when I was in the Maldives, I saw a tiny amount of bioluminescence. It was my first time seeing it so it wowed me. The tour we did involved kayaking for what seemed like an eternity with my awful kayaking skills through mangroves to get to the bay where the bioluminescent plankton gather. I've seen photos of the bioluminescent plankton before, but the photos are all highly edited because it's almost impossible to get a good photo of them. Bottom line is, I didn't totally know what to expect.
As we pulled into the bay, you started seeing little bits of bioluminescence as your paddles grazed through the water, similar to what it looked like in the Maldives. Initially I was a little disappointed because of the hassle to get there. I was thinking, "is this really it?"
The guides gathered us in a kayak line and sent his guide friends off to see what pocket of the bay the plankton had gathered in. The guides returned and had us paddle over towards the most concentrated area. As we got closer, the light as my paddles went into the water started getting stronger and stronger which was really, really incredible to see. Then, the guides pulled out these huge tarps for us to all gather under so we could cut out all the light around us.
As we shook our hands in the water and splashed it up onto our legs, I COULD NOT BELIEVE what I was seeing. The bioluminescence was insanely bright and breathtaking and 100% worth it. It definitely took a lot to see it, but it was such a crazy thing to see in person and I couldn't get enough! I promise it will be worth the hassle (unless you're some Olympic kayaker and can do better than me who kept running into the mangroves). We used a company called Yokahú Kayaks and they were great. There are tons of companies who do it, so for us it was mostly about availability.
Sad to Say Goodbye
I have no doubt that you'll leave Puerto Rico wanting more! There are so many other beautiful spots to visit on this beautiful island in the Caribbean. And the flights are so cheap, what's stopping you from going back?!
Definitely think of Puerto Rico for your next quick getaway trip. Their tourism got hit hard after Hurricane Maria. That being said, you wouldn't even know all the damage and destruction while you were there because they've done such a good job rebuilding it. Go visit and see for yourself!!
Pin me to Pinterest!!!! ⤵