This awesome, free post might contain affiliate links. I'll receive a small commission when you purchase from my links, at absolutely no cost to you. Your constant support is always appreciated!
Dubai was the first destination I visited in the Middle East. I always had a fascination with the Middle East and their culture ever since I was young. Since my original trip to Dubai, I've been back several times. I just can't get enough. Dubai is such an incredibly unique city. On one side you have the ultra-luxurious modern Dubai with the biggest and best of everything. On the other side you have cultural, older Dubai before all the money came in. Whether you're coming to the UAE for a stay and want to spend some time in Dubai, or you're flying Emirates somewhere else and want to take advantage of a stopover in Dubai. Here's everything you need to know for your perfect 3 days in Dubai!
Where is Dubai?
Dubai is located in the United Arab Emirates, located in the Middle East. The UAE is on the southeast end of the Arabian Peninsula and sits on the Persian Gulf. The country borders Saudi Arabia and Oman.
The United Arab Emirates is broken up into 7 Emirates (think like States in the USA). Dubai is one of those Emirates. Other Emirates include Abu Dhabi and Sharjah, which are the other two more well-known Emirates.
How do I get to Dubai?
The major airport in Dubai is the Dubai International Airport (DXB). There's another airport called the Al Maktoum International Airport (DWC). However, in 99% of occasions, you'll be flying into DXB. The airport is only a 10-15 minute ride from Downtown Dubai and a 25 minute ride from the Dubai Marina. The most efficient way to get into the city is to book an airport transfer, which you can do here.
Dubai is super accessible from many places all over the world due to it being the headquarters of the ever-popular airline Emirates. Emirates has an extensive route network and I would highly suggest flying them for your trip to Dubai. I consider Emirates to be one of the best airlines in the world, so I can't think of a better way to arrive in Dubai. To get an idea, below is a sampling of the cities Emirates flies to Dubai from.
Africa: 22 destinations, including flights from South Africa, Morocco, Egypt and Kenya.
Asia & the Pacific: 48 destinations, including 5 airports in Australia, 9 airports in India, 3 airports in both China and Japan, and bucket list destinations like the Maldives, and the Seychelles.
Europe: 43 destinations, including 8 airports in the UK (3 in London alone!), 4 airports in both Italy and Germany, and 3 airports in France.
The Americas: 18 destinations, including 12 airports in the USA, as well as Canada, Mexico, and Brazil.
Middle East: 13 destinations, including Jordan, Oman, and Saudi Arabia.
Citizens of most of North America and Europe can obtain a visa on arrival into the UAE. Use this link to find out more information about visas in the UAE.
How do you get around Dubai?
Dubai is not a walkable city. There are some areas you can walk around, but generally speaking you'll have to either take the metro or taxis. The metro is pretty simple, but doesn't go everywhere. I'd suggest using Google Maps to see if it's worth it to take the metro.
Taxis are surprisingly cheap in Dubai. If you prefer ride share services, Uber is available, as well as Careem. Getting a taxi or Uber is my preferred method of getting around in Dubai because it's such a drivable city and they are really affordable.
What To Do in Dubai for 3 Days
Dubai has lots of different activities for all different types of people. You could shop until your arms fall off, lay on the beach and get that perfect tan, or go skiing inside the Mall of the Emirates. Check out the best way I think you can spend 3 days in Dubai.
Day 1: The City's Famous Sites
The first day in Dubai should be spent visiting the city's most iconic attractions to familiarize yourself with everything. A lot of these attractions center around Downtown Dubai.
The easiest starting point will be the Mall, mostly because every taxi driver will know exactly where to take you. Dubai can get very hot, especially in the summer months. I would suggest planning this day to be when the weather is supposed to be at its hottest, since a lot of the day will be spent indoors, away from the brutal heat.
The Dubai Mall + The Dubai Aquarium & Underwater Zoo
The Dubai Mall is the biggest mall in the world. Trust me, you'll start to see a theme of "largest/biggest in the world" here in Dubai. You could devote an entire day to this mall and still not see half of it, it's that big. If shopping isn't your thing, I still highly suggest a visit here to just walk around and marvel at the sheer size of this place.
The Dubai Mall is also home to the Dubai Aquarium & Underwater Zoo, which has – you guessed it! – one of the largest aquarium tanks in the world. They have also have one of those tunnels you can walk through and watch sharks and rays swim all around you. You can view the same tank with the tunnel for free, but if you want to walk through the tunnel or see the rest of the aquarium, you'll need to buy tickets. You can pre-purchase tickets here.
The Famous Burj Khalifa
Dubai is home to the largest building in the world, The Burj Khalifa. This so happens to sit on the same property as the Dubai Mall. The entrance to the observation deck at the Burj Khalifa is actually inside the Dubai Mall, making it a really easy visit if you're already at the mall.
The Burj Khalifa observation deck is ticketed. You can choose to buy tickets to the main observation deck at floors 124/125. Or, if you really want to be at the top of the world, you can buy a combo ticket to floors 124/125, as well as floor 148.
Buy tickets ahead of time. During my first visit to Dubai, I didn't get to visit the observation deck because I didn't realize you needed to buy tickets ahead of time and the entire day I planned to visit the Dubai Mall and Burj Khalifa was sold out when I arrived.
You can buy tickets to floors 124/125 here or to floors 124/125/148 here.
The Dubai Fountain
Another easy visit during this day is to the Dubai Fountain. The Dubai Fountain is right on the same property as the Dubai Mall, right below the Burj Khalifa.
The Dubai Fountain has a music and light show that goes off twice during the day, and once every 30 minutes between 6:00 PM and 11:00 PM. The times for the show vary slightly by day of the week and holidays, so I have those times listed for you below.
Sunday to Thursday: 1:00 PM & 1:30 PM
Friday: 1:30 PM & 2:00 PM
Evening Shows: 6:00 PM – 11:00 PM, every 30 minutes
1st & 2nd Day of Eid (Afternoon): 2:00 PM – 5:00 PM, every hour
1st & 2nd Day of Eid (Evening): 6:00 PM – 12:00 AM, every 30 minutes
Arafat Day: 7:30 PM – 11:00 PM, every 30 minutes
The show lasts about 5 minutes, so if you're outside for a while at night, you'll likely see it a few times! If you want to get really up close and personal with the show, you can book a ride on a traditional boat to see the fountain show from the water. You can book that experience here.
I would highly suggest eating at one of the restaurants that have a view of the Dubai Fountain so you can enjoy the show while you eat. You may have to arrive early or make a reservation to make sure you get a seat on the terrace.
La Mer Dubai
I'd suggest spending the rest of your day at La Mer Dubai. You could also switch between doing this or the Dubai Fountain for the last part of the day.This is fairly new, as phase I just opened up in late 2017.
La Mer is a shopping, restaurant, and beach area. If you have a longer amount of time, I'd actually suggest spending at least a half day here. If you want to relax, you can opt to sit on the beach or rent a cabana from Sea Breeze. Another fun idea would be to go to the Laguna Waterpark or rent a jet ski from Watersports. Likewise, if you'd rather shop or eat, there are a dozen stores and restaurants to do that as well.
Day 2: Jumeirah + The Palm
Now that you're familiarized with Dubai's most iconic landmarks, let's take you to the beach! There are lots of fun things to see on the coastal areas of Dubai. If you haven't noticed a theme here, Dubai loves to have the biggest and best of everything. Well, one of those crazy features of Dubai is The Palm Jumeirah.
The Palm is the world's largest man-made island that looks like a palm tree when you look at it from the sky. Crazy, right? Dubai is also building The World which, you can probably guess by now, will be another man-made grouping of islands that looks like the world map from above. The Palm is part of the Jumeirah coast line, which is why combining these areas for day 2 in Dubai is perfect.
Dubai Miracle Garden
Start your day off at the Dubai Miracle Garden. The Dubai Miracle Garden was first opened in 2013 and is the world's largest natural flower garden and it features over 50 million flowers and 250 million plants.
The Miracle Garden is a really incredible place to walk around for a couple hours. This is where that famous Instagram picture of a row of flower hearts comes from. They also have a whole area of gigantic Disney characters, a massive floral clock, and even an Emirates A380 plane covered in more than 500,000 fresh flowers and living plants. The operating hours and ticket prices are listed below!
Weekdays (Sunday-Thursday): 9:00 AM – 9:00 PM
Weekends (Friday-Saturday): 9:00 AM – 11:00 PM
---
Adult Ticket (12+ years old): 50 AED (~$13-14 USD)
Child Ticket (under 12 years old): 40 AED (~$10-11 USD)
Disabled & Children Under 3: Free
Dubai Butterfly Garden
After you finish up at the Dubai Miracle Garden, head over to the Dubai Butterfly Garden. It's right next door within the same area, so you probably will see signs everywhere. Shocker – the Dubai Butterfly Garden is the world's largest and is home to 15,000 butterflies.
The Butterfly Garden has 10 domes to walk through. There are little huts within each dome you can go into that have tons of butterflies in them. You can take pictures with the butterflies because they will even land right on you! The hours of operation and ticket prices are listed below. Keep in mind, this is a separate ticket cost from the Dubai Miracle Garden, even though they're on the same property.
Weekdays and Weekends: 9:00 AM – 6:00 PM
---
Adult & Child Ticket (above 2 years old): 55 AED (~$15 USD)
Disabled & Children Under 3: Free
Souk Madinat Jumeirah
This whole area of Dubai is one of my favorites. At the heart of this area, it's an Arabian-style mall. I say mall instead of souk because it's nothing like the Gold Souk (more on that later), but is still a souk. You can negotiate prices here with certain vendors, but some have set prices.
Aside from this being a shopping area, it's just a nice area to walk around. The area is surrounded by a creek and filled with restaurants. I'd recommend having lunch at one of the outdoor restaurants here. Plus, there's an awesome view of the iconic Burj al Arab from here.
Visit The Palm
The Palm is full of a lot of high-end hotels and restaurants, but it's such a famous icon you have to visit it in some way. There are several different things you can do on the Palm.
The first option would be to spend some time at the Atlantis on the Palm. You can even stay here if you want. Similar to the Atlantis in the Bahamas, the hotel has a really fun waterpark that you could easily spend a day at. When you buy a ticket to the water park, you also get access to the hotel's massive aquarium and their private beach. You can purchase tickets to the water park and aquarium with beach access here.
Another fun way to see the Palm is to see it how it was intended to be seen: from the sky. Believe it or not, there's more than one way to see it from the sky! You can skydive over the Palm with Skydive Dubai if you're an adrenaline junkie like me. Keep in mind, skydiving isn't cheap, but this one is more expensive than average. But, the views are worth it!
If skydiving isn't quite your thing, you can also take a helicopter ride over the Palm, like this one here. If you have a group of friends who all want to do it, you can choose to do a private ride too. Make sure to book this in advance because these helicopter rides are very popular!
Jumeirah Public Beach
Before you top off your night, head over to Jumeirah Public Beach for sunset. This beach has one of the best free views of the Burj al Arab in all of Dubai. Plus, the sun hits it perfectly during sunset.
Keep in mind, this is a public beach, so anybody can go. Unless you get super lucky, it will be crowded. Girls, you can wear bikinis here, but you may draw attention. I don't necessarily mean negative attention, but you will likely get a lot of people staring at you. The UAE is a Muslim country, but Dubai is fairly Westernized so you just have to be aware of that.
Burj al Arab
If you're not exhausted already from the long day, head over to the Burj al Arab to get dinner or drinks. Keep in mind, you can't just walk into the Burj al Arab. The only way to get in here is to be staying at the hotel (yes, you can stay at this 7* hotel!) or by having a reservation at one of the hotel's restaurants, cafes, or bars. You can have an Arabic lunch or dinner at Al Iwan Restaurant..
If dinner is out of your budget, but you're dying to see inside this 7* beauty, make a reservation at Gold On 27. This bar sits on the 27th floor of the Burj al Arab and is your cheapest ticket in the door. The minimum spend here is 100 AED (~$27 USD) per person, so make it last!!
Day 3: Traditional Dubai
Your last two days have been very eventful and over-the-top. Now, it's time to come back down to earth a bit with your last full day here in Dubai. Dubai wasn't always the glitzy place it is now. Oil is the main reason for all the money in this city, but that wasn't discovered until the late 1960s. Starting in the 1990s, Dubai started to grow into the place it is now.
I think it's really important to visit some of the more traditional spots in Dubai that you'd expect in other cities in the UAE and the region in general.
Jumeirah Mosque
Start your day off with a visit to the Jumeirah Mosque. This is one of only 2 mosques in Dubai open to the public. There's a wonderful program at Jumeirah Mosque called "Open Doors. Open Minds." The whole purpose is to allow the public to come in, ask questions, take photos, and learn, which I think is so important and what travel is really all about. Bookings are not required to visit, but you have to register to visit.
Morning & Afternoon Mosque Visit: 10:00 AM and 2:00 PM, except Fridays
*Registration begins 30 minutes before the program starts and includes light Emirati refreshments.
Dubai Museum & Al Fahidi Historical Neighborhood
Take a visit to the Dubai Museum within the Al Faihidi Fort to learn about Dubai's beginnings. At the Dubai Museum you'll learn how Dubai changed over time. They even have this really cool time lapse of how Dubai has changed over the years. It's really incredible to see how much change there's been in Dubai in such a short period of time. Below you can see the hours of operation and admission costs.
Saturday-Thursday: 8:30 AM – 8:30 PM
Friday: 2:30 PM – 8:30 PM
Ramadan: 10:00 AM – 5:00 PM (closed Friday)
---
Adult Ticket: 3 AED (~$1 USD)
Child Ticket: 1 AED (~$0.25 USD)
Once you've finished up at the museum, take a stroll over to the Al Fahidi Historical Neighborhood to get an in-person idea of what Dubai looked like before the UAE was formed in 1971. The area is full of museums, restaurants, and art galleries. Take a break from walking around to have an authentic Emirati lunch at the Arabian Tea House.
Dubai Spice Souk & Dubai Gold Souk
Make your way to the Bur Dubai Abra Station to take a traditional Abra across Dubai Creek to Deira. Deira is where you'll find the Spice Souk and the Gold Souk. Keep in mind, Deira is very different from the rest of Dubai. There aren't nearly as many tourists. Dubai is a very safe city, but I felt a little uncomfortable walking on the dimly lit streets of Deira at night.
These souks are where you want to go if you want to bargain for jewelry, spices, clothing, scarves, pottery, and more. Honestly, they have anything you'd want to buy and bring home from Dubai. Keep in mind, the vendors here can be very aggressive. Do not feel bad being stern with them if they're harassing you. And be prepared, because it will happen.
I don't want to scare anybody out of going here because it was a great experience and I'm glad I visited. Just be prepared to get harassed to go into every single vendor's shop. I visited with the mentality of visiting the shops where the vendors were kind and it worked out very well.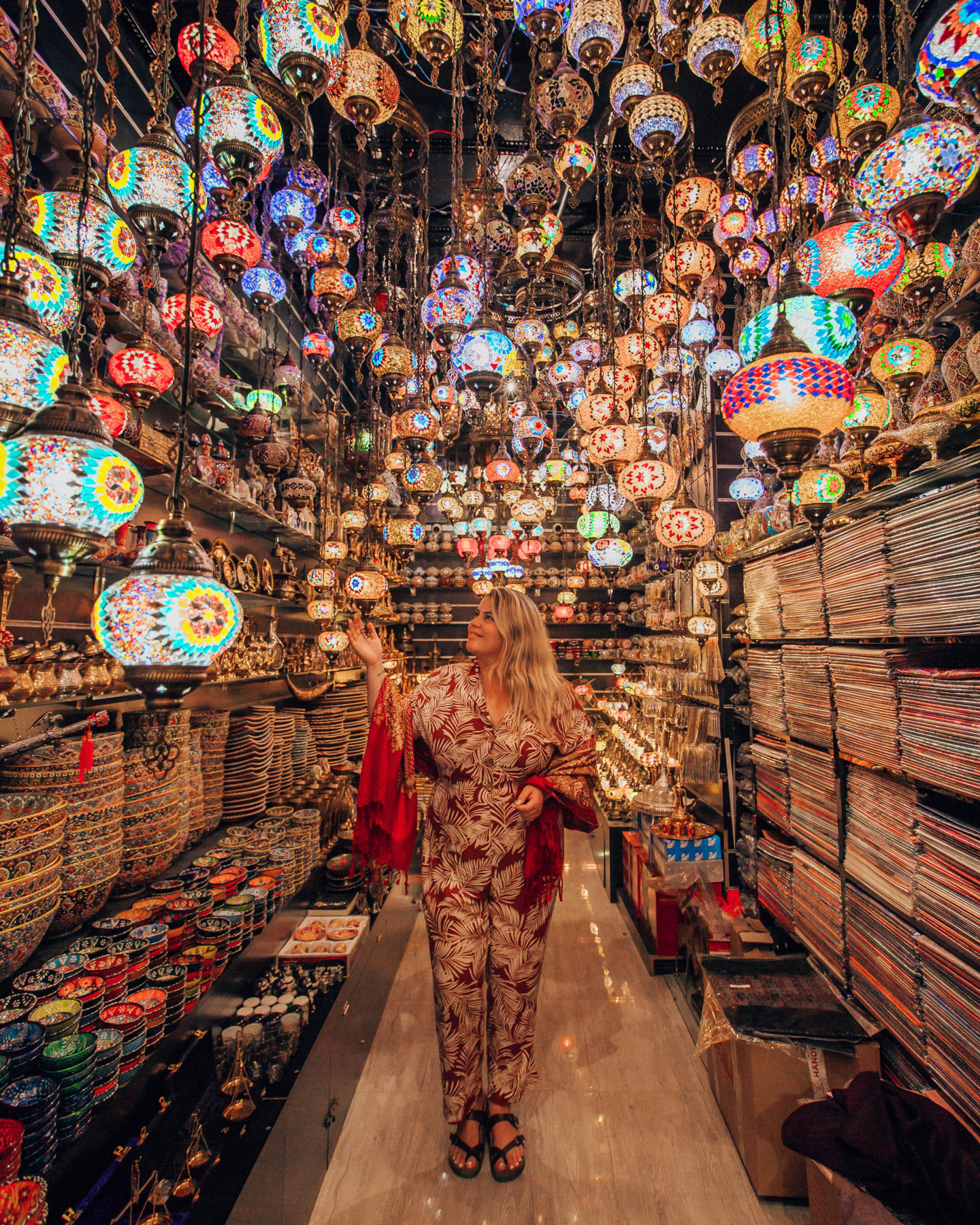 Desert Safari in Dubai
Dubai is a city, but it's basically on top of the desert. One of the most exhilarating things to do in Dubai is to go on a desert safari. I would suggest doing an afternoon desert safari, like this one you can book here.
On a desert safari, you'll be able to participate in a lot of fun activities, like dune bashing, camel riding, and sandboarding. After the fun, you'll settle into the camp for a BBQ dinner. When I went, they had tents set up that had different vendors where you could see falcons, get henna painting, and smoke a shisha pipe. After dinner, you'll be taken back to your hotel in Dubai. All in all, it was a really fun time and I'd highly recommend a desert safari!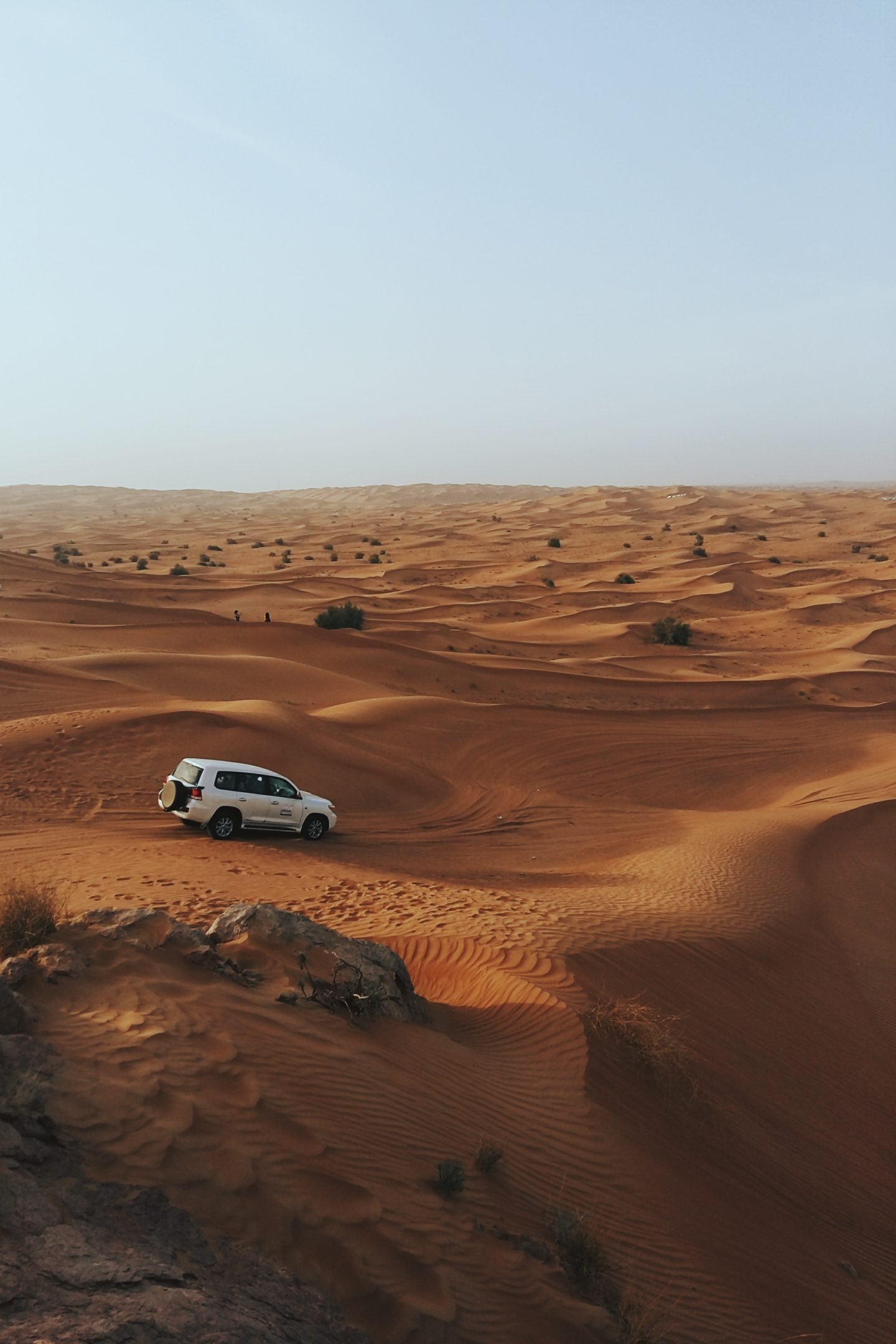 Longer Stays in Dubai
Dubai is a wonderful city to stay longer if you have more than just 3 days in Dubai. For starters, you could elaborate more on what I've mentioned above and spend more time on each thing. If you're going to be in Dubai for longer than a few days, there's some extra things I would suggest doing.
There are several day trips you can do from Dubai. One that I think is absolutely necessary if you have enough time is a day trip to Abu Dhabi. If you do nothing else in Abu Dhabi, at the very least go to the Sheikh Zayed Grand Mosque. It's one of the most incredible things I've had the honor to visit. For a half day tour just to visit the mosque, I suggest this one that you can book here. If you'd prefer a full day tour to see more of Abu Dhabi, I suggest this one that you can book here.
---
I hope you feel more prepared to spend an amazing 3 days in Dubai! I created a map for you guys to easily make your way around Dubai when you're visiting. Check it out below!
If you're interested in other posts about the Middle East, check them out here.
Pin me to Pinterest!!!! ⤵