This awesome, free post might contain affiliate links. I'll receive a small commission when you purchase from my links, at absolutely no cost to you. Your constant support is always appreciated!
Choosing a honeymoon destination can be a massive task. You're so focused on planning your dream wedding, that the honeymoon can sometimes be a stressful task to plan. There are so many destinations to choose from, so how do you choose the right one? Making sure to choose a honeymoon destination based on when your honeymoon will be is so important, yet something that so many people fail to consider. It'd be a massive shame to get on your once-in-a-lifetime honeymoon, only for you to find out it's rainy season and spend the entire time indoors. Whether you're looking for a winter wonderland, a relaxing beach destination, an adventure-packed vacation, or a city escape, here's the list of the best honeymoon destinations in December!
Best Winter Honeymoon Destinations in December
If you're looking for an incredible winter wonderland of a December honeymoon, you're in the right place. Being that December leads up to Christmas, it's a really festive time to go on the perfect winter honeymoon. Whether you're looking for a bit of a city honeymoon or something a little more adventurous, here are the best festive and snowy honeymoon destinations in December.
European Christmas Markets
The Christmas Markets in Europe are a top bucket list item and something that you should experience at least once in your lifetime, regardless of if you celebrate Christmas or not! I'm not somebody who is a big Christmas fanatic, and even I become like a little kid around the European Christmas Markets. There's something romantic in the air during these Christmas markets, which is what makes this one of the top honeymoon destinations for December.
You'll find Christmas Markets in most European cities, but there are absolutely some that stand out from the rest. One of the best and easiest European Christmas Market itineraries is Prague, Vienna, and Budapest. All 3 cities have really incredible Christmas Markets and are easily accessible from each other by train.
Christmas Markets in Europe usually begin around Thanksgiving and end on Christmas. You're most likely to see the Christmas Markets if you plan your trip in early to mid-December before Christmas.
Lapland, Finland
If you're looking for one of the best winter wonderland honeymoon destinations, look no further than Lapland, Finland. Lapland is Finland's northernmost region, so it's really remote with tons of winter activities available. In the summer, it's known for the midnight sun, but in the winter, including in December, it's best known for having incredible Northern Lights viewing.
Another thing Lapland is known for is some of its incredible accommodations, built to view the Northern Lights from your bed – talk about romantic! It's the perfect place to cuddle up with your significant other for a romantic and cozy honeymoon. There are a bunch of different things to do in Lapland besides see the Northern Lights, such as visiting Santa's Village and taking a ride with huskies!
The Canadian Rockies
The Canadian Rockies are another incredible spot a honeymoon in December. This mountainous region in Canada is also a great summer destination, but for winter lovers, it's hard to beat it. Plus, this area is super close to the USA, making it a great honeymoon if you're looking to stay closer to home.
Famous Canadian national parks – Banff and Jasper – are the biggest draws of this area. Another perfect spot to visit is Lake Louise. In the winter, it freezes over and if you go at the right time, you can ice skate on this blue beauty!
A really popular group of hotels to stay in this area and the most ideal for a honeymoon are the Fairmont hotels – Fairmont Chateau Lake Louise, Fairmont Banff Springs, and Fairmont Jasper Park Lodge. You can pick and choose between the 3 properties or, if you have enough time, stay at all 3 for the most epic Canadian Rockies honeymoon adventure!
Exotic Honeymoon Destinations for December
If you're looking to go far away from home for a honeymoon to remember, look no further than this list of exotic honeymoon destinations in December. These suggestions are for those who love to travel, want to experience somewhere unique and far away from home, and are up for the adventure. Each of these destinations is a perfect place to honeymoon in December. The weather is just right in each spot, ensuring your honeymoon won't be interrupted by bad weather.
Australia
Australia is easily one of the most exotic and epic honeymoon destinations for December. The high season in Australia runs between November and March, so December is the perfect time to visit. It's quite a long flight from the USA, so most people want to visit Australia on a really epic trip – what a better time than on your honeymoon!
Coming from the USA, you'll most likely want to stick to the East Coast of Australia. My favorite 1.5-2 week itinerary for Australia consists of epic cities Sydney and Melbourne, and a little bit of beach in areas like Byron Bay and Cairns to see the Great Barrier Reef.
This honeymoon is perfect for the couple who wants a little bit of everything. With the combination of beaches and snorkeling or scuba diving the Great Barrier Reef and the cities, a honeymoon in Australia is sure to be one to remember. If you want to add a bit of an extra adventure to your Australian honeymoon, take a few days to explore Australia's Red Center – Alice Springs and Uluru!
Egypt
Egypt is one of those incredible places you learn about in school growing up. It's the perfect place for a unique, exotic honeymoon, and December is the time to visit! Egypt can be quite hot, but December is the time when you'll get better temperatures, making it the perfect time to visit for your honeymoon.
Most people associate Egypt with the pyramids, but there's so much to see outside of the pyramids and Cairo. Visiting Egypt feels like taking a step back into history, and is perfect for honeymooners who want to see some epic sights and learn about a huge part of history.
One of the huge draws to Egypt is that it's quite affordable compared to some other exotic honeymoon destinations you can visit in December. You can do a luxurious, privately guided visit to Egypt for a fraction of what you can visit other spots. Make sure to do a bit of research in finding the perfect Egypt itinerary, depending on how many days you have for your honeymoon. One place you should make sure not to miss is Sharm el-Sheikh – it's the perfect end to an Egyptian honeymoon!
Thailand
Thailand is easily one of the best destinations in Southeast Asia, and it makes for a great December honeymoon. It can be quite hot and humid, but the weather is really manageable in December. You could visit Thailand as part of a larger Southeast Asia honeymoon, but you could easily spend 10 days in Thailand on its own because of how much it has to offer.
My suggestion for a perfect Thailand honeymoon itinerary would be to start in Bangkok, head up north to Chiang Mai, and then end your time down south in either Phuket or Koh Samui. If you have some extra time in the middle of your trip, try to make a stop in Chiang Rai and the Golden Triangle.
Thailand is another destination, like Egypt, that you can do really extravagantly on a much smaller budget. Luxury hotels start at maybe $100/night, and the really expensive ones are usually $300-400/night max. Talk about balling on a budget!! All these things combined is what makes Thailand such a perfect honeymoon destination for December.
Costa Rica
Costa Rica is an incredible option for a honeymoon in December for several reasons. It feels super exotic and remote, but it's only a few hours flight away from the United States. The proximity and exotic feel make it easily one of the best honeymoon destinations.
On top of how close it is, Costa Rica is a great honeymoon destination in December because of the weather. The rainy season in Costa Rica ends in November, so December has notoriously great weather. In Costa Rica, there are several different things to do. You can have an adventure-filled honeymoon in areas like La Fortuna and Arenal and you can also have a relaxing, beach vacation in areas like Guanacaste and Tamarindo.
If that all wasn't great as it is, Costa Rica tends to be a really affordable destination. You can see lots of things and stay at really nice hotels and resorts for a great price. Plus, there are a bunch of different hotel options and areas to stay in to please any honeymooner out there!
Tropical Honeymoon Destinations in December
Nevis
Nevis is a Caribbean Island that often gets looked over, but let me assure you that Nevis is easily one of the best islands in the Caribbean for a December honeymoon. It's part of the dual island nation known as St. Kitts & Nevis. Nevis usually gets overlooked by St. Kitts because it's easier to get to and it's a popular cruise ship stop. But those two things are exactly what makes Nevis way more desirable.
Nevis is a lot more exclusive and intimate than St. Kitts, which makes it the perfect honeymoon destination. The resorts here are really nice. Four Seasons Nevis is easily the best resort there and it's a great honeymoon resort. If you want to see learn about the resort and why it's great for a honeymoon, click here.
On top of it just being a great island in general, the weather in Nevis in December is exceptionally great, ensuring you'll have an excellent honeymoon!
Cancun, Mexico
Cancun and its surrounding areas are a great area for a honeymoon, especially in December. This might seem like a typical spot for a honeymoon, but it's the perfect area for a great resort honeymoon. All-inclusive resorts are the norm here and they're extraordinary. There's truly nowhere else in the world you get the quality and value you can in Cancun, Riviera Maya, and the surrounding areas.
If you want to make this honeymoon one to remember, make sure to check out the best adults only all-inclusive resorts in Cancun. There are tons of great resorts in Cancun that are family friendly that would be great for a honeymoon, but it's nice to have things more catered towards adults like you can find at adults only all-inclusive resorts.
Another great thing about staying in a resort in Cancun for your December honeymoon is that they often include extra honeymoon perks. These can range from anything like breakfast in bed, a bottle of wine, spa discounts, special romantic dinners, and more.
St. Lucia
If you're looking for another great tropical honeymoon destination for December, look no further than St. Lucia. This Caribbean paradise is insanely romantic and has tons of activities to keep you busy. All-inclusive resorts in St. Lucia aren't super common, but they do exist if you're interested. It's less common to see traditional all-inclusive resorts here – usually resorts that aren't all-inclusive just offer an all-inclusive package.
St. Lucia is a great option in the Caribbean for somebody looking for something a little less "typical" than places like Cancun. Resorts are a little bit more romantic and intimate, but still can give you everything a larger resort can offer you. Because of the smaller, more intimate resorts, you can expect to pay a little bit more.
If you're wanting something extra special for your December honeymoon in St. Lucia, make sure to check out the overwater bungalows at Sandals Grande St. Lucian. There are only a few places where you can find overwater bungalows in the Caribbean, so this place is special!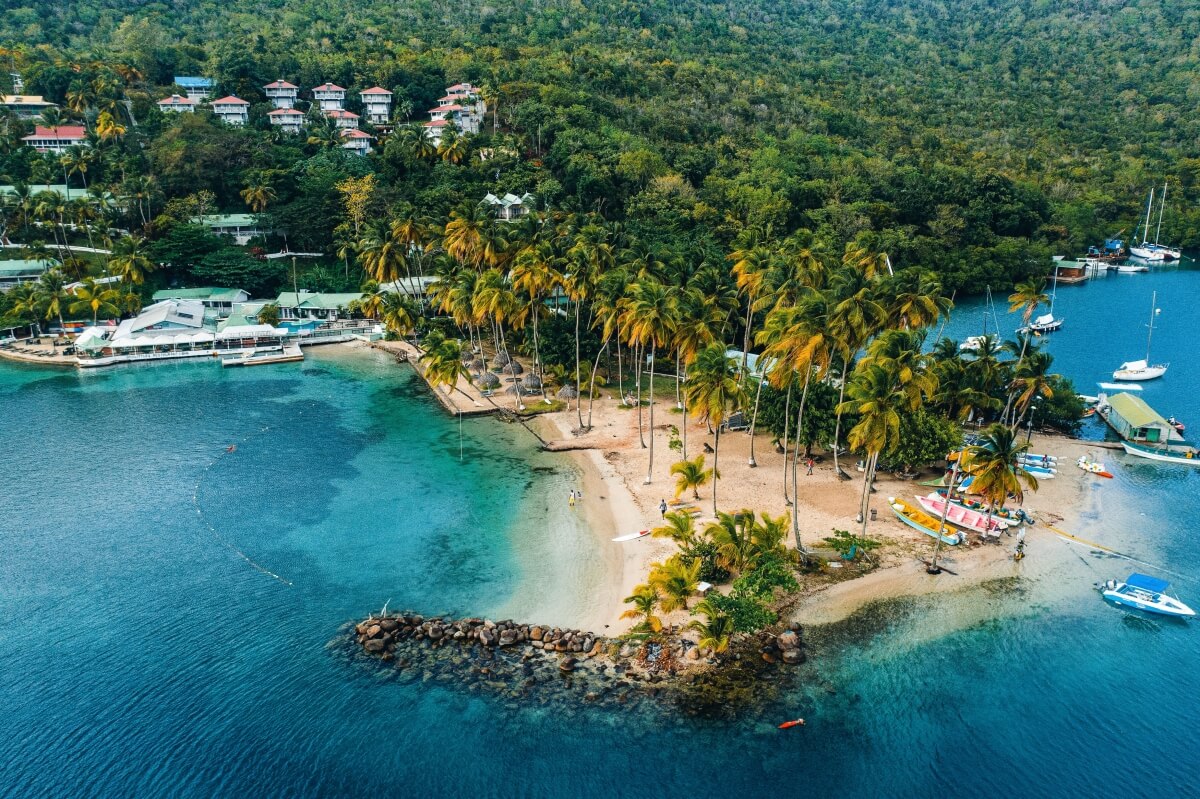 Pin me to Pinterest!!!! ⤵
Maddie is the traveler behind A One Way Ticket. She has been traveling internationally for over 10 years and has visited 75+ countries on 6 continents. In addition to traveling herself, she's been helping others plan their own travel for 6+ years. Maddie eats, sleeps, and breathes travel and loves to help others discover that same wanderlust!