This awesome, free post might contain affiliate links. I'll receive a small commission when you purchase from my links, at absolutely no cost to you. Your constant support is always appreciated!
Nashville is one of the best cities in the United States. Over the last few years, Nashville has become a go-to city for bachelor and bachelorette parties. It's overall just a really fun city and the perfect 3-day getaway. Something most people don't know about me is that I lived in Nashville for a few years during school, so I'm super familiar with Nashville and have always thought of it very fondly. I know how great of a city Nashville is, but keep reading to learn for yourself why it's so great and how to spend 3 days in Nashville!
Where is Nashville?
Nashville is the capital of the state of Tennessee. The city is right in the middle of the state of Tennessee. It's halfway between Memphis (the home of Elvis Presley!) and Knoxville, both of which are 3 hours away from Nashville.
Tennessee is in the southern part of the United States and is sandwiched in between states like Kentucky, North Carolina, and Alabama. Tennessee is a landlocked state, so it's about 8 hours either south or east until you hit the ocean.
How to Get to Nashville, Tennessee?
Nashville is pretty easy to get to, which is half the reason why it's such a great place for a quick 3-day getaway. The easiest way to get to Nashville is to fly into the Nashville International Airport (airport code: BNA). The airport is only a 15-20 minute drive away from the downtown area.
I highly recommend you rent a car if you're visiting Nashville. The city is very drivable and having a car makes everything a lot easier. I highly recommend Hertz, but if you're looking for the best price, you can find that here.
Nashville is a great place to visit on a road trip around the USA, so if you live within a few hours' drive, it's a great place for a long weekend getaway. Plus if you drive there, you'll have your own car and won't have to rent a car to get around.
How Long to Spend in Nashville
Nashville is one of the best weekend getaways in Tennessee. The city really comes to life on the weekends and that's the absolute best time to visit. Nashville is a reasonably small city, so you can really see a lot in a few days. I recommend spending 3 days in Nashville. This will give you plenty of time to go around and see the highlights, hear some live music, visit the honky tonks, and eat some great BBQ.
If you spend less time in Nashville than 3 days, you may miss out on what makes Nashville so special. Likewise, Nashville isn't a massive city, so spending anywhere around 5 days to a full week might be overkill. If you do want to plan a trip for a longer period of time, I highly recommend looking into some day trips from Nashville so you don't have too much downtime.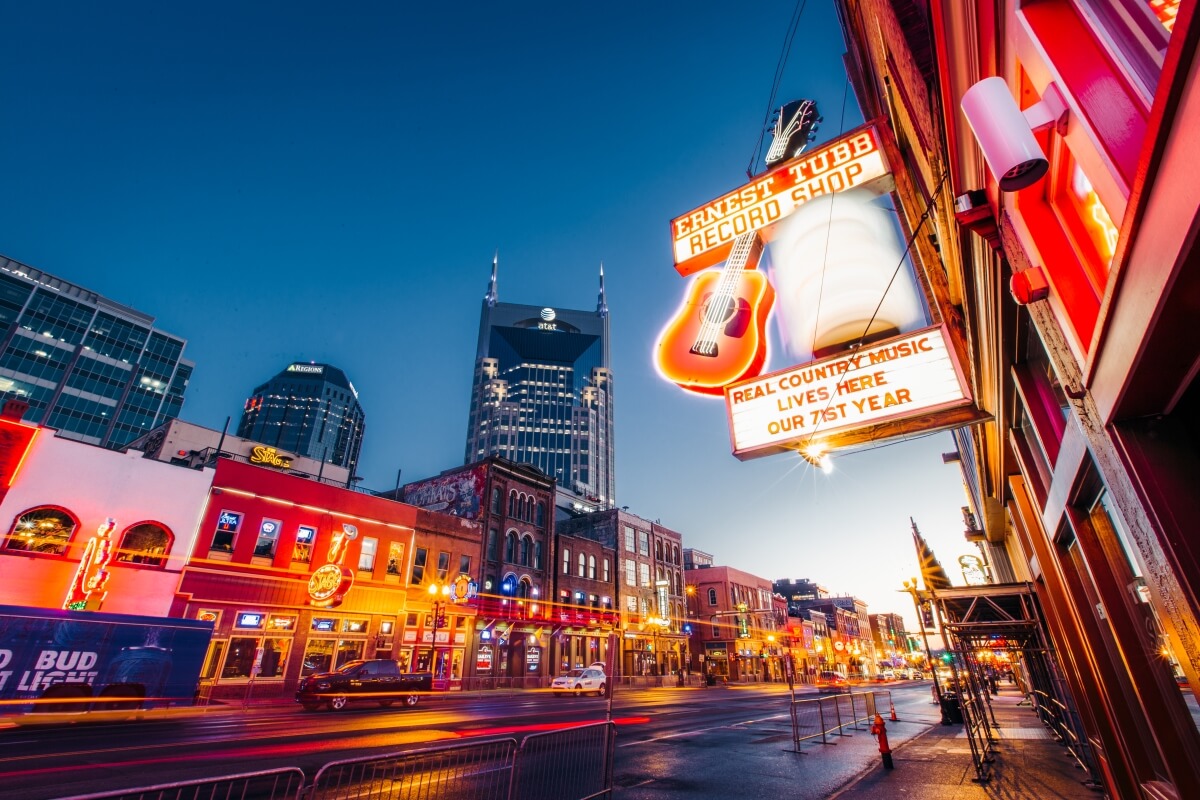 The Best Time of Year to Visit Nashville
Nashville is located in the southern part of the USA, which is known for its hot temperatures in the summer and mild temperatures in the winter. Nashville can be super fun in the summer as there are a lot of festivals and concerts happening. Since Nashville is called Music City, the summer really brings that experience to life.
If you're not a big fan of hot temperatures, Nashville would be best to visit in the fall. The colors on the leaves start changing and the city is absolutely gorgeous. The temperatures are still really moderate and the weather is great. Overall, there's not really a bad time of year to visit Nashville.
Where to Stay in Nashville
The best places to stay in Nashville are Downtown, The Gulch, and Midtown. These three areas all kind of merge into one another. Downtown is more compact and might be more difficult to find parking on the street. If you stay in the Downtown/Gulch area, make sure your hotel has a parking garage or access to valet parking.
If you want a little more space, stay in Midtown. This is a great area to walk around as it's right within Vanderbilt University. Plus, you'll be much more likely to find street parking in this area. If you want to save a little bit of money, you can stay outside of these areas.
Since you'll have a car during your visit, staying a little further away from town is doable. But remember, being in the heart of the city when you're only spending 3 days in Nashville is ideal so you don't waste time driving back and forth from a hotel far outside town.
Below is a list of some of my favorite hotels in Nashville.
How to Spend 3 Days in Nashville
Nashville has gained so much popularity over the last few years. It's a really popular destination for bachelor and bachelorette parties. Country music has become more mainstream and since Nashville is the home of country music, it drives a lot of people to visit.
No matter your reason for wanting to visit Nashville, there's something to do for everybody. Nashville has a great bar scene, cute coffee shops, lots of history, incredible hiking, and so much more. Let's dive right into some of the best things to do during your 3 days in Nashville.
Tour the Ryman Auditorium, one of the country's most famous music venues. The Ryman Auditorium was home to the Grand Ole Opry until the mid-1970s. You can tour this historical music venue and learn all about the greats who have performed here over the years. Try a self-guided tour like this one here.
Experience Nashville's excellent nightlife. Nashville is known for its incredible nightlife. Areas like Broadway, Downtown, and 12th South are full of bars that make it super easy to go bar hopping and have a great time.
Listen to up-and-coming songwriters at the Bluebird Cafe. Bluebird Cafe became famous after Taylor Swift was discovered there. It's a super unassuming place you can go to have a few drinks and appetizers while listening to the incredible songwriters performing.
Sail down the Cumberland River on the General Jackson Showboat. The General Jackson Showboat takes you down the Cumberland River on one of the largest showboats ever built. You'll eat a delicious southern meal while being entertained by music, comedy, and dancers. You can book tickets for a lunch or dinner show here.
Learn some history at the Belle Mead Plantation. It's no secret the south has had a questionable history. Learn all about the lives of the people who were enslaved and worked on this plantation with their "Journey to Jubilee" tour that you can book here.
See a live performance at the Grand Ole Opry. The Grand Ole Opry is one of music's most famous stages. There are events happening here sometimes several times a week. You can buy tickets to a show here.
Check out some of Nashville's best museums. Nashville has a surprising number of really great museums, like the Johnny Cash Museum. Purchase a Nashville Fun Pass ahead of your trip to get a bunch of entrance fees covered with one price.
Marvel at the Gaylord Opryland Hotel. While the Gaylord is a hotel, it's absolutely beautiful inside. The hotel is right near Ryman and the Grand Ole Opry, so make sure to stop here to check it out while you're nearby. It's a plus if you're visiting in December as they go all out with holiday decorations.
Spend the afternoon in Downtown Franklin. Franklin is a charming town about 30 minutes south of Nashville. There are tons of great restaurants and shops to enjoy. Main Street is also a cute area to just spend an hour or two walking around.
Learn country music's history at the Country Music Hall of Fame & Museum. If you're a country music fan, you have to visit the Country Music Hall of Fame. Everything that means anything to country music lives in this building and it's incredible to see. You can get tickets to the Hall of Fame and Museum here.
Stroll around Cheekwood Estate & Gardens. There's a lot to do at Cheekwood Estate & Gardens. The main draw is the beautiful botanical gardens, but you can also visit the art gallery, walk the Storybook Trail, or experience one of the seasonal exhibitions.
Experience the history at Andrew Jackson's Hermitage. The Hermitage is the home of former President Andrew Jackson. Like Belle Mead, the Hermitage has a dark history of slavery that you can learn about through some of its tours.
Enjoy the outdoors at Centennial Park. Centennial Park is one of Nashville's most popular parks. You can spend some time walking around one of the park's walking trails. There are a couple of monuments and memorials to view at the park. The park features a full-scale replica of The Parthenon in Athens, Greece.
Where to Eat in 3 Days in Nashville
Nashville is the perfect town for foodies. It's known for staples like southern BBQ and hot chicken. There are hundreds of incredible restaurants throughout the city to enjoy. Here's a list to make your selection easier, whether you're looking for a great breakfast spot, somewhere to eat lunch and dinner, or ice cream for dessert!
Assembly Food Hall. Assembly Food Hall deserves the number one spot on this list because it's not actually one place – it's a food hall (get it?) with almost endless options. A newer addition to the Nashville scene, Assembly Food Hall is part of the mixed-use complex called Fifth + Broadway in Downtown Nashville. Assembly Food Hall has tons of dining options available, including some favorites such as Sixty Vines and Velvet Taco.
Loveless Cafe. Loveless Cafe is one of Nashville's most famous cafes. They serve mostly comfort food and are known for their incredible biscuits. I recommend eating here for breakfast.
Pancake Pantry. Pancake Pantry is one of my favorite breakfast spots in Nashville. They're known for their quirky pancake dishes. Get there early to avoid a long wait. Don't be turned off by the line, it moves fast!
Hattie B's Hot Chicken. Nashville is known for its hot chicken and Hattie B's is one of the most popular spots. There are a few locations to choose from and all are great!
Edley's Bar-B-Que. Barbecue is a Nashville staple and Edley's is a great spot to get some juicy BBQ and other great southern dishes. There's more than one location to choose from, so just go to the one closest to you.
Martin's Bar-B-Que Joint. If you want another BBQ option, Martin's is a great spot. Similar to Edley's, there's more than one location.
Red Headed Stranger. This Southwest-inspired neighborhood taco shop will hit the spot when you're looking for a Tex-Mex fix while visiting Nashville.
The Pharmacy Burger Parlor & Beer Garden. If you're craving a burger during your 3 days in Nashville, Pharmacy Burger is one of the best spots in Nashville. If you have a few hours, spend some time at the Beer Garden.
Jeni's Splendid Ice Creams. Jeni's has some of the best ice cream ever. There are a few locations, but the one in East Nashville is the original. If the name looks familiar, it's because Jeni's now sells ice cream in grocery stores across the country, but got their start in Nashville!
Best Bars to Visit in Nashville
Nashville is known for its nightlife. Other than the draw of country music fans, the nightlife in Nashville is what has made it one of the best places in the USA for birthdays, bachelor and bachelorette parties, and weekend getaways.
The best areas to go out in Nashville are Broadway, Demonbreun, Downtown, and 12th South. There are plenty of incredible spots to soak up the bar scene in Nashville, but some stand out as favorites. You're going to find that a lot of famous bars in Nashville have something to do with some of country's biggest stars. Here's a list of some of Nashville's best bars, lounges, and other nightlife spots.
The Best Music Venues in Nashville
If you've read my other city guides, you'll know that I don't typically call out music venues. However, Nashville is known as Music City so I would be doing the city an injustice if I didn't tell you about some of the city's best music venues.
Definitely take a look at the different venues listed below. Maybe one of your favorite singers or bands will be playing during your 3 days in Nashville. If not, I highly recommend buying tickets for whoever is playing during your stay just to get that Nashville concert experience.
Pin me to Pinterest!!!! ⤵