This awesome, free post might contain affiliate links. I'll receive a small commission when you purchase from my links, at absolutely no cost to you. Your constant support is always appreciated!
Thailand is one of my absolute favorite countries in the world. I try to diversify the trips I take and go to new places, but I've been back to Thailand several times which says a lot about how great it is as a destination. Thailand offers everything – great cities, incredible culture, beautiful islands and beaches – the list goes on and on. Thailand is also the perfect destination to ease yourself into traveling around Southeast Asia. Let's face it, traveling around certain countries in Southeast Asia can be grueling because the infrastructure isn't always great. But, Thailand is super easy to travel around and the people are incredibly friendly. Keep reading for the perfect 10 day Thailand itinerary to make your trip one to always remember!
How to Get to Thailand
Thailand is in Asia, although the more specific area is Southeast Asia which compromises of other countries like Indonesia, Malaysia, Singapore, Vietnam, Cambodia, etc.
When you're arriving into Thailand, 90% of the time you'll fly right into Bangkok, especially if you're coming from Europe or the USA. There are actually two airports in Bangkok, with the main one being the Suvarnabhumi International Airport (airport code: BKK).
The other airport in Bangkok is Don Mueang International Airport (airport code: DMK). This airport is more common when you're coming from other cities within Southeast Asia or other parts of Asia.
You can also fly internationally into airports in cities like Chiang Mai and Phuket, although this is much less common.
Search for cheap flights to Thailand here.
Best Time of Year to Visit Thailand
Generally speaking, the best time of year to visit Thailand is between November and April. The absolute best weather will be from December-February, but this time of year also comes with larger crowds and higher prices.
While April and May are still outside of the rainy season, they're some of the hottest months across the country, so be prepared if you plan to travel during these months. Thailand is always hot, but April and May take heat to a whole new oppressive level.
The rainy season in Thailand is from May-October. I'm definitely not somebody who likes to be traveling with lots of rain, but you'll definitely have smaller crowds during this time of year. Plus, you may be lucky and not really experience much rain. If it's worth the gamble to you, it's definitely something to consider as the prices and crowds will be much better.
How Long to Spend in Thailand
The length of time to spend in Thailand depends on a lot. If you're coming from elsewhere in Asia or it's part of a larger trip, you could definitely only spend a few days. Likewise, if you have a lot more time, you could easily spend 2-3 weeks in Thailand.
However, I think a 10 day Thailand itinerary is the sweet spot for time spent in the country. It's long enough to have ample time to move around and see more of the country without going too fast, but it's not so long that you'll be overdoing it. I firmly believe that 10 days in Thailand is the perfect amount of time, especially if you're visiting for the first time. It allows you the perfect taste of this incredible place so that you know what you want to visit more of when you return. And trust me, you'll be planning your trip back as soon as you leave!
How to Get Around During Your 10-Day Thailand Itinerary
Thailand is a fairly easy country to get around. There's a lot of access to travel across different cities by air and it's cheap. You can fly from one city to another for $20-30 easily. Talk about a traveler's dream!
You can also get around from city to city by public transportation like bus, train, etc. Generally speaking, I would just stick to flying because of how cheap it is. If you're staying in Thailand longer than 10 days, you may want to consider buses or trains to save money. But only staying 10 days in Thailand you really want to maximize your time which is why I think traveling from city to city by plane is the quickest and easiest way to travel around Thailand.
Getting around within the city you're in is a different story. There are a few methods of transportation in each city which I'll mention in more detail throughout the itinerary itself. However, some of the popular methods of traveling around are taxi, tuk tuk, songthaews, and an Uber-esque app called Grab. For now, let's get to that 10 day Thailand itinerary you've been waiting for!
Other Helpful Tips for 10 Days in Thailand
Traveling to a new place is super exciting, but sometimes can be daunting as well. It's important to always be as prepared as possible. The more you know before you arrive in a new destination, the more time you can spend enjoying yourself. Below is a list of some helpful tips to know before you visit Thailand.
Language. In Thailand, people speak the Thai language. Going around touristy areas, you'll usually find people who speak at least a bit of English. That being said, I feel like learning a few simple phrases in the local language is not only respectful, but can come in handy. If you're a woman, you'll finish most sentences with "ka" and if you're a man you'll use "krap."

Hello – Sawadee ka/krap
Thank you – Khop khun ka/krap
Yes – Chai
No – Mai
Goodbye – Sawadee ka/krap

Money. In Thailand, they use a currency called the Thai Baht. I find the easiest way to remember money is to think in intervals of 100 Baht. For example, 100 Baht is about $3 USD. So if something is 50 Baht, you know it's $1.50 USD or if something is 300 Baht you know it's $9 USD.
ATMs & Credit Cards. You'll have to use cash for most things in Thailand so it's important to have cash on you. Some more official restaurants and shops will accept credit cards, but I find most places want cash. ATMs are pretty easy to come across in the more touristy cities in the country. ATM fees can be high sometimes, so make sure to get larger amounts of money out at a time to save on fees. But, only carry a bit on you at a time to prevent losing it or getting it stolen.
Electrical Plugs. Thailand uses different plugs than those in the USA and Europe, so make sure to bring a universal plug adapter like this one here.
Safety. Everybody's experience will be different, but overall Thailand is a very safe country. That being said, no place is free of petty crimes like pickpocketing, so be smart and always watch your bags and pockets.
Bathrooms. A lot of public toilets will require a small fee to enter. Sometimes those toilets don't have toilet paper or a working sink either. So bring a pack of tissues around with you in place of toilet paper and bring hand sanitizer in the likely event there's not a working sink.
Temple etiquette. Temples are very holy places to the Thai people and it's important to be respectful. Most temples will require you cover your shoulders and knees to enter. If you don't have something to cover your knees, some temples will let you buy something at the entrance or you can probably find somebody selling scarfs or sarongs on the street. You'll also be required to take off your shoes.
Do not participate in animal tourism. With the exception of ethical sanctuaries (mostly in Chiang Mai), do not participate in any animal tourism. The animals are likely being abused to earn tourist dollars. Avoid places like Tiger Kingdom and places where you can ride elephants or see elephants paint, etc. Support legitimate sanctuaries and make sure to do your research before visiting somewhere with animals.
Water safety. Don't drink tap water in Thailand. Your body isn't used to it and it'll likely make you sick. Bring a reusable water bottle you can fill up with safe water or grab a bottled water on the street or at 7/11 (they're everywhere) if you're in need.
10 Days in Thailand: Where to Visit
Now that we've briefly covered the best time to visit Thailand and how long to spend in Thailand, it's time to focus on where exactly to go. Like I've said, Thailand is one of my favorite countries in the world. There is so much to see and do here.
This itinerary for Thailand is focused on seeing the best of Thailand and getting a good taste of the country. It's perfect for those who are visiting Thailand for the first time or for somebody who has visited 1 or 2 cities in Thailand before and came back to see more of this wonderful country.
Classic 10-Day Thailand Itinerary
I briefly mentioned in the beginning of this post that Thailand offers a ton of diversity in landscapes and things to do. I'm going to break this down into three categories: the city, the jungle, and the beach. This itinerary is going to take you across the country of Thailand from the north all the way down to the south to get a little taste of everything.
Days 1-4: Bangkok
[Fly into Bangkok]
Bangkok is the perfect first stop on your 10 days in Thailand. Not only is it the easiest to fly into, but it's a metropolitan city and parts of it feel very similar to cities you'll see in the USA. There are massive skyscrapers, incredible rooftop bars, and plenty of incredible tourist sites to see. A stop in Bangkok is the best way to ease yourself into the rest of your trip.
You'll likely fly into Bangkok via the Suvarnabhumi International Airport (airport code: BKK) mentioned above. If you arrive into Bangkok via BKK, it'll be about a 30-45 minute ride into the city. This can largely depend on traffic as the traffic in Bangkok can be a little wild sometimes.
Upon arrival, you can take a taxi or pre-arrange a transfer. I tend to arrange a transfer beforehand when I'm first arriving into a new place because the last thing I want to do after a long flight is have to lug all my stuff around trying to find a taxi. If you'd like a transfer, you can get a shared one here or a private one here. If you choose to take a taxi instead, you'll pay somewhere between 350-450 baht including the airport fee.
Below is everything you need to know about where to stay, what to do, and what to eat in Bangkok!
–Where to Stay in Bangkok–
There are several different places to stay when you're in Bangkok. I've stayed in a few different areas on different trips, and really prefer to stay in the Riverside/Khao San area. This area is super close to some of my favorite things to do and see in Bangkok, so being close to those things is really important to me. Plus, being near the river is really nice, so there's an added element in the proximity to the river. Below is a list of my recommendations for where to stay in Bangkok.
–What to Do in Bangkok–
Bangkok has so much to do, from visiting temples to exploring the city's incredible nightlife. Some people just stay in Bangkok for a night or two, but I truly think the city is worth a few days' stay.
Marvel at the Grand Palace. The Grand Palace is definitely one of the more incredible sites in Bangkok. This massive complex is home to tons of beautifully ornate buildings and also Wat Phra Kaew, otherwise known as the Temple of the Emerald Buddha.
Take in the beautiful location of Wat Arun. Wat Arun, otherwise known as the Temple of Dawn, is my favorite temple in Bangkok. It's set right on the river and is absolutely stunning. Plus, it's right across the river from the Grand Palace. Take a tour of the Grand Palace and Wat Arun to get the full experience, like this one here.
Temple hop around Bangkok's incredible collection of temples. Thailand as a whole is full of incredibly beautiful temples. Wat Phra Kaew and Wat Arun were already on the list, but be sure to also check out Wat Pho (Temple of the Reclining Buddha), Wat Benchamabophit (The Marble Temple), and Wat Saket (Temple of the Golden Mount), among many others.
Go bargain shopping at the Chatuchak Weekend Market. The Chatuchak Market is one of the best markets I've been to anywhere in the world. It's only open on Saturdays and Sundays, so try to schedule your trip so you're in Bangkok over a weekend. If you're not good at haggling, this is a great place to try to learn!
See the craziness of Khao San Road. Khao San Road is a typical tourist street. There are restaurants, street vendors selling goods, and street food galore. The road is only about 500m long, but is absolutely packed with stuff. Make sure to visit at least once during the day and once at night as the road completely transforms between day and night. Some people pass it off as a super touristy place, which it is, but I absolutely love it.
Relax with a Thai Massage. Massages are a must when you're traveling around Thailand. They are so cheap it hurts. You can get massages from as cheap as $3.50-4 for 30 minutes to $20 for 2 hours. They're so cheap I would at a minimum get a 30-minute foot massage once a day. Plus, you're in Thailand, you can't go to Thailand and not have a Thai massage.
Grab drinks at one of Bangkok's famous sky bars. Bangkok is famous for a lot of things, but one thing I've seen more in Bangkok than anywhere else in the world are rooftop sky bars. Bangkok is a cheap city, but beware, you'll definitely pay a pretty penny for cocktails in these rooftop bars. Plus, most of the bars have a minimum. It's worth it for the experience though. See a list of great rooftop bars in Bangkok here.
Take a walk around Lumphini Park. Lumphini Park is Bangkok's take on Central Park. It's this massive green area in the midst of a bustling city. Take a walk around Lumphini Park to have a relaxing time after a busy day touring around Bangkok.
–Where to Eat in Bangkok–
Bangkok is known for its incredible food. Not only does it have some incredible Michelin Star restaurants, but it's known to have some of the best street food in the entire world. Below is a list of restaurants and cafes to try during your time in Bangkok. I'm far from what I'd consider to be a foodie, so I'm including links to some blogs of people who know much better than I do!
Check out Bangkok's Street Food scene. Like I said before, Bangkok is the place for street food. And it's so cheap. You can easily get a full meal for less than $5.
Unicorn Cafe, and some of Bangkok's other quirky cafes. Unicorn Cafe is an Instagram hotspot in Bangkok and just a funny place to take a visit. It looks like a candy machine exploded in this place!
The Family. This is the highest rated local Thai restaurant on TripAdvisor, and the reviews show it's for a good reason! You have to try some Thai food while you're in Bangkok, and this is a great place to do so.
Indulge in a Michelin Star Meal. Michelin Star restaurants are no joke, and Bangkok has quite a few of them. If you want to go all out one night, I'd highly recommend looking at this list and choosing one. By nature of being a Michelin Star restaurant, I would get a reservation in advance so you don't wait around all night.
–Getting Around Bangkok–
The main ways to get around Bangkok are taxi, tuk tuk, skytrain, or Grab. I usually try to grab a tuk tuk if I'm only going a short distance or a taxi if I'm going a longer distance.
I usually prefer to use tuk tuks if I'm going a relatively short distance. You have to negotiate the price for a tuk tuk ride and they'll try to charge you more than it should cost up front. On my first trip to Bangkok I was actually asking the receptionist at our hotel what I should pay for x to y and that worked out well until I got the hang of how much rides should cost.
If you go to grab a taxi, make sure you either negotiate down the price with the taxi driver or insist they run the meter. A lot of drivers will set a very high price and refuse to run the meter to get more money out of you. If they do this, just decline the ride and ask another driver. Chances are, there are loads of them wherever you are.
If I'm in an area where I can't find a taxi or tuk tuk or I just feel like the drivers are all trying to overcharge me, I go to Grab. Grab is essentially Uber in Asia and the prices are super cheap. It works exactly like Uber does, so if you're familiar with Uber, Grab will be super easy to use. Sometimes I'll even use the pricing on Grab to negotiate a taxi price.
Lastly, there's the Skytrain option. To be honest, I've never used it because the alternatives are so easy, so cheap, and tend to be more convenient. If you want to look into using the Skytrain, here's a great resource.
Days 4-7: Chiang Mai
[Fly 1.5 hours from Bangkok to Chiang Mai]
The next stop on your 10 days in Thailand is the northern city of Chiang Mai. It's super easy to fly from Bangkok (airport codes: BKK or DMK) to Chiang Mai (airport code: CNX). Flights can cost you anywhere from literally $10 one way to maybe as much as $60 or more on a holiday or close in. I recommend flying with AirAsia as they tend to be one of the cheaper options and have a great track record. Bangkok Airways and Thai Airways are great too, but tend to be more expensive.
I didn't visit Chiang Mai until my second trip to Thailand and I didn't think I could like a city more than Bangkok, but Chiang Mai really was so charming and quaint that I fell absolutely in love with it. Chiang Mai is full of incredible temples on basically every single street. The heart of the city is literally within a square gate and there's just something about it that feels like it's right out of a fairytale.
Similar to Bangkok, I would recommend either pre-arranging a transfer or getting a taxi upon arrival to get to your hotel. Let's talk about the best places to stay, things to do, and places to eat in Chiang Mai!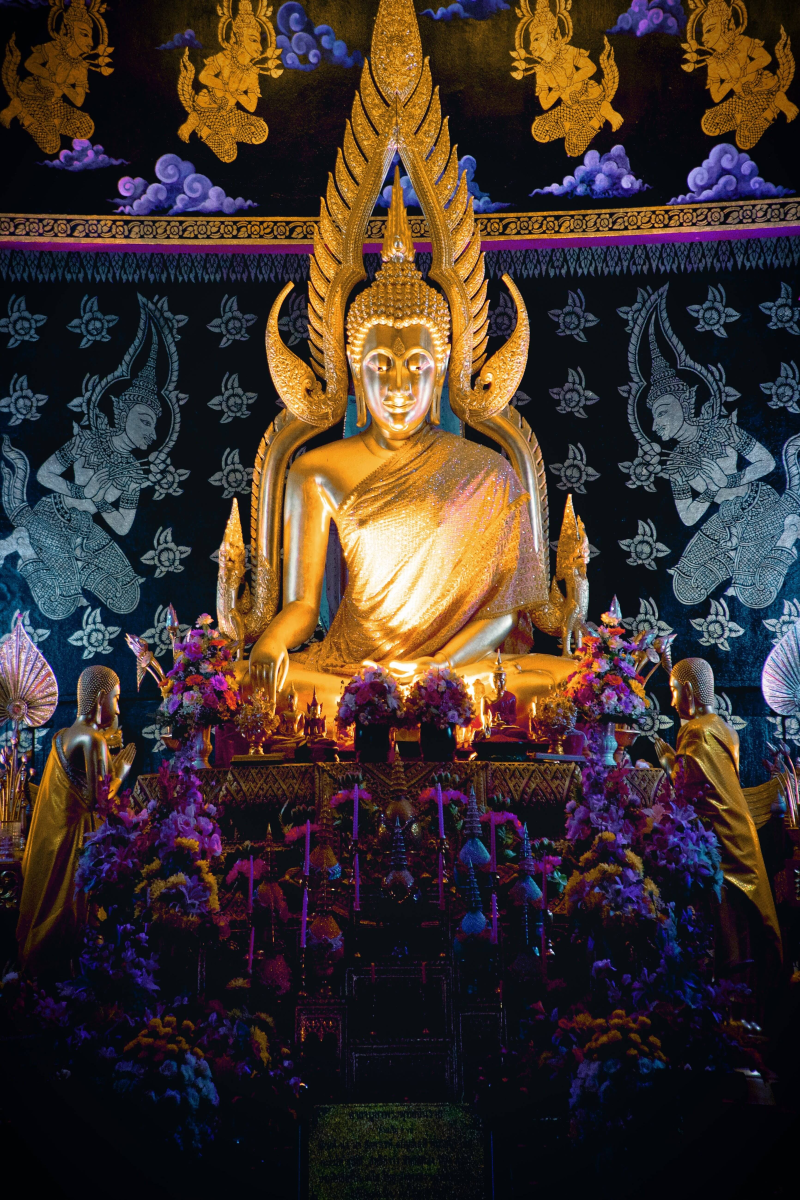 –Where to Stay in Chiang Mai–
The heart of Chiang Mai's Old City is in a gated square making it really easy to understand the layout of the city. Most of the best things to do are within that squared wall, so staying inside the wall is great if you can.
Some of the more resort-like hotels are outside of the walled city just because of space. Generally speaking, it's not hard to get into the city even if you're outside of the walled center. I would stay within a 10-15 minute taxi ride from the center to make life easier.
–What to Do in Chiang Mai–
Chiang Mai is such a charming city and feels much more intimate than Bangkok. There's a temple on practically every street and you definitely feel more in tune with Thailand and the culture in Chiang Mai.
Visit an Elephant Sanctuary. Visiting an elephant sanctuary is without a doubt the biggest highlight of a visit to Chiang Mai. The absolute best sanctuary in the area is Elephant Nature Park and I would highly recommend visiting this sanctuary. Book far in advance as they do sell out. Do research before you visit a sanctuary to make sure it's actually a sanctuary. A good rule of thumb is if they let you ride the elephants, it is not a sanctuary. Book yourself a visit to take care of elephants here.
Cook a traditional meal at a Thai Cooking Class. Thai cuisine is famous around the world. Learn how to make some of the famous Thai dishes with a Thai cooking class like this one here.
Marvel at the best temples of Chiang Mai. Chiang Mai is absolutely full of temples and I'd highly recommend taking at least half a day to walk around and just visit some of them. The more popular ones to visit are Wat Phra Singh (The Gold Temple), Wat Chedi Luang, and Wat Phra That Doi Suthep.
Take a day trip outside of Chiang Mai. There are tons of great day trips from Chiang Mai. Some of these include a trip to visit the temples of Chiang Rai, the Doi Inthanon National Park, and the Sticky Waterfalls, among many others.
Shop 'til you drop at the Chiang Mai Night Bazaar. The Night Bazaar in Chiang Mai is open every night from 5 PM until midnight. You'll definitely want to sharpen up your bargaining skills before stopping here.
Participate in the Loy Krathong/Yi Peng Lantern Festival. If you schedule your trip in November, make sure to be in Chiang Mai during this festival. It's absolutely breathtaking and I highly recommend visiting for the festival!
–Where to Eat in Chiang Mai–
Compared to Bangkok, you'll find more down-to-earth restaurants here. Bangkok is much more flashy than Chiang Mai, and that holds true when it comes to the restaurants. But, that doesn't mean the food in Bangkok is better. Make sure to try out some of the local dishes in Chiang Mai!
Khao Soi Khun Yai. This restaurant is very local and very unassuming, but the food is incredible. Make sure to try the Khao Soi here.
SP Chicken. SP Chicken is another one of those super unassuming restaurants, but it's a must visit during your time in Chiang Mai. Their famous dish is essentially rotisserie chicken, called kai yang.
Tong Tem Toh. This is another great restaurant for some classic Northern Thai dishes. I would try to get there a bit early if you go for dinner as it can fill up!
–Getting Around Chiang Mai–
Chiang Mai is super easy to get around as well. If you're staying in the Old City and are up for walking, you're best off doing that. The Old City is really nice to walk around and chances are you'll run into a temple or two you want to pop into.
That being said, Chiang Mai largely has the same transportation options as Bangkok: Grab, taxis, and tuk tuks. However, Chiang Mai also has songthaews which are essentially converted pick up trucks with a cabin in the back with benches on either side to sit on. They can be all colors, but they're primarily red. Songthaews tend to be one of the cheaper modes of transportation too because you share it with multiple people.
Days 7-10: Phuket & the Phi Phi Islands
[Fly 2 hours from Chiang Mai to Phuket]
The last stop on your 10 day Thailand itinerary should be a trip down south to the beach. I would recommend Phuket, but Koh Samui is a good alternative if you prefer. Generally speaking, a lot of the information is similar if you want to go to Koh Samui. Ending your 10 days in Thailand on the beach is the perfect relaxing way to finish off your trip.
Phuket is another super easy flight from Chiang Mai (airport code: CNX) to Phuket (airport code: HKT). These flights will run you something between $30-100 one way, again depending on what time of year you're traveling. You can take a taxi from the airport, or opt to pre-arrange a private transfer.
–Where to Stay in Phuket–
If you're going to splurge on a hotel at any point in your 10 days in Thailand, this is the place I would do it. You can stay at pretty extraordinary resorts that would normally be hundreds if not thousands of dollars a night for maybe $150-300/night. Some of my favorites are listed below!
–What to Do in Phuket–
Since Phuket is a beach town, I'd highly recommend taking some time to just relax and enjoy the pool and beach at your resort. Like I said, spend your money on a resort here because they're incredible. That being said, there are still some things to do in Phuket and the surrounding area.
Take a day trip to the famous Phi Phi Islands. The movie "The Beach" made this area of Thailand famous. Here, you can see the stunning Maya Bay and other sites like Monkey Beach and Bamboo Island. Beat the crowds with an early bird tour, like this one here.
Walk around the Phuket Old Town. This small area in Phuket has a bunch of brightly colored houses that make for a great photo. This area is also home to the Sunday Walking Street Market which is open every Sunday evening from 4-10 PM.
Explore Patong and Patong Beach. Patong is the main popular area to go in Phuket. However, it's known for being kind of raunchy at night with all the go-go shows, nightclubs, and what not. Enter at your own risk.
Enjoy the view at the Karon View Point. Come enjoy this beautiful view point with a great view of the ocean and beach.
Feel like James Bond with a day trip to Phang Nga Bay. This is another spot that was made famous by a movie, specifically the James Bond movie "The Man with the Golden Gun." There's a striking island that looks like it's about to topple over that's nicknamed James Bond Island. Make sure to book a tour to see the bay and do some snorkeling, like this one here.
–What to Eat in Phuket–
This is a bit harder of a question to answer than it is for Bangkok and Chiang Mai as Phuket is a pretty spread out area and the fact that you'll likely be staying at a resort. Just out of pure laziness, I would be eating most of my meals at my resort here. That being said, there are a couple places to stop at if you get the chance.
Thong Dee. Thong Dee serves European and Thai dishes. Even though it's not the only thing they serve, it's supposed to have some of the best Thai food in all of Phuket.
Acqua Restaurant. This restaurant is pricy but according to reviews, is very much so worth the cost. It's an Italian restaurant, so prepare to leave extra full. Definitely make a reservation ahead of time.
Blue Elephant Phuket. Blue Elephant is also rather pricy. If you missed out on a cooking class in Chiang Mai, you can take one here as the restaurant also has a cooking school.
–Getting Around Phuket–
Phuket is a much more spread out area compared to Bangkok and especially Chiang Mai. You'll likely be taking taxis or using the Grab app here just due to how far your hotel could be from what you're trying to visit.
If you're staying in Patong, you might be able to walk around a little bit more. You should also check with the tour companies you book day trips with to see if you can arrange a hotel pick up as that'll be the best way to get to and from your hotel for your tours.
10 Day Thailand Itinerary: The Short & Sweet Version
For those of you that don't have time to look through a more detailed itinerary, you've come to the right place! Below is a short and sweet overview of the itinerary I've come up with for a perfect 10 days in Thailand.
Days 1-4: Fly into Bangkok
Stay in Bangkok in the Riverside/Khao San area to be closest to the highlights. Find hotels and pricing here.
Visit the classic Bangkok sites like the Grand Palace, Wat Arun, Wat Pho, Wat Benchamabophit, among many others. Consider taking a tour around the Grand Palace and popular temples, like this one here.
Have cocktails at one of Bangkok's famous skybars!
Get a dirt cheap Thai massage while exploring Khao San Road, a crazy street that's super touristy but also worth the visit.
Days 4-7: Head North to Chiang Mai
Try to stay within the walled Old City or right outside if possible. Find hotels and prices here.
Visit an ethical Elephant Sanctuary, like Elephant Nature Park. Book well in advance as they fill up!
Learn how to cook during a Thai cooking class, like this one here.
Walk around the Old City and visit as many temples as possible!
Days 7-10: Beach Time in Phuket
Splurge on an incredible resort here for a killer price. Find hotels and prices here.
Take a day trip to the Phi Phi Islands, made famous by the movie "The Beach." Make sure to get there early and beat the crowds with an early bird tour, like this one here.
Take a stroll around the Patong Beach area in all its glory. Enter at your own risk!
Pin me to Pinterest!!!! ⤵
Maddie is the traveler behind A One Way Ticket. She has been traveling internationally for over 10 years and has visited 75+ countries on 6 continents. In addition to traveling herself, she's been helping others plan their own travel for 6+ years. Maddie eats, sleeps, and breathes travel and loves to help others discover that same wanderlust!